What's my favorite season? Don't ask me to choose between summer, winter, spring or fall. Baseball, football, basketball, it doesn't matter much to me. But talk about fresh peach season, and you've grabbed my attention in a serious way.
I wouldn't want to say that I'm obsessed with a fruit, but I can't deny that I start thinking about the ripe, aromatic scent and sweet, juicy flavor of a fresh peach around January, and when the first fresh peaches from South Carolina or Georgia hit the shelves at Paul's in late spring, I'm there like, well, Robin on peach.
When fresh regional peaches are prime, there's almost no better way to enjoy them than in peach ice cream, a seasonal treat that can't be beat. My ideal of peach ice cream is based on simplicity: Rich, sweet cream, ripe, juicy peaches and just a touch of sugar,. You don't really need anything more. This year I've tried four local samples in my search for perfection. So far.
Homemade Ice Cream & Pie Kitchen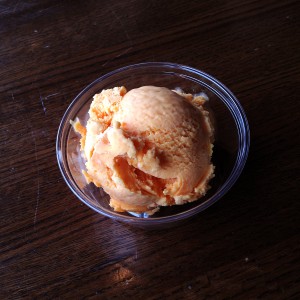 Long a neighborhood fixture in the Highlands, Homemade Ice Cream & Pie Kitchen evolved into a local chain since cheesecake king Adam Burckle bought the company in 2005, but to management's credit, it has maintained quality during its growth to nine regional units. I wasn't whelmed by this year's peach ice cream, though. The strong "stewed fruit" aroma and flavor of the startlingly bright-orange ice cream reminded me of canned Del Monte peaches, a simulation perhaps achieved by cooking the fruit. It was listed as being made from Georgia peaches, and I have no reason to doubt that, but it wasn't a favorite.
2232 Frankfort Ave., 409-6100, www.piekitchen.com
Graeter's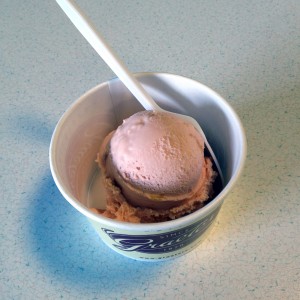 Next stop was Graeter's, another once-local outfit – this one born in Cincinnati – that has gone corporate and expanded from the Queen City to Columbus, Dayton, Lexington and the Louisville area, where it has seven outlets. For a while there after the iconic, 150-year-old Ehrmann's Bakery closed in 2003, Graeter's had dominated the local peach ice cream market, but I was disappointed with bland entries for the past year or two. This year's vintage, served at the St. Matthew's shop and made from Northern Virginia fruit, was better. At least one thumb up for good, fresh peach flavor, although large, chewy, icy peach chunks throughout the bowl did not improve it.
140 Breckenridge Lane, 896-9952, www.graeters.com
The Comfy Cow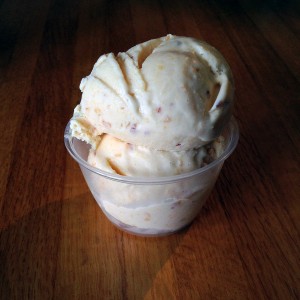 If any ice cream store has helped me overcome my grief at the loss of Ehrmann's, it is The Comfy Cow, which scores for its owners' extreme commitment to quality, imaginative ice cream concepts and lovably retro venues for its three local shops. I have to call them as I see them, though, and say that this year's peach ice cream (made, they say, from "local" fruit) isn't my favorite offering from the Cow. It's good, sure. But, although as creamy as I would expect from the Cow, it wasn't as intensely peachy as my childhood pleasure; and tiny, icy fragments of frozen peach didn't help.
2221 Frankfort Ave., 409-4616, www.thecomfycow.com
Gilberto Gelato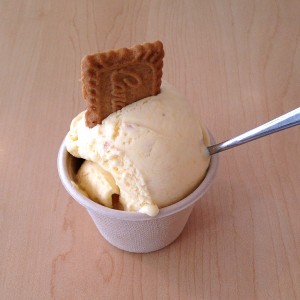 Gelato – Italian ice cream – bears some technical differences from the American product. It's made from whole milk, not heavy cream, so it's arguably better for you. And a process that whips less air into the product makes this Italian treat densely delicious rather than light. Gilberto Gelato's seasonal peach gelato, sampled at Caffe Classico in Clifton, rang my chimes, winning praise with a deep, ripe and natural fresh peach flavor.
9434 Norton Commons Blvd., 423-7751, www.gelatogilberto.com