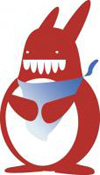 Illustration by Gina Moeller
LEO's Eat 'n' Blog with Louisville HotBytes
It's a good thing to have at least one really authentic, Spanish-speaking eatery in the East End – it's a long ride out Preston to the Metro's more concentrated Latino-eats zone when you've got a hankering for something more real than Taco Bell or even the gently Anglicized Mexicano of the more bilingual Mexican eateries, as fine as they can be.
Setting aside the urbanite's prejudice that there's nothing of interest east of the Watterson, we recently ventured out to tract mansion country to try the new La Perla del Pacifico ("The Pearl of the Pacific"), and were so impressed by its simpatico combination of fine food, friendly service and fair prices that we've gone back again and again.

Located in a red brick building that formerly housed the short-lived taqueria Rincon Latino ("Latin Song"), La Perla del Pacifico is to Mexican-style seafood and fish as the excellent Rosticeria Luna on Preston is to Mexican-style roast chicken: It's not just another taqueria but a serious restaurant with a specialty that it handles very well.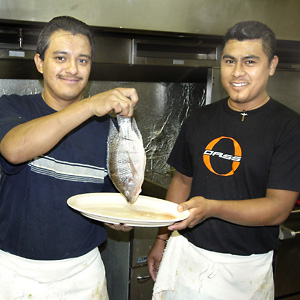 Photos by Robin Garr: Justino Lopez and Edgar Mendoza: who cook at La Perla del Pacifico, show off a mojarra, a popular fish from the Pacific Ocean off the coast of Mexico.
If you go – and I strongly recommend that you do go – you need to be aware of one small but important fact: This is a Latino eatery, and Spanish is its first language. The kind folks who work here are warmly welcoming to Anglos, and they're eager to be hospitable, but it can be a struggle in both directions. Their English is a lot better than my Spanish, but bring patience and a sense of humor. Those tools, and the slightly bilingual menu, will go a long way to get you what you want for dinner. Also, see our nifty sidebar, which may help you avoid getting a cabeza (goat's head) when you really wanted a cerveza (beer).
It works something like this. We come in and look around. A server smiles and waves us to a table. So far, so good: The universal sign language works. We take our seats, and our hostess greets us with a friendly "¡Buenos tardes!" ("Good evening!")
"Buenos tardes," I chirp back. This was probably a mistake, as it creates the false impression that I speak Spanish, prompting her to continue the conversation in the same language.
"¿Bebida?" she inquires.
OK, I'm game. I know that means "drink," so I pipe up with the obvious: "¡Cerveza Mexicana!" ("Mexican beer!"). She smiles, then waits expectantly.
¿Er? ¡Ah! She's waiting for a brand name. Thinking fast, I add "Carta Blanca."
She frowns, shaking her head gently, then ripostes: "¡Corona!"
My turn to frown. That lightweight stuff is the Mexican equivalent of Coors Light. There's no there there.
"¿Tecate?" Unggh. Not much better. How could I ask for something not quite so light? I give it a shot with "¿Mas robusto?" which I think might mean something like "¡Stronger!" Or not. I'm rewarded with an uncomprehending look. My wife kicks me under the table.
OK, Tecate it is, then. Ice cold, with a lime wedge perched on the snap-top, no glass. It's good.
"¡Si!"
We sip our Tecates and study the menu. As I mentioned, it is "slightly" bilingual, which is to say that it provides English translations for major food categories like "Mariscos" ("Seafood"), "Carne" ("Meat") and "Cocteles de Camarones" ("Shrimp Cocktail"). Most of the specific dishes are listed only in Spanish, though. The menu offers color photos of a few dishes, which helps a little, although it's hard to make out exactly what a pina Cancun ($16.50) is. It looks like a whole pineapple sitting on a plate of lettuce and tomatoes, which seems odd. Maybe it's hollowed out and filled with seafood? My Spanish simply isn't up to the task of finding out, especially when my wife keeps kicking me when I try to use it. Some day I'll come back with a Spanish dictionary.
Most fish ("pescado") dishes are $10, shrimp ("camarones") are $11 and octopus ("pulpo") are $12, offered "A la Diabla" ("deviled," or hot-and-spicy), "Al Mojo de Ajo" (with oil and garlic), "A la Mantequilla" ("tablecloth stainers" with a bright, dense tomato-chile sauce) or "A la Mexicana" (red-chile sauce). A Seven Seas soup featuring fish, shrimp and octopus looks like a hearty treat at $15, and there's a variety of ceviches starting at $10.
The back menu page features standard taqueria selections, including Mexican-style soft tacos with all the standard fillings, all $1.30. Like a Mexican variation on White Castles, these are tempting bite-size delights, and it takes a lot of them to fill me up. The same fillings are also available in tortas (Mexican sandwiches) for $5 and quesadillas ($6.50).
We started with a shared order of ceviche de pescado ($10), a generous portion of diced, firm and fresh white fish neatly carved in small dice with diced tomatoes, chopped red onions and cilantro, "cooked" by marinating in a tangy citrus juice, served in a shallow round glass plate garnished with thin wedges of fresh avocado. It was accompanied by a basket loaded with crisp, fried coarse-ground yellow corn tortillas and a ration of cello-wrapped saltines, an offering that I might have considered "Americanized" if I hadn't seen it done in Costa Rica and Peru.
Selecting from the photo on the menu, my bride chose mojarra frita chica ($8.50), a whole fried Pacific fish. Despite the chica ("small") moniker, it was a hearty serving, maybe 8 inches from head to tail. It had been lightly dusted with piquant spices and deep-fried until the skin was crispy and dark brown and the sweet flesh was tender and steaming. Served intact, head on and bones in, it was garnished with thin slices of sweet onion and fiery dark-green serrano peppers.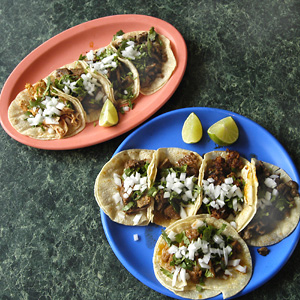 Assorted tacos at La Perla del Pacifico.
My choice, camarones al mojo de ajo ($11), consisted of a full dozen fat shrimp. Served peeled with the tails on, they were sautéed in oil with a generous amount of minced garlic that suffused every bite. They were cooked just a little past tender perfection, maybe, but stopped well short of rubbery. It was a great dish, the garlicky juices so delicious that I could have eaten them with a spoon.
Both dishes were accompanied by savory mounds of gently seasoned white rice with an inoffensive ration of peas, yellow corn kernels and diced carrots mixed in. Chopped iceberg lettuce, sliced tomatoes and a twist of orange completed the garnish.
With a shared appetizer, two main courses in the $10 range, and three cans of Tecate, the tab for dinner rose a bit above taqueria range, but quantity, quality and very friendly and competent if not English-fluent service add up to a more-than-fair $40.81, plus an $8 tip.
Dinner was more than good enough to bring us back for a weekend lunch, to try the tacos and, I hoped, a bowl of spicy menudo.
I tried the Spanish route again:
"Menudo, por favor."
A sad look crossed the server's face as she put her hand down on my menu, firmly but kindly, covering the listing with her palm.
"No mas."
¡Awwww!
But I made up for it with other goodies on this and further visits. Tacos ($1.30) were perfect, made in the authentic soft-taco fashion, a generous ration of the meat of your choice piled on a stack of two small, soft round corn tortillas, garnished with chopped raw white onion and minced cilantro. Lengua (tongue) was tender and properly beefy; carnitas was remarkably good, tender, long-cooked chunks of savory pork, pulled from the loin, then quickly fried. Barbacoa (beef) and pollo (chicken) were fine, too, and spicy dark-red chorizo sausage could have made a meal in itself. A torta ($4) was fine, too, a reasonable portion of juicy al pastor, tender, stew-like pork shreds mixed with cooked onions, piled on a tender, diamond-shaped Mexican bun with crisp lettuce and ripe sliced tomatoes, with a few crunchy jalapeño slices to add a bit of texture and heat. A choice of fiery red-chile salsa and slightly milder green chile verde in squeeze bottles made a good lunch even better.
Along with the language challenge, be prepared for La Perla to be out of something just about any time you go. One day, carnitas were 86'd. Another lunch found them out of Jarritos Tamarindo (although a bright-orange Mandarino made a fine substitute, as neon-bright as a Nehi orange drink but much more grown-up in flavor, with a tart and tangy orange-peel quality to give it some muscle). Sopes seem to be off the menu permanently, and when we raised the possibility of a nice creamy flan for postre (dessert), we got another sad head shake. All gone.
Still, I love this place and will be out here often. With my phrase book in hand.
La Perla del Pacifico
2840 Goose Creek Road
339-7670
Rating: 85 points
Now, for all of us obligate monoglots, here's LEO's handy guide to the Latino menu. Clip this out, and we almost guarantee that you'll get good service at any of the authentic taquerias and Spanish-speaking eateries around town. It's not that our glossary is so good; it's that the good folks who operate these places are so hospitable. But a few Spanish words, even awkwardly pronounced, can't hurt.
Easy English-speaker's guide to the Latino menu
Agua (Ah-gwa) – Water.
Arroz (Ah-ROSE) – Rice.
Asada (Ah-SAH-dah) – Roasted, usually roast beef.
Barbacoa (Bar-bah-COE-ah) – Barbecue, grilled meat.
Birria Piquante (BEER-r'yah Pee-KAHN-tay) – Mexican hot sauce preparation for goat or lamb.
Boltanas (Bowl-TAH-naz) – Snacks.
Bueñuelos (B'wayn-WAIL-oh) – Fried sweet pastry strips, a crunchy dessert often dusted with cinnamon and drizzled with syrup.
Burrito (Boo-REE-toe) – Popular dish, large flour tortilla rolled around a filling.
Camarones (Cah-mah-ROW-nayz) – Shrimp.
Carbón (Car-BONE) – Charcoal, sometimes used for "grilled".
Carne (Car-nay) – Meat, usually means beef when used alone.
Carnitas (Car-NEE-tahs) – Pork, usually cut in chunks, baked or boiled and then fried.
Cerveza (Sehr-BAY-zah) – Beer.
Chica (CHEE-cah) – Small. (Literally, "girl.")
Chorizo (Cho-REE-zoh) – Sausage. The Mexican variety familiar in taquerias is usually crumbled pork sausage, hot and spicy.
Enchilada (EHN-chee-LAH-dah) – Tortilla dipped in chile sauce, rolled around meat or cheese, baked and sauced.
Flautas (FLAU-tahs) – Tortilla wrapped around filling in a thin tube (literally "flute") and deep-fried.
Frijoles Refritos (Free-HOLE-ays Ray-FREE-toes) – Refried beans.
Grande (GRAHN-day) – Large.
Horchata (Oar-CHAH-tah) – Sweet rice drink.
Huarache (Wah-DAH-chay) – Literally "sandal," a shoe-shaped tortilla sandwich with beans and pork.
Huevos (Weh-vohs) – Eggs. Huevos Rancheros is a popular breakfast dish, traditionally fried eggs on tortillas topped with a spicy tomato-chile sauce and cheese, but with many variations.
Lengua (LEHN-gwa) – Tongue.
Mariscos (Mah-DEES-coes) – Seafood.
Menudo (Meh-NOO-doe) – Tripe stew, a favorite weekend brunch dish, said to be good for hangovers.
Mole (Moh-lay) – Savory, not sweet, dark sauce made with chiles and dark chocolate.
Papas (Pah-pahz) – Potatoes.
Pastor (Pahss-TORE) – "Shepherd style," usually pork roasted with spices, especially at Louisville taquerias, although it may be translated as beef or even goat.
Pico de Gallo (Pee-coe deh GUY-oh) – "Rooster's beak," a fresh, spicy tomato salsa.
Piquante (Pee-KAHN-tay) – Hot (spicy).
Pollo (Poh-yo) – Chicken.
Postres (Post-rayz) – Desserts.
Queso (Kay-so) – Cheese.
Sopa (Soh-pah) – Soup.
Sopaipillas (Soh-pie-PEEL-yahs) – Similar to a New Orleans beignet, a deep-fried sweet pastry pillow, often served with honey.
Sopes (Soh-payz) – Similar to a tostada, an open-face taco-style dish served on a thick round of masa flatbread.
Taco (Tah-coe) – Favorite Mexican snack. May be hard (fried corn tortilla folded into a "U" and filled) or soft (small corn or wheat tortilla – sometimes two – with ingredients served open-face. Some taquerias will offer American-style (with lettuce and tomato) or Mexican-style (with raw onions, cilantro and lime wedges).
Torta (TORE-tah) – Mexican sandwich, often served on an oval, three-lobed sandwich loaf.
Tostada (Toast-tah-dah) – Much like a flat taco served open-face.
Tres Leches (Trays Leh-chayz) – Literally "three milks," a rich but light yellow cake, familiar from South Texas through Mexico and Central America, made with whole milk, condensed milk and evaporated milk.
And of course, so you can practice the manners your mother taught you:
Buenos Dias (B'wayn-ohs Dee-ahs) – Good day.
Buenos Tardes (B'wayn-ohs Tahr-days) – Good evening.
Por Favor (Pour Fah-vor) – Please.
Muchas Gracias (Moo-chass Grah-see-ahs) – Many thanks.