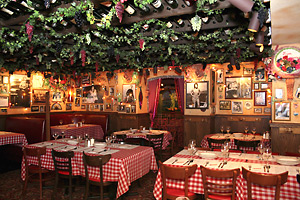 Buca di Beppo is notorious for its zany, tongue-in-cheek New Jersey-style Italian-restaurant décor and its huge portions of Italian-American dishes. The restaurant recently launched a new "Buca Mio" ("My Buca") menu that features smaller portions meant to feed a single diner. LEO Photo by Nicole Pullen.
LEO's Eat 'n' Blog with Louisville HotBytes
My friends know me as the un-chained guy, an obligate foodie with a strong preferential option for locally owned and operated eateries, where you'll find a distinct local flavor, and where you'll find the host on the premises, working without strings being pulled by accountants and lawyers in a distant corporate office.
My reasoning should be obvious: While chains may provide consistency and a predictable experience, the heavy hand of the bean counter and the cold reality of the quarterly balance sheet almost invariably inspire corner-cutting, and this is as true in the restaurant industry as it is in, well, the newspaper business.
Still, it wouldn't make sense to avoid chain dining entirely – heaven knows, it's popular – and I might miss some good eats. Here and there around the Metro, and particularly in the chain-rich environment of the East End, there's decent dining to be found in at least a few of the big-name brands.
One of the best bets, in my experience, is Buca di Beppo, Continue reading Eating for two (or more) at Buca di Beppo →