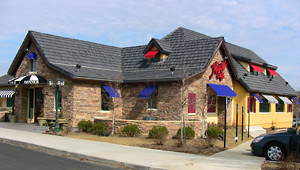 Mimi's occupies the renovated former quarters of Don Pablo's on Hurstbourne. Photo by Robin Garr
(Voice-Tribune, March 8, 2007)
When it comes to dining out, I'm usually inclined to look for a well-run locally owned and operated eatery, where the chances are that the person who has to meet the payroll is the same individual who cooks your dinner or greets you at the door.
In the practical reality of today's corporate world, however, franchise and chain restaurants abound; in the suburbs, it's fair to say that chain eateries significantly outnumber the locals. Drive the length of Hurstbourne, for instance, and once you're past Tony Boombozz, the elegant Limestone and the Bristol, you've pretty much exhausted your independent-owner options.
But let's face it: Bean counters and quarterly balance sheets to the contrary notwithstanding, the chains must be doing something right, as these eateries generally pack in crowds of seemingly happy customers. When P.F. Chang's and Cheesecake Factory opened in the East End the year before last, the hungry hordes quickly lined up to endure a two-hour wait. Now another recent Hurstbourne Parkway arrival appears to be doing a land-office business.
Mimi's Café is the first Louisville outpost of a chain of more than 100 units. It started as a family restaurant in Anaheim, Calif., in 1978, and is now a property of Bob Evans Farms, Inc. Open for breakfast, lunch and dinner, it occupies the renovated quarters that formerly housed Don Pablo's.
It looks welcoming and cozy, sort of like a cleaned-up fin de siecle Paris by way of Disney's Epcot, not that there's anything wrong with that. The menu is huge, albeit on the pricey side for chain dining, with more than 60 lunch and dinner dishes that range from starters, "small bites," sandwiches and burgers to serious main courses that include both classy (Cajun blackened salmon, $13.59) and down-home (country fried steak, $11.49). Entrees range in price from $9.99 (for fettuccine with Asiago cream sauce) to $15.49 (for a 12-ounce top sirloin steak, flame-broiled or pan-seared with Cajun spices).
More than three dozen breakfast items are mostly under $10, including two-egg breakfasts, omelets, eggs Benedict, pancakes and French toast. Coffee and espresso drinks, bar service and a short wine and beer list wrap up a menu that can take a good while to assimilate.
There's good news and bad news about the food: Everything is very well prepared, and most of it comes in generous portions. But it's very, very bland, at least to my taste buds.
Chicken pot pie ($11.59) looked great. It was topped with an appetizingly golden pastry crust, and it was chock full of goodies: oversize chunks of chicken, bright carrot pennies, sliced celery and lots of peas, in a thick, pale yellow creamy sauce. But it was hard to detect any flavor but salt. A little garlic, a dash of thyme, something would have been welcome.
An Asian "Chop Chop" salad ($7.89 for the "petite" size, which is actually rather large) substituted romaine lettuce for most of the promised shredded cabbage and, in defiance of the menu's claim, didn't seem to have any cilantro at all. A toasted won-ton garnish was almost AWOL, only three lonely crunchies perched on top. The sesame dressing was as sweet as candy, but the roast chicken bits were fine.
The Thai Chicken Wrap ($8.79) was a soft tomato tortilla tightly rolled around what appeared to be a ration of the Chop Chop salad and some warm rice, flavored with a barely detectable whiff of spicy heat. I chewed and chewed and felt almost bored, wishing desperately that I could have a little Tabasco or soy sauce or fish sauce, anything to give it some flavor.
A smallish crock of French Onion Soup ($5.29) was topped with a thick layer of mild, molten cheese on a soft bread crouton. The soup was pale in color and tasted of sweet onions, mostly. The menu said soups came with "our signature bread basket," but none was forthcoming. When I inquired, the server (who was friendly but seemed too busy to give us much attention) reported that the crouton was the bread basket. Hmm.
A very large and filling lunch – really, we could have skipped the soup and salad – came to a hefty $35.60, plus a 20 percent tip.
Mimi's Café
615 S. Hurstbourne Parkway
(502) 426-6588
http://www.mimiscafe.com
Rating: 76 points