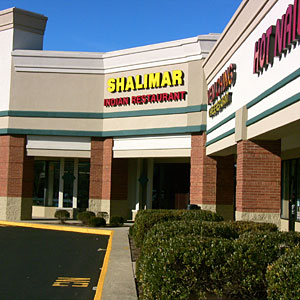 Serving fine Indian fare for more than a dozen years, Shalimar is Louisville's longest-lived Indian eatery. Photo by Robin Garr
(Voice-Tribune, Jan. 11, 2007)
I've loved Indian food ever since I first discovered it as a youngster during a long-ago trip to London, where I was instantly smitten by the curry houses around Victoria Station.
I came home with a lifelong love for this exciting, aromatic and sometimes fiery fare, but it took years before it would be easy to enjoy it in Louisville. Through the '80s and into the '90s, it seemed, our city simply wasn't ready for such exotic cuisine, and a sad series of short-lived family-run Indian restaurants came and went.
Eventually, though, a few Indian spots showed staying power, and for the past few years we've enjoyed a choice of at least three good options – Kashmir in the Highlands, Shalimar on Hurstbourne near I-64, and India Palace, which moved last year from the Buechel area to Shelbyville Road near Hurstbourne.

Like a few other Asian spots – notably Thai Smile (1977 Brownsboro Road), Queen of Sheba Ethiopian (3315 Bardstown Road) and Sari Sari Filipino (2339 Frankfort Ave.), not to mention the dozens of rather forgettable Chinese-American buffets – the Indian eateries offer a great bargain (and a good introduction to the diversity of their ethnic fare) in all-you-can-eat lunch buffets.
Take your plate down the buffet line at an Indian eatery and you'll discover that this exotic yet appealing cuisine involves much more than just palate-scorching heat, although you can certainly have that if you're so inclined. Dishes may range from mild to fiery, but they're almost invariably aromatic, painting a range of sensations across your palate that's as complex, and as pretty, as an Asian tapestry.
An Indian restaurant is a great place for vegetarians, but there's plenty for the meat-eater, too. Beef dishes aren't common – remember the Hindus' sacred cow – but chicken, lamb and even goat curries turn up on the Indian table, as do fish and seafood dishes. Long-grained, jasmine-scented basmati rice is a staple, but so are intriguing wheat breads including the tandoori-baked flatbread called naan, crunchy wafer-thin pappadams and the odd but appetizing wheat-bread puris, deep-fried until they puff up into softball-size spheres.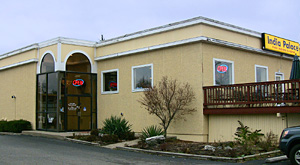 India Palace's buffet is particularly strong on Indian vegetarian dishes.
Feeling a craving for curry, we greeted the New Year with an East End Indian marathon, hitting the lunch buffets at India Palace and Shalimar on successive days. Both buffets are quite similar in style, content and price. At $5.95 for all you can eat, they're bargain dining indeed, and I indulge so fully that I generally don't require dinner that day.
India Palace features at least a dozen main-course items, about equally divided between vegetarian and meat dishes, a small salad bar, rice and naan and assorted Indian desserts. Shalimar offers only six or eight main dishes, but two breads and a wider selection of desserts. Shalimar may be just a bit more authentic in terms of fiery flavors, fresh green chile peppers and exotic ingredients like goat. But I find the dishes at India Palace very well-made, with clean, bold flavors; a wider selection, and they're better at keeping the buffet pans fresh and well-stocked. A visit to Shalimar late in the lunch hour found the pans mostly filled with liquid, most of the bits of meat and vegetables having been picked out by diners who got there before me. A salty lassi (a creamy, salty yogurt-based drink that does a great job of quenching fiery food) was perfect at India Palace, creamy, sweet and foamy; the lassi at Shalimar seemed more like skim milk with a dollop of yogurt blended in.
The vegetarian dishes at India Palace are particularly fine, although I wouldn't say no to a second helping of its lamb curry or chicken tikka masala in its buttery, reddish-orange sauce. Goat curry was a standout at Shalimar, bite-size chunks of long-simmered goat meat on the bone, akin to very flavorful lamb in a gently piquant sauce. Kheer, a subtly flavored thin rice pudding, and gulab jamun, a gently fried ball of sweet white-flour dough coated with honey and rosewater, made a fine, palate-soothing dessert at both spots.
Both lunches, with two buffets plus a couple of salty lassis, came to about $22 plus tip.
India Palace
9424 Shelbyville Road
394-0490
Website: www.indiapalaceky.com
Shalimar
1820 S. Hurstbourne Pkwy.
493-8899
Website: www.shalimarlouisville.com