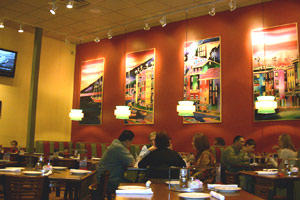 The most recent addition to the Tony Boombozz empire is the brand-new upscale casual Boombozz Bistro in Jeffersontown with an expanded menu and table service. The walls are bright and bold, the colors of tomato sauce and mozzarella, artichoke and sun-dried tomato. Photos by Robin Garr.
LEO's Eats with Louisville HotBytes
Like a primordial anchovy creeping out of the sea and beholding bigger and better things on shore, the first Tony Boombozz pizzeria burst into view just a decade ago as a tiny but portentous creature.
Louisville's pizza lovers looked upon it and saw that it was good. So it wasn't long before the small pizzeria moved into larger quarters on Frankfort Avenue, then spawned a second location on Bardstown Road, cannily providing artisan pizzas on both of the city's primary restaurant rows.
Now there are four, with the addition of a fast-casual dining room in Springhurst, and, out past Jeffersontown in the distant 'burbs, the subject of today's sermon: a brand-new upscale casual Boombozz Bistro with an expanded menu and table service. (Coming later this year, an expanded Bardstown Road operation and tap room with 30, count 'em, 30 draught microbrews.)
Continue reading The Boombozz theory of evolution →