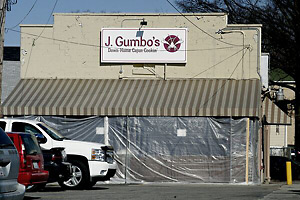 Regular readers will recall observations I've written in the past about the original Clifton J. Gumbo's retaining much of its character while some other links in the growing local chain didn't show so well. This news release about Founder Billy Fox Jr. regaining control of the brand should read as good news for those who loved Gumbo's, at its best, for quality and value.
During his twenty year career as a thoroughbred horse racing jockey, Billy Fox, Jr. learned a thing of two about taking it all in stride. So after his initial foray into franchising his J. Gumbo's Down-Home Cajun Cookin' restaurants didn't proceed as smoothly as he had hoped, Billy didn't panic or let failure whip him into a frenzy. Instead, he has confidently taken hold of the reins of his business again. "There's a joke among the staff." the Grand Coteau, La., native says, "that they've gotten me back in the saddle and the kitchen again."

Two years ago, Fox and several business partners decided to franchise the J. Gumbo's concept in a big way. After some initial success — the partners sold franchises in Cincinnati, Indianapolis and Sacramento — the concept lost steam.
"We were overly optimistic about how fast we could grow the brand," Billy explains. He also cites some poor business decisions (such as raising prices and outsourcing some of the cooking) that strayed from the brand's main tenet: serve big bowls of great-tasting, authentic Cajun food at a low price.
To get the brand back on track, Billy is doing all of the cooking himself for the seven local J. Gumbo's restaurants. "We tried to outsource some of the cooking and we just couldn't ever get the quality the way I want it," Billy explains. "With me back in the kitchen, I have total control over every serving, and we won't serve any meal if I'm not happy with it."
Under Billy's direction, the company is also lowering prices of all of its menu items. And on April 15 — tax day — all Louisville-area J. Gumbo's restaurants will be selling entrées for just $1 a bowl. The April 15th event is the kick-off of J. Gumbo's "Cajun Nation Economic Stimulus Plan." The plan includes several money-saving offers for J. Gumbo's patrons, including:
• $3 entrees Monday through Friday, from 3:00 PM to closing.
• Cajun Pride T-Shirt Weekends: patrons wearing J. Gumbo's t-shirts will receive 1/2 off their meal
• $1 off the meal of students, seniors and active military, police, EMS and fire department personnel with valid ID.
"We know a lot of people are hurting out there with the way the economy is today," says Billy. "By lowering prices and serving up big bowls of great food — we're hoping it can ease the sting of the current downturn. Our Cajun Nation Economic Stimulus Plan may not cure what ails the economy, but it's guaranteed to stimulate your taste buds."
With these changes and rededication to the brand's strengths, Billy is confident that he can win over past patrons and future customers. One thing is for certain: J. Gumbo's has rounded a difficult turn and has a strong hand at the reins.
###
J. Gumbo's was founded by Billy Fox, Jr., who also operated two other Cajun-style restaurants in the Louisville area: Gumbo-A-Go-Go and The Cajun Café. Fox, a professional jockey, started J. Gumbo's by recreating family dishes prepared from his grandmother's authentic recipes. His restaurants serve heapin' helpings of authentic red beans & rice, jambalaya, creole, etouffée and other Cajun dishes.