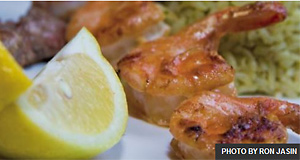 (CLOSED)
Thank goodness it's not another faux Irish pub.
Tequila Factory Bar and Grill is the latest tenant in the revolving-door location at 917 Baxter Ave., the former home of @tmosphere, Bazo's and two or three iterations of Nio's, among other short-lived concepts.

It's all but surrounded by Irish-style pubs, where you'll pay $6 for a pint of Guinness and enjoy such dubiously "Irish" staples as Jamaican jerk chicken and shrimp Alfredo pizza. This concept seems to be springing up everywhere in the Highlands and other neighborhoods around town (I'm looking at you, Fourth Street Live). But there's been an unfortunate lack of new and interesting Mexican concepts.
Enter the Tequila Factory. A member of the Aztecas family of Mexican restaurants, this cousin is different: An upscale version of the traditional Americanized Mexican "ristorante," it adds a fun selection of tapas to the menu, and a tequila selection that goes well beyond the trendy Patron Silver.
There have been some growing pains — LEO's Bar Belle had service issues when she stopped in — but the place has been hopping on weekends, when live music adds to the attraction. After a couple visits, I'd rate it as a destination that could and should stick.
My first visit was impromptu, shortly after Tequila Factory opened. My buddy Greg and I sought to quench our thirsts. He mentioned he had passed by a few days earlier and seen the sign. Tequila, you say? Good enough for me.
The digs certainly complement the concept: There is a deck for al fresco dining, and the main bar features dark wood accents and ceramic tile tabletops, plus a signature wall of tequila that towers over the main space.
We enjoyed a top-shelf margarita ($8.50) or two and split an order of fried calamari from the tapas menu. Tapas are available after 6 p.m. and are $8.50 each; the 10-item menu includes such dishes as tacos al pastor, mussels, pinchos (Mexican kabobs), taquitos and tequila lime chicken wings.
The calamari was tasty and plentiful. Although the menu showed it with a tomato dipping sauce, ours came with a remoulade-style sauce infused with cilantro. As a fan of cilantro, I took note, was duly appreciative and decided to return. Like, soon.
On a return trip the following week, the place was a tad busier, and we explored more of the offerings. Greg ordered a spinach salad ($7.50, and not very Mexican, but whatever), while I started with shrimp ceviche ($7.50).
Presentation and freshness consistently impressed. The salad was large and topped with feta crumbles, red onions, mushrooms, bacon and mandarin oranges. The ceviche came in a tall margarita glass and was served with sides of bean soup, rice and cornbread. Both the rice and the cornbread were infused with cilantro — a theme I was quickly growing fond of. The refreshing ceviche was swimming in lemon and lime juices (along with a splash of tequila), fresh jalapeño, tomatoes, onions, what appeared to be chunks of mango and — you guessed it — plenty of cilantro.
Next I threw our friendly server Brienne a curveball, requesting an a la carte chicken soft taco … with cilantro instead of lettuce. She checked with the kitchen, and moments later I heard the cook chopping fresh cilantro. You have to like that kind of attention. And the chicken was as fresh, tender and tasty as one would expect, marinated with onions.
For the next round, Greg chose the pinchos, two kabobs of tender beef and shrimp, both braised in cilantro-lime butter. I selected the mussels — traditional blue mussels cooked in a cilantro-garlic-jalapeño butter concoction that included a shot of tequila. Greg's kabobs came with the same sides I got with the ceviche.
Greg raved about the pinchos; he traded me a couple of bites for a couple of mussels, and he wasn't joking about how good they were. The shrimp was especially flavorful, and there was plenty of everything on the plate. Upon finishing, he announced, "That did not suck." It would be difficult to sum it up more emphatically than that.
The mussels were plentiful, cooked just right, tender and served with lemon wedges. Two thumbs up. I could have finished off the juice with a straw. I would have asked for more cornbread for dipping if I wasn't already so full.
A return visit revealed a few hiccups, as the kitchen was moving slowly on a Sunday afternoon. This time around, Greg ordered a traditional combination dinner with Spanish rice and refried beans and said that, while it was good (and enormous), the tapas were still the favorable choice.
Much of the menu reads like most traditional Mexican restaurants — with the requisite burritos, fajitas, huevos rancheros, quesadillas and the like. Lunch specials are $6.50 and up; dinner starts at about $10. For gringos, there's a T-bone steak ($14, served American or Mexican style) as well as a chicken wrap with fries at lunchtime ($8). Interesting items on the "Favorites" menu include chili-lime tilapia ($12.50) and fish tacos ($12.50). In my experience, it's the Favorites and the tapas you want to target at TF.
And then there's the tequila. Sure, you've got Cuervo, Hornitos, Patron and such; but there's a wide variety here, with the most expensive shot going at around $50. El Jimador? Check. Cazadores and AsomBroso? Check. Voodoo Tiki? You bet.
Tequila Factory also boasts quite a few specialty drinks — standard margaritas ($6) aren't bad at all, but consider an Electric Margarita: Lunazul Blanco tequila with Hiram Walker Blue Curaçao.
If only they made one with cilantro, I'd never leave.
Tequila Factory is a welcome addition to the Highlands and the Louisville dining scene in general; the food is fresh and I have found the staff friendly and efficient. Like its namesake, I expect it will only get better with age. —Kevin Gibson
Tequila Factory
917 Baxter Ave.
459-9191
Rating: 86