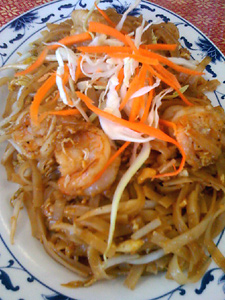 With all due respect, the Fern Creek neighborhood has long been the kind of place where "ethnic" means barbecue or diner fare.
But the arrival last year of Sake Blue, one of the region's top Japanese restaurants, changed that metric forever. Now add Thai to the mix with the opening of True Thai in the Glenmary Plaza shopping center just beyond the Snyder.

Small but bright and attractively decorated, True Thai is operated, I'm told, by a former employee of Louisville's Thai-Siam. A menu of about 30 standard Thai dishes is attractively priced with all dishes under $10. Stir-fry, noodle and fried-rice dishes are $8.95 for chicken, pork or tofu dishes; add a buck for seafood. Curries are $7.95 and $9.95.
Shrimp Pad Thai (pictured, $9.95) was well-made and flavorful, showing a proper contrast of soft rice noodles and still-crisp bean sprouts. Khow Pad (chicken fried rice, $8.95) came out as a stir-fry with steamed, not fried rice, but my wife liked it better that way. English is limited and service was more than a little "in the weeds" with only four tables, but the food and mood were just right. We'll be back. —Robin Garr
True Thai
8125 Bardstown Road
231-1992
True Thai on Google+