By Robin Garr
LouisvilleHotBytes.com
Between the budget impact of the pandemic and the time most of us spent hiding in our houses, I haven't been to many fancy, upscale restaurants lately.
Did I say "Lately"? Let's say I might have had one, maybe two, pricey dinners out since March 2020! I imagine a lot of you are in a similar place.
But sooner or later, it's time to dine. And so, to celebrate my birthday last month, we dressed up and headed out to Anoosh Bistro.
It was an easy choice. Anoosh Bistro ranks among my top restaurants in Louisville. I've been following Chef Anoosh Shariat for 30 years and more, from Remington's, his initial venture that opened in the late 1980's on Hurstbourne Parkway, through 10 years at his namesake Shariat's on Lower Brownsboro Road; a venture at Park Place and Browning's in then-new Slugger Field, and now, finally, his first-name namesake Anoosh Bistro on US Highway 42. (He recently sold the Bistro's more casual neighbor, Noosh Nosh, in a bid to cut back.)
Throughout that tenure, Shariat has made friends and earned respect for his kindness, his gentle demeanor, and his deft chef's hand, a kitchen leader who's known for skills that run from baby lamb to vegetarian dishes.
I've got a couple more high-end spots on my want list, but Anoosh Bistro was the place to begin. It did not disappoint, as it never has for me, from its look and feel to, of course, the food.
White-draped tables huddle closely along banquettes that run the length of the room. A cozy bar fills one corner of the space. An open kitchen hums with activity at the back.
Anoosh's Facebook page describes the bill of fare as "high-end American cuisine," and I'd say the "American" part is accurate if we think of America's beautiful mosaic of immigrant cultures: Ten main-course options cover Earth's cuisines from the U.S. through Italy to East Asia, and I'm glad they do.
The "high-end" bit fits, too, with entree prices starting at $38 (for three vegetarian dishes) to $62 (for filet of beef Bordelaise). Even small-plate appetizers mostly go for $22.
Anoosh's boasts an excellent selection of beer, wine, and liquor, including a good Bourbon list of course. We enjoyed an old favorite from Italian travel, bubbly and pleasantly bitter Campari spritzes ($11 each).
We started with grilled artichoke ($20): Three tender artichoke halves were split lengthwise, neatly prepared with long edible stems attached. They bore neat char marks from the grill and boasted a happy tang from roasted shallot vinaigrette and preserved lemon. Bits of fresh-pickled carrot added brightness to the plate.
Alongside came a standard Anoosh Bistro starter: A length of good baguette was split, grilled, and drizzled with rich green basil oil, with a tangy mild cheese sauce for dipping.
Beet salad ($14) made a tempting and seemingly healthy appetizer.Tender, sweet red and gold beet halves were dressed with perfect leaves of gently bitter arugula. decorated with crumbled mild Capriole goat cheese, and finished with aromatic pickled shallots, balsamic vinaigrette, and basil oil.
A lovely appetizer special, asparagus soup with pepitas ($14), hit another home run. Redolent of fresh spring asparagus, it was creamy and rich, blended perfectly smooth. and topped with a dozen toasty roasted pumpkin seeds coated with piquant spice.
Beef Lomo Saltado ($22) offers a small (and more affordable) alternative to a main-course steak dish, and it was very good indeed. A Peruvian specialty with Chinese roots, it's a beef tenderloin stir-fry topped with fiery red pepper slices and a ration of crisp fried potatoes, South of the Border style. A fairly generous portion of a half-dozen tenderloin chunks were tender but firm in a spicy soy-chile sauce.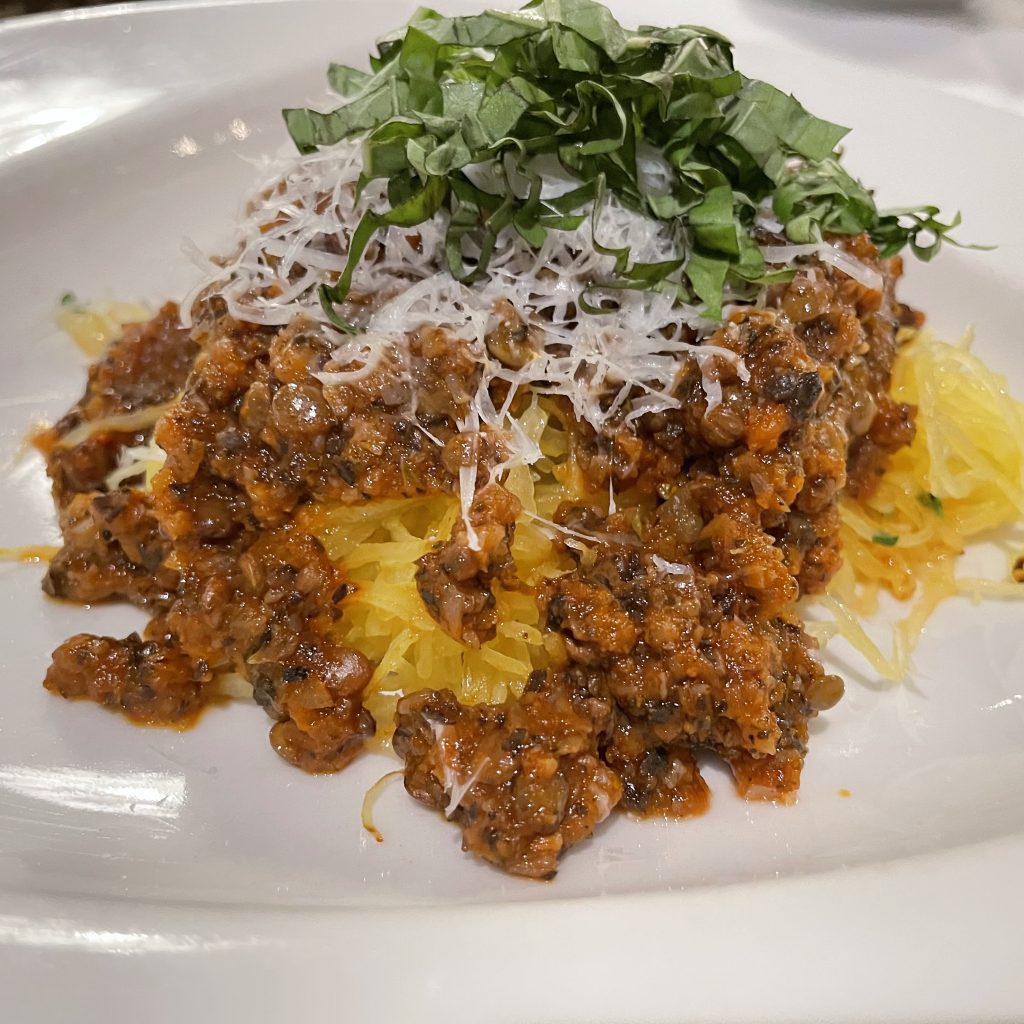 A meatless dish, vegetable Bolognese ($38), proved to be an exceptional combination that could please even the most ardent carnivore. It was built on a portion of spaghetti squash, which assuredly isn't pasta. But as a crisp base for a Bolognese-style sauce built on lentils in lieu of chopped beef, blended into a complex savory sauce with cauliflower and portobellos, it was nevertheless a tasty and filling combination. Lots of chopped basil to mix in and finely grated Parmesan (which could be omitted for a vegan dish) completed the flavor symphony.
Sticky Toffee Pudding ($14) wrapped up the evening on another high note.
Based on a thick bread pudding akin to British plum pudding and topped with a sweet toffee sauce, it was delicious on its own and got even better with a cookie-like hazelnut tuille on top, bearing in its turn a scoop of mascarpone cheese ice cream drizzled with more pale toffee sauce. You had to break up this architectural masterpiece to eat it, but I didn't care. It was too good to worry about details.
An outstanding celebratory dinner came with a price to match: With two Campari spritzes, the tab came to $152.64 plus a $35 tip.
Anoosh Bistro
4864 Brownsboro Center
690-6585
anooshbistro.com
facebook.com/Anooshbistro
instagram.com/anooshbistro
Noise Level: Conversation became iffy as the dining room filled on a busy weekend evening, The average dB level rumbled at a noisy 76.2dB with peaks at an ear-shattering 88.5dB.
Accessibility: The building and restrooms appear accessible to wheelchair users, but only the left entrance door has ramped access.