You'd think I've been doing this culinary critiquing long enough that I've been just about everywhere and tried just about everything. But the other night Anoosh Bistro delivered a first: An appetizer so fine that I couldn't eat just one.
Yes, that's what I said: The grilled Roman artichoke app (pictured above) was so good, so intense, yet subtle, so ringing with perfectly tuned flavors, that we ate up one order as fast as we could, then asked for another order in a take-out box so we could enjoy the experience again another day.
And that was just the start. Please record two thumbs up on my first visit back to Chef Anoosh Shariat's eponymous eatery since my last visit just after it opened in the autumn of 2014.
The simple, elegant style of the place hasn't changed much, with its understated gray and white decor brightened by splashes of bold color in framed prints of close-up flowers along one wall. A tall, comfortable banquette bisects the room, breaking it into smaller, somewhat more quiet halves; booths line one wall and a classy bar the other, with an open kitchen at the rear. Tables are draped in coffee-with-cream color tablecloths and none-too-absorbent dark-coffee color cloth napkins rolled around heavy flatware.
One thing is different now: Mark Ford, formerly of Artesano and, earlier, St. Charles Exchange, has stepped in as executive chef, backing up Shariat during his recovery from colon cancer. "I'm doing well," Shariat told us the other night, wearing a big straw hat as he greeted diners. "I'm strong." We surely hope so.
About 15 appetizers range in price from $12 (for fried arancini risotto balls or escargot in puff pastry) to $18 (for a cheese and charcuterie plate); a half-dozen soups and salads are all $9 or $10. Eighteen entrees, including six seafood choices, five pasta dishes and eight "Land" entrees, a category that inscrutably covers both meat and vegetarian dishes, range from $19 (for what may be the city's most expensive hamburger) to $42 (for an 8-ounce grilled beef tenderloin). Among others, a Foxhollow New York strip steak is $39, coriander-scented Muscovy duck breast $29, and coconut curry tofu $24.
The well-stocked bar offers extensive wine and bourbon lists and interesting signature cocktails. We enjoyed a peppery, balanced Rittenhouse rye manhattan ($12) and a tall Campari and soda ($11).
Anoosh's take on garlic bread features thin-sliced crusty toast rubbed with garlic and fresh basil. A Groganica heirloom Bibb lettuce salad ($9) was okay, a rather skimpy portion of pale Bibb, toasted walnuts, thin apple slices, carrot shreds, and creamy white dressing.
Happily, it was all uphill from there, starting with those fantastic grilled Roman artichokes ($14), a revelatory dish that got us sitting up straight in delight. A good representation of the Roman dish carciofi alla romana, it consisted of two perfectly prepped artichoke hearts, including the long stem, that had been steamed with wine, lemon and herbs to impart subtle aromatics, then grilled to add a haunting smoky flavor. They were halved lengthwise and plated with a salad of spaghetti-look spiralized pickled turnip and bright slivers of red bell pepper, and finally drizzled with piquant green roasted shallot vinaigrette.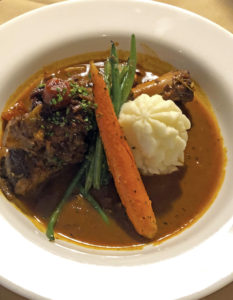 Anoosh's magic hand on lamb shows in the braised lamb shank ($28) with mashed potatoes. It was truly wonderful, presented with a large whole carrot, long-cooked as you'd do with a pot roast, green onions, fine mashed potatoes piped from a pastry bag, and deep, intense brown gravy, complex with a hint of cinnamon. (A friend offered an equally glowing report on the rare-pink, rosemary-scented rack of lamb ($38) in its intriguing sherry-date lamb jus.)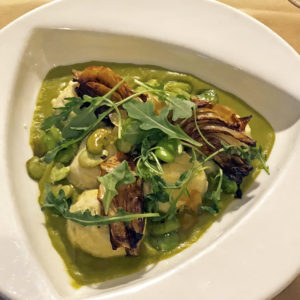 Having encountered gnudi for the first time in Louisville at Ward 426 recently, I was surprised to see this hearty Southern Italian dish again here. Will it be the next big thing? Anoosh's version ($28) consists of six small, sweet balls of ricotta plated on a thick fava bean cream and garnished with tender favas, roasted bitter radicchio and peppery arugula in an attention-grabbing combination of flavors.
Desserts are made in-house by pastry chef Robbie Santos. Coconut sorbet ($9) was wonderful in its simplicity: coconut in coconut milk, churned into a smooth, creamy yet light confection.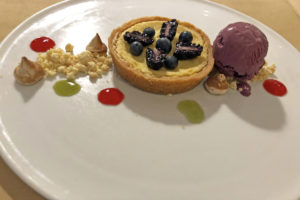 A lemon-curd tart ($9) was plated at the center of a medley of treats of contrasting flavors and textures: A pretty scoop of perfectly textured huckleberry ice cream; tiny, crisp meringue drops; crunchy milk crumbles, and bright, intense dots of red cherry and green apple sauce. The tart itself was built on an excellent cookie shell filled with a dense, potently lemony curd and topped with fresh blueberries and halved blackberries.
Dinner for two, with two adult beverages and an extra order of artichokes, was $142.04, plus a $30 tip for our server, Bowen.
Anoosh Bistro
4864 Brownsboro Center
690-6585
anooshbistro.com
facebook.com/Anooshbistro
instagram.com/anooshbistro
Robin Garr's rating: 90 points
Noise level: A crowded room generates a happy noise, but the tall banquette that divides the room seems to muffle some of the sound, so conversation was easy for our group. (Average sound level 77-86 dB.)
Accessibility: The dining room, bar, and rest rooms are level and accessible to wheelchair users.