Here's a pro tip for restaurant servers: Don't suck up. Even if you think you've spotted a food critic in the house, don't do it. It can lead to no good end.
Or maybe you don't reserve the obsequiousness for suspected food writers. Maybe you fawn over everyone who comes in the door, thinking that bowing and scraping like a rug merchant in a Middle Eastern bazaar will prompt everyone to shower you with big tips.
Take this clue: It doesn't work. Or it sure as hell doesn't work for me, anyway.

I don't know that I was recognized upon my arrival at Anoosh Bistro, but after the 47th time that I was interrupted by someone who just had to know if I was enjoying myself, I had to assume that there was more going on than just new owner Anoosh Shariat's noteworthy hospitality.
Actually, Shariat does know me. I try to keep a low profile, but after many years in the food business, you can't help running into these guys at the farmers' market or wherever. But he also knows that rolling out the red carpet and treating me like a celeb is the worst possible way to get me into a calm, centered critic's head space.
So when he emerged from the kitchen at the end of the evening to give me a smiling hello, he kept it cool. He didn't even ask how I liked it, because he has the confidence to know when he's hitting the mark, as he almost always does.
Now, Anoosh, sell that idea to your staff.
Shariat had operated the eponymous Shariat's restaurant on Brownsboro Road for 10 years, then went on to open Park Place at Slugger Field before leaving town a few years ago. After a few false starts, including an aborted shot at the still-to-come Mesh on the old Azalea site, he finally came back last month to take over Henry's Place.
The first thing he did, perhaps no surprise for a man who I have never seen wearing a necktie, was to abolish Henry's dress code. No longer must one don jacket and tie to dine in these fancy quarters, and I have heard no complaining about this.
Then they hung the new (temporary) sign out front, and opened a new Facebook page.
And that, it seems, is about it. The look and decor of the place (which involved a massive re-do of the old Mike Best Meats) remains the same. So, as far as I can tell, does the menu and beverage program. Not that there's anything wrong with that: Henry's cuisine was appealing, and if a new hand in the kitchen yields slight differences between the menu description and what's on your plate, no worries. It's going to be good.
Here's another pro tip: If you want to sample what Anoosh is up to, go for the daily specials, which are usually posted on the Facebook page. I don't normally try specials when I'm reviewing because they're transient: You won't be able to taste what I reviewed. But next time here I may make an exception to that rule.
My brother, Matt, was in town for a few days, so he and Mary and I hit up Anoosh's for a luxurious dinner the other night. I summoned a rosemary gin fizz ($9) to celebrate a still mild late-summer evening and was pleased with its subtle herbal scent.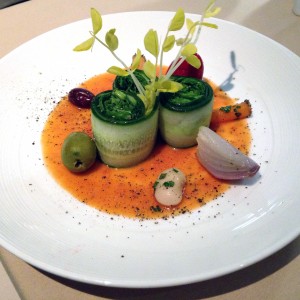 Following an addictive complimentary opener of warm sliced French-style bread with a tangy cheese dip, our first round of dishes included crab soup ($8), sweet crustacean in a savory, brown, tomato-laced broth served with melba brioche and a skinny grissini; the same artfully made spinach salad ($8) that Henry's made famous, barely dressed spinach leaves rolled into three tight cucumber rolls and artfully plated with olives, a fava bean and a pickled red onion wedge on a hot-and-spicy, tartly vinegary orange dressing; and an Anoosh special, pickled beet salad ($10), tart-sweet beet rounds arranged on a bed of arugula and sprinkled with mild goat cheese.
Main courses fully satisfied. Pink-fleshed pan and herb-seared ruby trout ($26) was flaky with a crisp skin, not overcooked, plated on Israeli tomato couscous with veggies and Parmigiano. Danish scampi ($26) a special, also drew raves for its elegant simplicity, large prawns and small shrimp on wide pasta in what appeared to be a classic beurre blanc. A warming bowl of veggie risotto ($18) was well-made, tender but al dente rice, rich with cream, loaded with mushrooms, edamame beans, tomatoes, and more, garnished with crisp, barely cooked green beans and a baby tomato.
We had little room left but managed to split a moist, luscious layered raspberry chocolate mousse cake ($8) three ways.
A splendid dinner for three came to $124.02, and a service team that was skilled and professional – despite that early sucking up – shared a $30 tip.
Anoosh Bistro
4864 Brownsboro Center
690-6585
facebook.com/Anooshbistro
Robin Garr's rating: 86 points