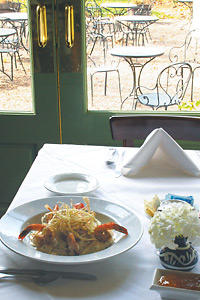 211 Clover offers a fancy version of shrimp and grits, a Southern specialty. LEO Photo by Nicole Pullen.
LEO's Eat 'n' Blog with Louisville HotBytes
(Brunch at 211 Clover Lane)BZZZZT! Sorry, Bubba. This hearty Southern comfort food comes to us direct from South Carolina's Low Country around Charleston. Back in 1607, Sir Walter Raleigh's English colonists first chowed down on a slumgullion of boiled ground white corn that the local Indians called "rockahomine." It didn't take them long to notice that the tasty shrimp that abounded in the region's coastal waters went a long way to improve the nutritious but bland grits.
It would be almost 400 years before Shawn Ward, chef at Louisville's Jack Fry's, added Southern red-eye gravy to the dish, gave it a fancy plate presentation and started serving it for dinner. Louisvillians were dubious at first, but the dish soon caught fire; other local chefs caught on, and now you can find it at a dozen upscale eateries around town. A Louisville tradition? Maybe Bubba got it right after all.
In the Low Country, shrimp and grits was po' folks wakeup grub, simply dubbed "breakfast shrimp." In Louisville (and, nowadays, in Charleston's more upscale spots), shrimp and grits are good to go for brunch, lunch or dinner.
Jack Fry's version remains the local benchmark, but I've enjoyed splendid variations, among many others, at L&N Wine Bar and Bistro, Café Lou Lou, and in Italian-accented glory – with polenta in place of grits – on Volare's brunch. I'm smitten with the rock-shrimp version at Wild Eggs. And the other day, a particularly fetching rendition put the "i" in "indulgence" in a lovely Sunday brunch at a St. Matthews favorite, the too-often-overlooked 211 Clover Lane.
Although it's just barely off the beaten path, in a tasteful little '60s-era shopping center just across the Westport Road tracks from Trinity High School and a biscuit's throw from 60 West (née Café Emilie) and the new Café Lou Lou, this pretty little frame cottage tends to get lost in the trees, at least for me. But every time I go back, I realize that owner Andrew Smith and Chef Troy Schuster are quietly operating one of the city's top-tier restaurants over there.
We went in for brunch and enjoyed it so much that I really want to go back for dinner soon. Like shrimp on grits, they've improved a bland commercial building with an appealing emulation of a French country cottage, not the least kitschy but tastefully discreet.
Three or four pretty, off-white rooms are divided into cozily intimate dining sections. Good-size tables are draped with two heavy white tablecloths, one over the other, in the style of fine European dining; they're set with white cloth napkins, heavy flatware and excellent, shell-thin wine glasses even for the water. This autumn morning, fresh white hydrangea were placed in blue-and-cream bud vases, completing a scene that's quietly elegant but not at all stuffy.
The small restaurant usually fills up for Sunday brunch, so reservations are advised. It's not a gluttonous all-you-can-eat brunch but a prix-fixe ($14.50) with about eight items to choose from the menu, plus a la carte sides and desserts if you want them.
I'd call the main dishes "mid-Atlantic," the United States meeting the Continent halfway across. On the Euro side, you'll find selections like short garganelli pasta topped with guanciale (that's Italian for "hog jowl"), baby eggplant, fresh basil and roasted tomato sauce. On the American side, you'll find, well, shrimp and grits. How about French toast? French or American? Fashioned with fine Blue Dog bread and served with real maple syrup, bacon or sausage, I'd call it a down-home treat home from college for the holidays.
While we waited for our courses (it did take a bit), we sipped strong, clean-tasting Illy coffee ($2) and munched a 211 Clover signature treat, baby-size lemon-currant scones. These were mind-blowingly good, like sweet, short triangular biscuits, crunchy on the outside and light within, dotted with tiny currants that offered little bursts of dried-fruit flavor, with fancy orange-ginger marmalade on the side. They're just about three bites each, but they're like crack – in fact, much like reefer madness, the first two are free with the meal, but you have to pay $1.50 if you want two more. (I didn't inquire whether a third portion costs $99.50.)
The pan-seared trout entree consisted of two boneless fillets of perfectly fresh boneless fish, dusted in flour and seasoning and sauteed just right, flaky but not overcooked, tender trout within a crisp, golden-brown shell. Garnished with capers and tart bits of cut-up fresh lemon, the fillets perched on thick rounds of perfect roasted red new potatoes and just a few thin but not-quite perfect green beans, which had been tastefully undercooked but came out closer to chewy than crisp-tender.
I went with the shrimp and grits, of course. The fancy 211 take on the classic presents four large broiled shrimp perched tails up, like mermaids diving, on a bed of rich and creamy, coarse-textured white grits. The dish was topped with bite-size chunks of roasted tomato, snipped chives and crispy thin strips of fried leek, sauced with a thick, gently tangy yellowish "garlic cream." In one kitchen slip-up that only a finicky cook would be likely to notice, the tomato pieces had not been peeled before roasting, so the cooked skin peeled off in unattractive, papery bits.
A trio of sorbets made a fine, light shared dessert. Three oval quenelles of golden mango, burgundy-color blackberry and creamy white coconut sorbet, ice cold and true in flavor, were arranged in a triangle with a little shortbread cookie and a decorative leaf of mint. To quote Rachael Ray, "Yummo."
After we were seated by a taciturn and rather brusque host, service quickly improved to friendly but not intrusive competence, a good thing.
With the coffee and dessert, a delicious but not gut-busting brunch tab rang up to $42.40, and a $10 tip seemed fair.
211 Clover Lane
211 Clover Lane
896-9570
www.211cloverlane.com
Brunch rating: 88 points