LEO's Eat 'n' Blog with Louisville HotBytes
(Lonnie's, Zap's, Wings-N-Things, Al Watan, Marrakech and more)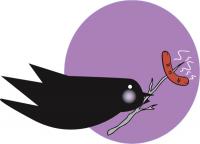 Illustration by Gina Moeller
Derby and Mother's Day are behind us, proms and graduations are winding up, and we assume that most of us have had our fill of celebratory gatherings and white-tablecloth dining for a while.
Let's give our battered wallets a break this week, as the Eat 'N' Blog crew fans out over the city to check out some affordable and savory snack foods: hot dogs, chicken wings and the more exotic realm of shish kebab.
Correspondent PAIGE A. MOORE takes us to the weenie-dog races as she stages a standup shootout between two of the city's top purveyors of Chicago-style hot dogs.

Battle of the Big Dogs
Debate all you want about whether deep-dish Chicago pizza is better than New York's thin-crust pies. But there's no debate when it comes to hot dogs: a Chicago-style frankfurter – topped with distinctive neon-green relish, tomatoes, cucumbers and sport peppers – is a winner every time.
I set out to try Chicago-style dogs from two Louisville establishments – Lonnie's Best Taste of Chicago in St. Matthews near Trinity High School, and Zap's Gourmet Hotdogs downtown, just around the corner from the Seelbach Hotel.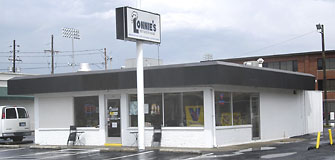 Photo By Robin Garr: Lonnie's dogs pay tribute to the Windy City staple with the neon-green relish and poppy-seed bun.
Lonnie's Best Taste of Chicago
121 St. Matthews Ave.
895-2380
At Lonnie's, I ordered a Jumbo Clark Hot Dog ($3.49 in a combo basket with fries) from a wide-ranging menu that includes several types of hot dogs, sausages, sandwiches and more. I received my order from the friendly counter staff within minutes. The Vienna Beef dog was meaty and tender – a true "ballpark" dog with a slight snap to the skin – nestled in a perfectly steamed poppy-seed bun. Lonnie's piccalilli relish glows like a Pink Floyd poster under black light. A couple of sport peppers deliver spicy-sweet heat, while wedges of tomatoes and cucumbers offer cool relief. A line of bright yellow mustard and a sprinkle of celery salt give the dog at Lonnie's true Windy City flavor. The fries were served hot and fresh with a hint of seasoned salt. With its reasonable prices and fast service, Lonnie's offers a great alternative to unspectacular fast-food drive-thru fare. Lonnie's is open for lunch and dinner Monday through Saturday.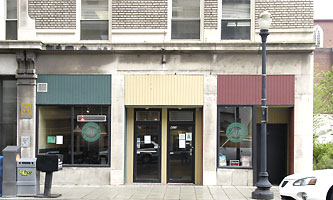 Photo By Robin Garr: Zap's, located downtown, also pays tribute to Chicago dogs, featuring a casing with significant snap-appeal.
Zap's Gourmet Hotdogs
423 W. Muhammad Ali Blvd.
587-0251
(NOTE: To the dismay of hot dog lovers all over town, Zap's abruptly closed at the end of 2006)
Next I went to Zap's, the latest addition to Louisville's hot dog scene. Zap's is open for lunch on weekdays, and recently added late-night hours on weekends – great news for visitors to Fourth Street Live, which is less than a block away. At Zap's, you choose a type of dog – ranging from the signature Zapernak to a Kentucky Bison dog – then add your choice of as many as four toppings free of charge. I ordered a quarter-pound dog ($5.50 in a combo with chips) and requested Chicago-style toppings (you get four, so be sure to ask for onions and mustard, too).
I picked up my order from the counter and eagerly tried the Zap's homemade chips. The skin-on potatoes were sliced thin, then fried to a deep golden-brown. Perfect. The hot dog had a lot to live up to, and it didn't disappoint. Zap's dog is sausage-like, in a casing with significant snap, and grilled. Add to that a grilled, buttery roll – no poppyseeds on this bun – and you've got pure backyard cookout flavor. While the generous toppings rivaled Lonnie's, the dog is the star at Zap's.
So who wins this dog-eat-dog battle? This dog race is a dead heat! Lonnie's gets points for great value and authentic Chicago-style hot dogs. Zap's serves up gourmet flavor and delicious homemade chips. At either place, you'll enjoy friendly service and either way, you'll indulge in a true top dog.

Fly me away on wings of …
For most of the millennia since humans first noticed that chickens weren't just egg producers but made darn good eats in their own right, chefs generally paid little attention to the wings, using the bony appendages in stocks or – when times were flush – simply discarding them.
But all that changed during the 1960s, thanks to independent discoveries on both sides of the Atlantic. In France, when Chef Miguel Guérard was busy inventing Le Nouvelle Cuisine and needed a dish that he could fancy up and sell at a good price without having to spend a fortune for raw materials, he came up with a brilliant creation involving the lowly chicken wing, converting it into snob food by fashioning drummettes as veritable chicken lollipops, sauteed with chunks of cucumber and cunning French spices.
In the more prosaic setting of Teressa and Frank Bellisimo's Anchor Bar in Buffalo, N.Y., legend has it that Mrs. Bellisimo crafted the first set of Buffalo wings for her son and a partying crowd who came in late one Friday night, after the kitchen had closed. The crunchy wings bathed in melted butter and hot sauce were an instant sensation with the Bellisimo crowd.
These innovations took the world in decidedly different directions, but it doesn't take a food expert to figure out which version would become popular: Fancy French wings with … cucumbers? Or salty, fatty and spicy? No contest!
Still, it took a while for the craze to spread across the United States. I recall having to explain them to an awed Louisville public ("No, bison don't have wings. These Buffalo wings come from chickens") when the phenomenon first hit Louisville in a little Mid-City Mall spot in the mid '80s, a wonderful but short-lived place that boasted both excellent wings and a very good wine list. But those days of intellectual darkness are well behind us, and now the city is awash in wings, and not just the Colonel's.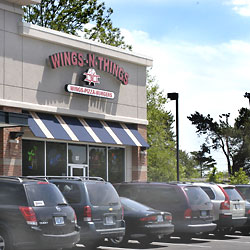 Photo By Robin Garr: You can tell you're in the 'burbs when four of the five cars out front are SUVs or mini-vans.
Wings-N-Things
2809 N. Hurstbourne Parkway
327-9464
I'm thoroughly smitten with one of the latest arrivals, Wings-N-Things, well out in the Eastern 'burbs in a Hurstbourne strip mall just off Westport Road. (It's just a few doors from Tony Boombozz Pizza and Vino, posing an agonizing challenge when I pull into the parking lot: Go left or go right? Either way, you can't lose.)
Actually, Wings-N-Things offers pizza, too, plus a selection of salads and sandwiches, but the Wings are so excellent that I've never gotten past the N to try the Things. My bride did take on a cheeseburger ($5.99) the other day, and reported that it was splendid, thick and well-made, still showing a bit of rosy pink at the center.
First Louisville venue for a small, Texas-based company that's just breaking out as a chain, it's in a standard shopping-center space, decked out as a brightly colored if fairly sedate sports bar with an aviation theme, with airplane photos, pizzas named after military aircraft and alternating red and blue U of L and UK hanging lamps over the tables. (I couldn't help noticing that the U of L lamps carried a Budweiser logo while the Big Blue ones bore ads for wimpy Bud Light. How about that, Cats fans?)
We had heard reports of variable service but have been served competently and hospitably on several visits, with the minor caveat that dishes are made hot to order and don't necessarily come quickly. Count on up to a half-hour for your wings to flap their way to your table, perhaps more during busy spells.
Wings range in price from $4.99 for six pieces all the way up to $54.99 for 100 (price quotes offered for larger orders on request), and you're free to mix and match as many as you like from a selection of 10 styles. You can also get boneless wings from $3.99 for four pieces to $13.99 for 20, but … boneless wings? This creeps me out, inspiring thoughts of strange, floppy birds bred by a maniacal scientist to create Franken-food "nuggets" on a weird assembly line. Let's not go there.
I've tried just about all the varieties and enjoyed them all, from tangy lemon pepper to smoky but not-too-hot chipotle to cheesy garlic Parmesan, not to mention a breaded-and-fried "crunchy" version that could bust the Colonel back down to private. But call me conservative, I still like the traditional Buffalo-style wings best, fiery, buttery and dripping bright-red Louisiana hot sauce like delectable lava. Take your pick of Original Buffalo (hot), Buffalo Medium (hotter) and Wings on Fire (NOT, the menu cautions, for the weak of heart).
I could eat a lot of these wings, and I think you'll like them, too. Just keep in mind that this is not health food. One correspondent told me, in apparent horror, that there's a pool of melted butter left in the baskets that bear these goodies when you're through. Well, yes. That's what wings do.
Actually, it may come as a surprise to those of us who love the forbidden pleasures of a butter-dripping hot chicken wing or a fatty, nitrite-laden dog, but some people actually believe these goodies are unhealthful. Eat 'N' Blogger SARA STICH, an unrepentant dog-o-phobe, respectfully submits an ethnic alternative.

Kebabbing it at Al Watan
Al Watan
3713 Klondike Lane
454-4406
Hot dog haters, take heed! An amazing alternative is available in this tiny, robin's-egg blue ethnic food haven in Hikes Point. Al Watan's shish kebab dinner ($10.99) is the perfect solution for those who avoid hot dogs: Richly spiced and perfectly grilled chunks of lamb are served with generous helpings of rice, plus a salad of cucumber, tomato, lettuce and parsley. And that's not all. Other options include kifta kebabs (minced spiced meat, broiled on a skewer) and chicken kebabs (both $9.99), plus a selection of sandwiches and salads starting at $2.50.
Who needs a hot dog bun soggy with condiments when your meat can be tucked into fresh pita bread from the Arabic bakery and grocery next door to Al Watan? And you'll never look at potato chips the same way again, once you've discovered the joy of Al Watan's falafel: nuggets of spiced and fried ground chickpeas, crunchy outside and creamy within, are a steal at 25 cents each.
The usual Middle Eastern suspects are done well here – eggplant favorite baba "gangue" ($4.75) and creamy, garlicky hummus ($4.25) – but we couldn't resist the infelicitously-monikered "foul" (pronounced "fool"), a deliciously spicy, zesty dish of mashed fava beans crowned with a pool of fragrant olive oil ($4.25). Drink selections include Arabic tea or coffee ($1) and soft drinks and juices by the can or bottle ($1-$1.25). A shared lunch for two came to just $20 with tip, and we left Al Watan wondering why anyone would ever want a hot dog in the first place.
More kebab
In addition to Al Watan's estimable kebabs, another favorite source for a Persian version is Shiraz Mediterranean Grill, 2018 Brownsboro Road, 891-8854. I'm a little more skittish about the lamb at the recently opened Marrakech, 1001 Bardstown Road, 454-4407, where the affordable, Moroccan-accented fare is generally fine but purported lamb shish kebabs boasted a strong, funky mature-mutton flavor that's not for the uninitiated.
Nibbles
If you shy away from the wines of Germany because you still haven't gotten over that unfortunate incident with Blue Nun at a college party, or even if you simply find it hard to warm up to a wine with a name like Katzenjammerschnitzelbankdistefinkliebchen Funkenbejabbers Riesling on the label, here's your chance to get a completely different view of the nectars of the Rhine and Mosel: Sommelier Scott Harper, the affable wine guy for the Bristol Bar & Grille restaurants, will teach an informative (and tasty) three-session course on the subject next month. The course, part of Bellarmine University's School of Continuing & Professional Studies, will run June 12, 19 and 26 at the Bristol-Downtown, 614 W. Main St. It's $119 for a single, $215 for a couple, including the wine. For info or to register, call Bellarmine at 452-8166.
One of the nicest things about food-related fund-raisers is that you can do good by eating well. So it is with the upcoming Celebrities and Chefs Create A Stir About Autism event, slated for June 3 at the posh Brown & Williamson Club in Papa John's Cardinal Stadium. Sponsored by Families for Effective Autism Treatment (FEAT) of Louisville, the event features hors d' oeuvres, appetizers and a five-course meal provided by chefs Agostino Gabriele of Vincenzo's; Anoosh Shariat of Park Place on Main and Browning's; Chris Howerton of Equus; Coby Ming of Wiltshire Pantry; Paul Brown of The Brown & Williamson Club; Dallas McGarity of Volare; Josh Lococo of Tologono; and Brandy Allgeier of Westport General Store. There'll also be cooking demonstrations, a bourbon tasting and open bar, and live and silent auctions. Admission is $125 per person, and proceeds will be used to support FEAT's mission of autism treatment, education and advocacy. For information, visit the FEAT Web site, http://www.featoflouisville.org, or call 254-7733 to reserve tickets.
The Spring 2006 edition of Food & Dining magazine is now on the streets. In this issue, the magazine (which I also serve as editor-in-chief) features lead articles on the Louisville Originals group, with profiles on four of its member restaurateurs; an extensive report on subtle, elusive and exotic spices; a seviche recipe from Chef Anthony Lamas; make-at-home recipes for spicy dishes from Sullivan University chefs, and much more. Food & Dining is available on news stands and at food-specialty shops around the Metro for $4.99; for subscription information see the mag's Web site, http://www.foodanddiningmagazine.com.