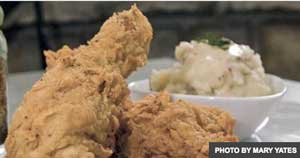 Got milk? Or a Nike swoosh? How about "comfort food with a twist"?
Indeed, what kind of wacky restaurant concept might we expect from one of the nation's top corporate-relations experts — a man who's run campaigns for such iconic enterprises as the American dairy industry and Nike — when he comes back home and turns restaurateur?
That would be Anchorage resident Kevin Grangier, former sole owner of award-winning CarryOn Communications Inc. of Los Angeles, New York and … St. Matthews.

Now affable proprietor of the Village Anchor Pub and Roost and the Sea Hag Pub, Grainger and an impressive staff are basking these days in the warmth of a substantial buzz.
Located in a new retail cluster (assembled by Grainger's fellow Anchorage squire, pizza mogul John Schnatter), the Village Anchor is housed on two floors of the historic Anchorage train station, which Schnatter had moved around the corner and up a hill to its new location and which has been beautifully refurbished with yellow clapboard with white trim.
With a breezy Victorian-themed lanai and umbrella'd patios, surrounded by herb and flower gardens, the Pub and the Hag have become instant destinations for both outdoor and indoor dining.
Step inside and you'll find a welcoming rendition of an ancient stone-walled, copper-bar pub downstairs (the Sea Hag), and an opulent dining room upstairs (the Village Pub & Roost), a French-looking bistro decked out in red velvet, antique sconces, a bar of its own and, inscrutably, a collection of Old Masters in heavy golden frames covering the ceiling.
Perhaps this all is not that distant from the milk mustache after all.
The staff at the Roost reads like an all-star team of Louisville dining. April Adams, formerly of Z's Oyster Bar and Steakhouse and Z's Fusion, runs the front of the house. Culinary Institute of America-trained Chef Geoff Heyde has worked at the Oakroom, and Sous Chef Oscar Maldonaldo was a lead cook at Rick's. At the bar, Jared Schubert reports in from 732 Social.
One evening we dined on the lanai, a large patio sheltered under a black-and-white striped, canvas tent and fitted with a squadron of fans to keep the air moving, making it surprisingly comfortable, even on a searing June day. A large fireplace and winter weatherproofing will make the lanai usable year-round, and to my delight, portions of the outdoor dining area are smoke-free.
The menu has evolved week by week — new dishes came on a few at a time, yielding an intriguing if somewhat confusing bill of fare that mixes up starters, salads and entrees under "Introductory Fare … Week 1, Week 2, Week 3 and Week 4." I'm told a revised menu will soon restore organization to the mix.
Dishes range from $5 or $6 (for a house salad and some kids' menu items) up to higher-end items ("From the Captain's Log") such as pistachio-crusted sea bass with citrus beurre blanc ($34) or a 12-ounce grilled filet with bourbon demiglace ($36).
Beer, wine and liquor are well chosen and fairly priced. Wines by the glass are $8 to $13, with plenty of good bottles in the $30s and $40s. (If you're in the mood for a party, Opus One is $398.) There's a good choice of American craft bottled beers and quality imports, and a shorter list of good draft brews. We cooled off with pints of Schlafly Kolsch and Sierra Nevada Pale Ale (both $6).
"Comfort food with a twist"? How about that picnic favorite, deviled eggs, presented as a tongue-in-cheek trio ($6), six halves on a ceramic server, two each topped with wild mushrooms and scented with truffle oil; made "Buffalo-style" with smoky bacon, celery, blue cheese and fiery Sriracha sauce; and sundried tomato aioli with goat cheese. I could eat a dozen myself.
The main course-size Ahi tuna salad ($12) featured a tenderloin-style strip of fine tuna crusted with sesame and coriander seeds, seared on the outside and rare in the middle. It was sliced in bite-size pieces and plated on mesclun lettuce with grape tomatoes, ripe avocado and mango, dressed with a tart-sweet ginger vinaigrette and decorated with, well, swooshes of red Sriracha and pale-green wasabi cream.
Grainger says Myra's Fried Chicken ($15) is his mother's own buttermilk-marinated recipe. It's free-range chicken, which wins my applause. A semi-boned half chicken wore a thick, crunchy crust and was golden brown and delicious, if not entirely grease-free. Mashed potatoes were dense and smooth, enriched with creamy white gravy. A tasteful finger bowl is equipped with a wedge of lemon, a service unlikely to appear at Twig & Leaf.
Veggies are a la carte. We chose a side of asparagus ($7 large/$4 small), al dente and deliciously smoky from the grill.
We retreated indoors for lunch on an even hotter day, enjoying a wacky take on the traditional burger, replacing the usual ground beef patty with a slice of juicy, beefy homemade meatloaf ($13). Fish tacos ($11) passed muster, too, with two small flour tortillas wrapped around blackened tilapia, shredded cabbage, avocado and melted white cheese, with spicy fresh pico de gallo and addictive house-made flour-tortilla triangles, flaky and crisp from the fryer. Thick-sliced onion rings ($7) looked impressive, golden-fried in beer batter, but alas, they were way too greasy.
Dinner for two came to $55, plus a $12 tip, a total hard to match at a comparable bistro on Bardstown Road or Frankfort Avenue. Lunch, with strong, fresh iced tea, was $36.99 plus an $8 tip.
Village Anchor Pub & Roost
11507 Park Road
708-1850
villageanchor.com
Robin Garr's rating: 89 points