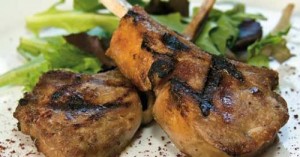 A few weeks ago, reporting from El Rumbon, the Cuban street-food trailer near Oxmoor, I uttered this simple forecast: "Cuban food is starting to look like the next big thing on the Louisville culinary scene."

It wasn't hard to see this coming. This week, we're going Cuban again at Habana Blues, a stylish new spot in New Albany.
Why is Cuban food developing such a following here? We can talk about our growing Cuban immigrant community, and we can certainly point to the bright and appetizing Latino-Caribbean flavor blend of Cuban cuisine.

I think the real answer, though, is that our local Cuban love got a kick-start with Mambo in the South End, which didn't last long but was quickly followed by siblings Havana Rumba and then Mojito. These early arrivals set the bar high, paving the way for a growing cadre of Cubanos.
Habana Blues has settled into the old New Albany Inn, once a hotel, which previously housed Bistro New Albany and the Windsor Inn. Habana Blues replaced its predecessors' cherub-and-cloud-bedecked décor with Caribbean dark red and sea blue. The New Orleans-style courtyard offers an attractive option when the weather permits.
There's a fairly extensive Cuban bill of fare plus a few international dishes, including lots of tapas, small-plate portions almost all under $8. The idea is to graze and share. Servers inform you not to count on a meal of paced courses: Dishes are sent out as they're ready, with extra plates for sharing.
There's also a selection of soups and salads; a half-dozen bocaditos (sandwiches) and comparatively pricey paellas and rice dishes, such as Paella Valenciana ($22.75) and arroz con pollo ($14.99).
The meat of the menu is in the tapas, though, with a half-dozen tapas frias (cold tapas) ranging from $4.75 for a dish of mixed marinated olives with grilled bread to $7.25 for guacamole con chichirritas with plantain chips. (You could also go for the not-so-Latino seared sushi-grade ahi tuna dusted with sesame seeds and served with soy sauce and wasabi mayo.) About 20 tapas calientes (served hot) are $4.50, including sweet-potato fries with smoked honey or a pair of flaky meat or veggie empanadas.
Full bar service provides a good choice of martinis, mojitos, margaritas and more — a short list of wines and mostly industrial beers was less inspired.
We went over the river with a group for lunch and worked our way through a swath of the menu without coming close to trying it all.
I started with tortilla Española ($5.50), a Spanish omelet. A pie-shaped wedge, served cold, boasted fresh flavors, but I found it a bit heavy on thick-sliced potato and light on egg. It was accompanied with a little dish of red-pepper aioli that kicked the flavor up a notch or two.
Mary's first course, a cup of caldo Gallego soup ($5.50), was a smallish portion (there's no cup/bowl option), a garlicky stew of white beans, chorizo, ham, pork and beef in a thick, reddish broth.
The chuletas de cordero ($7.50) was a small plate tasty enough to make us wish for a large plate. Two thin but tasty lamb rib chops offered about two bites each; they were served with a dab of red-pepper hummus decorated with green and black olives.
Cuba Blues' version of the popular Cubano sandwich was a decent rendition containing all the traditional ingredients: a slice of ham, a ration of roast pork, a slice of mild white "Swiss," a squirt of ballpark mustard, and a few crisp pickle chips, all built on a mini-loaf of Cuban bread warmed and pressed flat on a panini grill. Not bad! I chose a cup of frijoles negros (black bean soup, $4.25) as my side dish and was rewarded with a rich, sweet bowl of tender beans topped with sliced red onion.
At this point, we were still hungry, which may tell you something about the size of the small plates. But an order of pincho de cerdo ($7.25) set that right: three savory slabs of grilled pork-on-a-stick with a dish of thick, spicy romesco sauce filled that last little gap.
Our pals spoke well of the burger, the Elena Ruth sandwich (a wacky concoction of turkey, strawberry jam and cream cheese, à la panini) and chicken and beef empanadas. The albondigas (meatballs) were beefy and dense.
Our share for two, with strong, fresh iced tea, was $37.43 plus an $8 tip.
Habana Blues Cuban Tapas Restaurant
148 E. Market St.
New Albany, Ind.
(812) 944-9760
Robin Garr's rating: 82 points