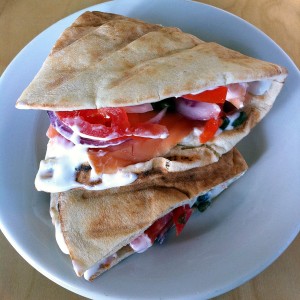 I like breakfast. Eggs, bacon or ham, French toast or pancakes, hash browns, whatever, it's all good to me. I can eat breakfast in the morning, I can eat it for lunch. I'll even consider eating breakfast for dinner, or an omelet anyway.

And if breakfast is sufficiently filling, I can happily make it through the rest of the day on a snack or two and a salad for dinner.
Yeah, I'm a breakfast kind of a guy. And now Meridian Cafe, a long-time favorite for excellent, affordable eats, has become an even better place to break my fast, opening earlier on weekdays and adding new "Breakfast Express" choices to its already estimable bill of fare.
Of course Meridian's remains a splendid lunch destination, too, as Chef Mike Ross, now full owner of the Cafe, has tuned the menus at both morning and noon.
The Café's regular breakfast items are served all day (8 a.m.-3 p.m. Monday-Saturday), while Express Breakfast is served 8 a.m.-11 a.m. weekdays.

There's an awful lot to like on the regular menu. For breakfast, I have a hard time choosing among Maddy's bagel sandwich ($8.95), which stacks up house-smoked salmon, spinach and a fried egg on a toasted bagel dressed with three-herb olive oil; the Meridian breakfast wrap ($6.95), packed with scrambled eggs, black beans, cheddar and provolone cheeses and salsa, and Lior's lox plate ($8.95), an inviting spread of lox, tomatoes, cream cheese, red onions and capers.
When it's lunchtime, my favorites have been gourmet grilled cheese ($7.50), featuring three cheeses plus avocado, tomato and bacon; Penny's white bean burger ($7.25), a meatless sandwich with beans and tahini, avocado and greens on ciabatta; East Coast turkey ($8.25) with cranberry spread, apples and cheddar, a Thanksgiving dinner on sourdough; and, maybe best of all, the Napa Tuna Sandwich ($9.25) with medium-rare tuna, tossed in ginger and basil mayonnaise on grilled brioche.
So many choices … and now there are more. We arrived early on a weekday, committed to try new things from the Breakfast Express menu. A half-dozen items, all appetizing, are just $4.99 each. "Designed with speed in mind," the menu says, "… quickly prepared fresh for you."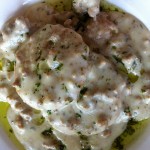 The express options – which follow Meridian's tradition of naming dishes after friends and family – are Kimmy's house-made granola, Claudia's cheese scones and sausage gravy, Marsha's bacon egg and cheese panini, Brie's smoked salmon pita sandwich, Uncle John's sausage egg and cheese wrap and Leon's banana walnut bread.
It was tough to settle on just two, and I thought about maybe spending the day, lounging in sybaritic comfort and trying one dish after another until we'd noshed through the list. Better to save some for future treats, though.
I summoned the smoked salmon combination, which lightens up the traditional lox-and-bagel meal by serving the customary ingredients – cool, silken-textured smoked salmon, ripe summer tomato slices, thin-cut red onion slivers, tangy capers and a silken schmear of whipped cream cheese – assembled gyros-style on a thin, warm pita. It was a great, if unexpected combo, and I made short work of it.
My wife's pick, the scones with gravy, really was enough to last all day. A couple of dense, rather heavy round cheese scones were covered in a warm blanket of rich, sweet cream gravy laden with big chunks of tender, mild house-made pork sausage.
A filling "Breakfast Express" for two, with strong, fresh coffee, came to an affordable $16.91 plus a $4 tip.
Meridian Cafe
112 Meridian Ave.
897-9703
www.themeridiancafe.com