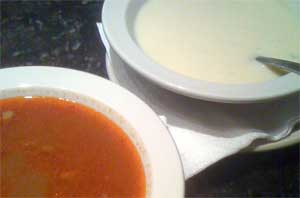 Voice-Tribune review by LouisvilleHotBytes
I'm not saying that I'm old, mind you, but I'm not the only one around here who can remember when Louisville's idea of Mexican food was chili con carne, our take on Italian cuisine was pizza, we judged chow mein as the pinnacle of Chinese cuisine, and – except maybe for bratwurst – that was about it as far as ethnic fare was concerned.
But times have changed, and Louisville's increasingly diverse urban family has been a good thing for us culturally, spiritually and, of course, in terms of a much wider variety of good things to eat.
Thanks to the work of organizations including Kentucky Refugee Ministries and others, Louisville has become one of the nation's most welcoming cities for international newcomers. Since the 1990s, says the city's Office for International Affairs, fully half of Louisville's population growth has been counted in international residents. More than 80 languages are spoken by students in the Jefferson County Public Schools.
Quite a few of our new neighbors have opened restaurants, ranging from Mexico to countries farther south of the Rio; the Near East, Southeast Asia, China and Japan; more from Africa, and plenty of new arrivals from Europe.
Perhaps one of the most unexpected new ethnic communities comes from war-torn Bosnia, one of the many tiny Balkan countries that got back their independence when the Iron Curtain fell and took Yugoslavia with it. Fierce ethnic and religious rivalries brought Bosnia under the gun of "ethnic cleansing." The United Nations eventually intervened, but only after a small flood of refugees headed toward the U.S., many of them bound for Louisville.
Which brings us around to a short review of Bosna-Mak, an interesting little Bosnian eatery in a short strip of Bosnian stores that lies perpendicular to the old Bardstown Road in Buechel.

Bosna-Mak is named after Bosnia and Macedonia, another country of the former Yugoslavia, said Merzad Safic, a gray-haired gentleman who presides there, with functional English and well-honed hospitality. A handful of small black-topped tables fill a small, black-and-white back room behind a small grocery stuffed with Eastern European specialty foods.
Frankly, Bosna-Mak is probably best-known for its hearty gyros ($5.25), which uses meat, tomatoes and onions and yogurt sauce similar to the Greek specialty, but sandwiches it on chewy Bosnian flatbread instead of pita.
We came for hard-core Bosnian food, though, and filled up on a substantial meal. Soups (goulash, $2.50 and cream of mushroom, $1.99) were exceptional. The mushroom was a delicate puree of fungi with what appeared to be a thick bechamel sauce mixed with cream. Goulash was a thin-textured beef broth warmly flavored and colored bright-red by paprika, full of bits of long-simmered stew beef.
Salads – a colorful Macedonian salad ($2.50) and a green salad (apparently free with the meal) – were well-constructed and fresh. The Macedonian resembled a Greek salad with cut-up bell pepper added. The green salad was simple but fresh, thin-sliced iceberg with a well-made vinaigrette.
My wife's main course, Cevapi ($5.99), consisted of six or eight small Bosnian sausages – like beef breakfast links with aromatic spices – arranged on Bosnian flatbread with sour cream on the side. My choice, roasted lamb ($6.99), was long-cooked and robust in flavor, apparently cut in slices across the animal's saddle. Fair warning: I like lamb, and this was okay with me, but the meat was to Eastern European tastes, strong-flavored and gamey. I was pretty sure it was mutton; my wife guessed goat. Whatever. I can eat that. But if you go, you may want this information before you make your choice.
With bottled water (we later noticed Bosnian cola and fruit soft drinks in a cooler, which might have been interesting), the tab was just over $20. Professional service from the friendly Bosnian host deserved a $5 tip.
Bosna-Mak Restaurant & Food Store
3825 Bardstown Road, Suite 108
456-1919
www.bosnamak.com