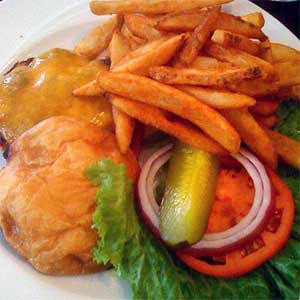 The economy being what it is, I find myself ordering hamburger about as often as steak these days. But if I'm going to have a burger, I want it to be a good one. And happily, quite a few local beef emporia have made this wish an entirely possible dream.
Recently Otto's Cafe, the first-floor coffee shop at the Seelbach Hotel, entered the hamburger sweepstakes with a take-no-prisoners news release that flatly declares Otto's new hamburger the best in town.

"Now that consumers have tried the rest," the Emailed statement boldly declared, "Otto's at The Seelbach Hilton is inviting everyone to try the very best!"
Going on in considerable detail, the PR spun a tale of friendly corporate espionage: Culinary staff fanned out across the city like a squadron of food critics, ordering hamburgers and checking them twice, trying to see which were naughty or nice.
Disappointed by prefab frozen patties, dried-out, pounded and pressed burgers devoid of juicy deliciousness (I'm just passing along the story here, folks), the Otto's burger creators concluded that high-quality fresh-ground, hand-packed beef parked on a house-baked bun was the way to go.

For the Otto's burger, the menu asserts, all meat is "Kentucky heritage 100 percent Black Angus, natural, no antibiotics, no growth hormones ever. A one-third-pounder is $5, and you can double it up with a second patty for $7. Toppings, 50 cents each, include applewood bacon, caramelized onions, green olives, jalapeños and American, Swiss, pepper jack, Cheddar or blue cheeses. A side of kettle chips, fruit or beer-battered fries is $1, the menu said, although I was charged $2 for my fries, go figure. A bowl of soup or salad on the side is $4.
We found Otto's in a corner near the main front door. Its beige and black decor, big square columns and gallery of black-and-white portraits of race-horses takes the diner back to the '60s.
The menu is billed as Southern-style, and it does feature a few regional favorites such as fried chicken; but you'll also find such decidedly non-Southern items as a Cuban sandwich and pasta puttanesca. They also offer a Hot Brown ($14), the signature trademark dish of the similarly historic Brown Hotel, the Seelbach's competitor just down the street.
We came for that burger, though, and it proved to be, well, middlin'. "I hear you have the best burger in town," I told the server. Looking puzzled – he apparently had not received the press release – he muttered, "It's pretty good."
I'd call that a fair summation. After a substantial delay, a smallish but obviously hand-formed burger came on a small but tasty bun that did, in fact, remind me of the yeast rolls that Mom used to make. The burger came medium-well-done (we weren't asked our preference), brown all the way through; and while it wasn't desert-dry, I wouldn't have called it juicy. A square of mild Cheddar was melted atop the meat, and leaf lettuce, a slice of tomato, a couple of rings of red onion and a wedge of dill pickle came alongside. The fries were hand-made, crisp and good, but by the time my plate arrived, the fries and the burger had both lost their sizzle.
My wife's choice, the fried chicken special with mashed potatoes and green beans, was good quality, lightly breaded, crisp and hot.
A decent lunch for two, with iced tea and water, came to $18.02, plus a $4 tip. It wasn't a bad burger, but best in town? That's a mighty competitive statement. I might head back to the East End for lunch at the new Home Run Burgers or W.W. Cousins before placing that bet.
Otto's Cafe
Seelbach Hotel
500 S. Fourth St.
585-3200
www.seelbachhilton.com