Covid is spiking … again. The election remains undecided as I write this, and chances are there'll still be plenty of political controversy and yelling when you read this. It's just plain common sense to reach for comfort food right now, and it's hard for me to imagine an item more comforting than a warm biscuit.
Mmm, biscuits. No sooner did I write that than I want one right now. One of the simplest of breads, this buttery short, soda-risen delight is easy to make at home but difficult to perfect.
Biscuits are said to be a Southern specialty, the result of poverty driving a filling, delicious bread that's easy and quick to make with simple ingredients. But you can find good ones in every state of the union, not just the South. Don't believe me? Check out the Roundabout Diner in Portsmouth, N.H., and tell me what you think.
Quite a few restaurants offer splendid specimens, from corporate behemoths like Cracker Barrel or Red Lobster to Louisville eateries like Wagner's Pharmacy to Gralehaus (where you can get your biscuit with duck gravy) and Please and Thank You (with its famous egg-and-cheese Chive Ass Biscuit).
In recent years, we've had the pleasure of seeing the arrival of restaurants where biscuits sit at the center of the bill of fare. Since Biscuit Belly blew up in NuLu, its owners seem eager to grow into a local chain, with three locations now and a fourth on the way. Jacksonville's Maple Street Biscuit Co., said to be the nation's first biscuit-centric restaurant (and now a Cracker Barrel property), plans to open a branch in the old KFC/Yang Kee Noodle shop in the Highlands soon.
It's good to have choice, even in biscuits. But when I want a meal on a biscuit – a really big square biscuit sandwiched with a pile of something delicious – I'm inclined to head for Clifton and the tiny storefront that houses Boujie Biscuit.
Louisville's first biscuit restaurant, Boujie is the project and passion of Cyndi Joyner, Brooklyn-born owner and cook, who consciously chose the modern slang word for "bourgeois" as her restaurant's name to express class and rising hope. Moving into her third year in business this autumn, her operation appears crowded, yet properly socially distanced inside, with many customers enjoying their biscuit meal out front in the small grassy strip out front along Frankfort Avenue.
Yes, biscuits are comfort food, and Joyner's four-inch-square, two-inch-tall buttermilk biscuits offer plenty of comfort, even before she fills them with more comfort food.
You can read the menu online but must call in for takeout or curbside pickup. "PLEASE CALL 502-269-8426 TO PLACE AN ORDER FOR PICKUP!!!" the online menu urges, and that procedure worked fine for us.
The bill of fare, all fresh-made in-house, features 28 biscuit boxes, which just as the name implies consist of one of those giant biscuits dropped into a sturdy, shiny white lined paper box, with a generous portion of the goodie of your choice between the biscuit halves. This packaging worked quite well to keep our biscuits warm all the way home.
Biscuit boxes are mostly savory, a few sweet, and they range in price from $5 (for the lite biscuit, simply spread with honey-maple butter) to $13 (for the meal-size brisket biscuit filled with seasoned beef brisket, caramelized onions, and the tangy white three-cheese sauce that's a feature on many of their items). Sweet choices include the Georgia peach, cherry-cheese and cocoa-nut biscuits (all $8). Want a little humor with your meal? Try the dirty monkey biscuit ($9), filled with bananas and bacon spiced with cayenne-infused chocolate gravy!
There's a short list of sides and extras, and you're welcome to buy your biscuits plain, $3.75 apiece.
It's hard to choose among so many tasty options. That brisket! Chicken pot pie! Fried chicken! Burgers! Ham and cheese! We finally settled on three, though, plus a plain cheddar-herb biscuit (pictured at the top of the page) for later, and everything was excellent.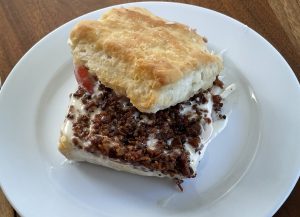 Boujie's biscuits are more cakey than fluffy, tender but sturdy squares designed to hold up in their boxes even under the weight of toppings and sauces.
The Big 3 biscuit ($8) was a plain biscuit smothered in a pool of three-cheese sauce topped with plenty of finely crumbled crispy fried hickory bacon. The bacon was intensely flavored; the bacon bits seeped into the cheese and coated the biscuit, and yes, it was delicious.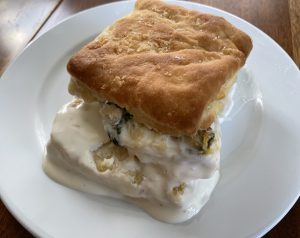 The sunshine biscuit box ($8.50) was more subtle but just as appetizing: A well-made spinach-and-tomato frittata, Italy's answer to an omelet, was a neat fit on a plain biscuit, covered with plenty of three-cheese sauce that complemented the good egg and veggie flavors.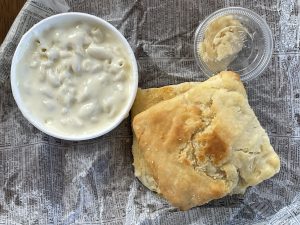 The Lite biscuit ($5) was a simple but tasty choice, a huge plain biscuit with a dab of sweet honey-maple butter in a small tub alongside; and an unadorned cheddar-herb biscuit ($3.75) gained flavor from dried herbs and cheese baked into the bread.
A filling meal for two, with plenty of leftover biscuits for the next day's breakfast, was $30.21 plus a 20 percent tip.
Boujie Biscuit
1813 Frankfort Ave.
269-8426
theboujiebiscuit.com
facebook.com/boujiebiscuit
instagram.com/boujiebiscuits