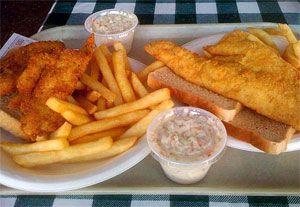 So what's a scrod? I'll spare you the notorious Boston cabbie joke (although if you're desperate to hear it, email me.) Anyway … scrod – or "schrod," an older variation that's dying out – is a foodie term that's hard to pin down. Its definition varies depending on where you look it up.

By the strictest definition, scrod is a young cod, under 2 pounds (adults typically grow to 25 pounds and rarely 100 or more), and thus fine-textured and sweet. More cynically, in the fishing industry it's "bycatch," the tiny fish that get caught up while they're netting the big guys. Commercially, "scrod" may be any white ocean fish such as cod, haddock or pollock.
Pay your money and take your choice, fried white fish is a Louisville tradition and has been since the 1800s; and the species of choice is cod. Our city purportedly consumes more cod than any other American burg outside of Boston, the Capitol of Cod.
The Fish House, a cozy, rather spartan little dining room and glassed-in porch near Winter and Barret Avenues where the Highlands meet Germantown, makes one of the best fried-fish sandwiches around, fried Kentucky Green River style in a crispy, spicy cornmeal batter that's loaded with black pepper. They sell it as scrod, and I eat it as good.
In addition to scrod ($4.95 on your choice of white, rye, wheat or multi-grain bun; $7.50 as a lunch combo or $9.95 for dinner with fries and slaw), The Fish House offers up catfish ($3.95/$6.95/$8.95) and tilapia ($4.50/$7.25/$9.50) as well as fried chicken tenders ($4.50/$6.50), and a variety of dinners including Gulf shrimp ($9.50), pan-fried oysters ($9.95), strip clams ($9.95) and a seafood platter with a little bit of everything ($12.95). A variety of sides are available, including the outstanding David's seafood chowder ($2.95) and "Mean Mary's" tangy cole slaw ($1.25).
With Mardi Gras coming up Tuesday and Lent to follow, a lot of people are going to be thinking about fish. The Fish House is as good a place as any to satisfy that craving.
Recently a friend told us that Fish House co-owner David Helsenrud had added fried haddock to the menu ($4.95 for a sandwich, $7.95 for a combo). I got there in a hurry to check it out.
For the sake of science, my wife and I split a scrod sandwich and a haddock sandwich to compare and contrast. The winner? Well, both. The scrod sandwich was mild and sweet, with the Green River breading, dark golden-brown and peppery. The haddock, perhaps to show off its delicacy, was cloaked in a lighter, pale-gold breading. We loved them both, but gave a slight edge to the haddock for its more intense fresh-fish flavor and flaky texture. Either way, it's a fine sandwich, good for Lenten Fridays or any other time of year.
Speaking of Mardi Gras, Helsenrud's son Adam operates Cafe Beignet within the Fish House, converting the eatery into a fair replica of a New Orleans coffee shop (think Cafe du Monde) for breakfast on Saturdays and brunch on Sundays.
On Fat Tuesday, Feb. 16, Cafe Beignet will serve traditional New Orleans beignets ("Behn-yays"), fresh and fluffy doughnut-like fried pastry squares dusted with powdered sugar, starting at 7 a.m. Last year on Mardi Gras, Adam Helsenrud said, they sold more than 3,000 beignets, and they're shooting to beat that record in 2010, serving all day until closing at 9 p.m. (They'll handle large take-out orders for parties, but ask 24 hours' notice.)
On weekends, Cafe Beignet's full breakfast menu is available, featuring omelets, potatoes, fresh fruit, sausage, omelets du jour and the flavored beignet of the week.
Here's a tip: For a free beignet, come in on Fat Tuesday wearing Mardi Gras beads, mask or hat. Don't forget the chicory-flavored coffee!
The Fish House
1310 Winter Ave.
568-2993