Today let us consider the noble biscuit. An all-American delicacy with its roots in the South, this flaky, layered treat may be made with milk, buttermilk, or even cream. Some are made with lard, some with butter, but it's always elevated with some form of fat worked gently into flour and leavened with baking powder. 
Biscuits may be flaky or crumbly, feathery or light, but softness always defines a good biscuit. Tough, gummy texture does not. A biscuit is almost always delicious.
Want a delicious biscuit? Welcome to Boujie Biscuit, where the massive, butter-streaked, square buttermilk biscuits meet all the criteria of excellent traditional Southern biscuits.
Chief cook, bottle-washer and host Cyndi Joyner greets visitors with a friendly smile, presiding over the open kitchen in the brightly renovated Clifton storefront that briefly housed Cocoberry Pops, and before that, Reynolds Grocery.
Joyner chose the name Boujie, she says, from the variously spelled current slang word for "bourgeois." In contrast with its usual negative spin, though, she means it to express class and rising hope, reflecting her intention to serve exceptional biscuits turned into complete meals sandwiched with her fresh-made comfort fare.
Orginally a New Yorker, Joyner started her original restaurant in Franklin, Indiana, she said, hoping to help people explore different cultures through food by way of a buttermilk biscuit. She hoped to raise money to help her mother, who was ill, but after her mother died, Joyner moved to Louisville, hoping to thrive in a larger market. She's on the right track. She's already added members to her team to help address the rush.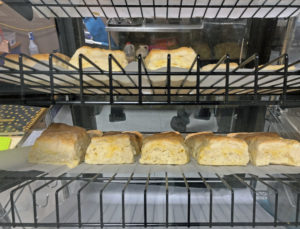 Just shy of 4 inches square and rising nearly 2 inches high, Joyner's mega-biscuits can thank plenty of fresh butter for their rich crumb interior. They are soft; light, not dense, their crumb engineered to hold up well to being split and having hearty sauces and gravies over them without turning soggy or giving up their integrity. Their quality makes it clear that Joyner is a top biscuit chef, a master of her skill. 
Boujie Biscuit is nominally open from 8 a.m. to 3 p.m., covering breakfast and lunch, but it pays to keep an eye on their Facebook page, as instant popularity since its opening in late August has forced early closings now and then, and they've been good about announcing it online.
The menu, posted on chalkboards hanging behind the counter where you line up to order and pay, offers a dozen biscuit sandwiches that range in price from $7 (for the cheesy 'mato biscuit) to $10 (for the mac'n'cheese burger biscuit in your choice of plain or spicy. Three of the combos aim at a breakfast craving with maple bacon ($8), ham and cheese or the gravy train (both $8). The gravy train offers a spectacular example of the biscuit-and-gravy genre with oversize pork-sausage chunks bathed in rich, creamy gravy.
Six more options, most $9, look like lunch to me, including two chicken treats, a cheesy burger biscuit sandwich, and the aforementioned mac'n'cheese burgers and cheesy mato. Finally, you can satisfy your dessert craving with cherry cheese, cocoa-nut banana and Georgia peach biscuits (all $8). You're also welcome to take home your fill of plain biscuits at $3.50 apiece, $19 for a half-dozen, and $38 per dozen, and they're worth it.
Non-alcoholic drink options include sweet iced tea ($2.50), a delicious peach tea (iced tea flavored with fresh peach juice, $3), natural organic soft drinks and bottled water.
Biscuits are served in black cardboard takeout containers just large enough to hold lunch. When you place your order, they pluck a biscuit from the bakery case of freshly baked squares, split it in half and grill it briefly. Then the bottom half goes in the box, an oversize ladle full of your filling goes in, followed by the biscuit top. It's a massive meal. Unless you're famished, you'll probably want to eat half, close up the box, and take the rest home to enjoy another day.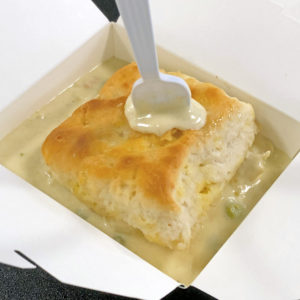 The chicken pot pie biscuit ($9) was loaded with thick, rich, ivory colored gravy dense with large tender chunks of juicy white meat, laced with peas, carrots, and onion bits. Luscious with intense chicken flavor, buttery and silken, it might have been the best chicken gravy ever. 
The cheesy 'mato biscuit ($7), pictured at the top of this page, was excellent too, if somewhat eclipsed by the amazing chicken pot pie. Bright plum tomato slices on a huge grilled biscuit are flooded with creamy and rich sauce that gains complexity from a creamy blend of three cheeses.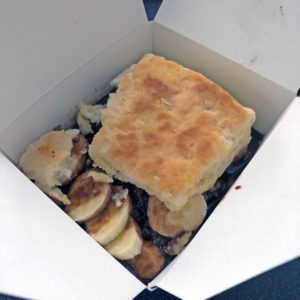 Dessert seemed faintly ridiculous, but we couldn't resist taking one home to enjoy later. The cocoa-nut biscuit ($8) broke new culinary ground with a biscuit smeared with almond butter, with fresh sliced bananas and dark, sweet chocolate "gravy."
Lunch for two was $23.32, plus another plus another $12.19 for a takeout bag and a 25 percent tip on the total.
Boujie Biscuit
1813 Frankfort Ave.
269-8426
facebook.com/boujiebiscuit
Robin Garr's rating: 89 points
Noise level: The tables are adequately spaced and the room is small, so excessive noise is not a problem. (Average sound level 60-75 dB)
Accessibility: A wooden ramp on the side of the building provides wheelchair access, although the door is heavy; two steep steps bar access to the front door.