I love The Café on Brent. I go there for lunch or breakfast – or both – about as often as I can go to any eatery that I'm not reviewing. It's almost always crowded, and there's a reason for that: It's good.
It's doubly to The Café's credit, too, that people come even though it's not that easy to find your way through a sharp S-curve under the railroad viaduct off Broadway. What's more, it can be hard to find parking when the lunch crowd has already claimed all the slots in the small parking lot and nearby streets.
But you'll want to go anyway. Just about everybody does.
What's the secret of The Café's success? I think my friend Laura nailed it: "I think The Café is a homey kind of place," she said. "Hospitable, warm, competent, welcoming service. The food is tasty and well prepared."
Yes to all that, and I'll add another: Tradition. It's been going for more than a decade in this location, and it preceded that by another long stretch as the popular restaurant inside the old Louisville Antique Mall on Goss Avenue (now converted into fancy condos as the Germantown Mill Lofts).
I loved that old mall, and to tell you the truth, one of the best things about a trip there was not just discovering an old china cabinet or ginger-jar lamp, but also sitting down to lunch in The Café.
Then as now, its extensive menu featured breakfast and lunch dishes that defy categorization. other than just "really good things that Louisville families love to eat." The Café's "Old Faithful" chili, for example ($4.25 for a cup, $6.50 for a bowl or $15.95 for a to-go quart) is described as "West Yellowstone Montana chili." Then as now, it's thick and meaty, spicy but not fiery; loaded with ground beef, pinto beans, onion, tomato and green pepper, topped with shredded cheese, bits of scallion and tangy sliced banana peppers. Another standby, the subtle, silken tomato dill soup (same prices) also remains on the menu after all these years, because it's too good to consider taking off.
Even the look of the current place carries the spirit of the old: Chandeliers by the dozens descend from the ceiling, one for every table. (In the old days, though, they were for sale.) Odd bits of furniture, old paintings and other antique-look tchotschkes are all over the place, and the walls are broken up here and there by pastel-color doors just because they are. Tables are draped in white under protective glass; all the chairs don't match.
The extensive menu offers more than a dozen breakfast dishes plus a broad range of a la carte items, and about three dozen lunch dishes from soups, salads and a variety of sandwiches to lunch plates. Happily, our hunger need not be bound by the clock: Both breakfast and lunch are available throughout the day, 7 a.m.-4 p.m. every day but Sunday, with delivery available (for a fee) throughout Greater Louisville. The Café does not serve alcohol.
Pricing is attractive, with breakfast dishes ranging from $5.95 (for biscuits and gravy, baked oatmeal, or a Belgian waffle) to $12.45 (for a hearty strata casserole). Lunch prices are $6.50 (for a house salad) to $12.45 (for The Café's take on the Hot Brown or a roasted chicken pasta salad).
We enjoyed a complimentary basket of sliced baguette-style French bread with whipped butter in foil packets, then moved on to more substantial fare.
Strata alla Cucina ($12.45, pictured above) is one of The Café's longtime signature dishes, available both meatless and with bacon for the same price. Strata is an old-school casserole dish that I associate more with New Jersey and Long Island Italian-American buffets than Louisville, but here it is. Layers of French bread and egg custard topped with sauteed spinach, mushrooms, tomatoes and onions, topped with Swiss and Parmesan cheeses and baked golden brown until the flavors blend into a luscious, savory bread pudding. A bowl of steaming cheese grits made a welcome side dish; roasted potatoes or fruit are also options.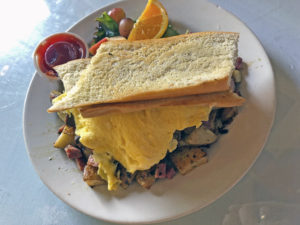 Roasted potato mixed grill hash ($9.95) was another hearty breakfast-for-lunch choice. Two omelet-style scrambled eggs were perched atop a bed of excellent, tender roasted potatoes and a mix of three kinds of hash: corned beef, roast beef and ham; with large, thin pieces of Italian toast on top.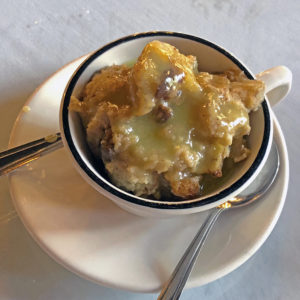 With a small shared dish of rich, sweet bread pudding ($3.25 for small, $4.95 for large), plus a Coke ($1.95) and a glass of good iced tea ($2), lunch for two came to a thrifty $31.38, plus an $8 tip.
The Café on Brent
712 Brent St.
637-6869
thecafetogo.com
facebook.com/thecafelouisville
Robin Garr's rating: 85 points
Noise level: When the large space with its close-spaced tables is full at lunchtime, the noise level can be deafening, making conversation difficult. After 1 p.m., though, the crowd and sound fall back to a more comfortable place. (Average sound level 77-86 dB during crowded periods, 74-80 dB later.)
Accessibility: Level entrance and floors pose no physical barrier to wheelchair users, but closely spaced tables could make wheelchair navigation difficult, and large entrance doors on the parking lot side are heavy, requiring some arm strength to open.