If you want to get to know marinara sauce the way that marinara sauce ought to be, I recommend getting it from a man who makes it by the five-gallon bucket. If that man happens to be Bill "Silvio" Melillo, you are definitely on the right track.
Melillo, patriarch of the family that brought us the eponymous Melillo's back in the '00s, returned the family back to the restaurant business last October, opening Silvio's in the short, eatery-loaded strip center just opposite Trinity High School. Bad luck hit just a few months later, when a January fire that destroyed two nearby restaurants dealt Silvio's sufficient smoke damage to shut it down for a month or so.
But Silvio's bounced back, and it has become so popular that you've got to do a little planning to grab a table — and a scarce parking spot — any night of the week.
?I'm pretty sure that toothsome marinara is a big part of the draw. It's thick and smooth, but retains sufficient texture for an interesting mouthfeel. It's sweet and tangy, but it's skillfully balanced: not too sweet, not too tangy. Ditto for the breath of garlic and rich caramelized flavor that pulls back from the cliff's edge that separates comfort-food tomato sauce from cloying caramel. Its herbal flavors add delicate grace notes without leaving the impression that the chef overdosed it with commercial Italian Herb Mix.
No, this is quality stuff, and Melillo is justly proud of it. You're going to have to work on it if you want to put together dinner without this basic ingredient. But then, why would you want to?
About a dozen appetizers and salads range in price from $3 (for a cup of pasta fagiole, tiny ditalini pasta and white bean soup) to $13 (for fried calamari, with marinara, of course).
A dozen entrees — a good half of them blanketed in tasty marinara — are $13 (for fettuccine alfredo, with an up-charge for chicken or shrimp) to $22 (for seafood pasta with shrimp, mussels and scallops in a creamy wine sauce; no marinara here).
Settle in, enjoy a glass or a bottle of wine from a short, largely Italian list that's conveniently divided among light, medium and full intensity wines to help you make an informed choice. (I was happy with a couple of $7 glasses of Coltibuono Chianti, served in small tumblers, trattoria-style.)
Inside, they've done a good job of turning a St. Matthews storefront into somewhat that, if not quite Little Italy in style, is certainly reminiscent of family-Italian eateries in Long Island, New Jersey, New York City's outer boroughs or the city's cultural exurbs in South Florida. Walls are colored in discreet shades of cappuccino and sage, decorated with a gallery of old black-and-white family photos and a few colorful art prints. Tables are draped in white and set with good flatware rolled in black cloth napkins.
We started the march of marinara with two first-rate appetizers.
Rice balls ($9 for a generous serving of three) got dinner off to a great start. Visualize a golf-ball size sphere of creamy risotto with a ration of molten mozzarella at the center, rolled in Parmigiana, deep-fried crispy brown, and served with plenty of, you guessed it, marinara.
Flatbreads are first-rate, too, resembling rectangular appetizer pizzas on a very thin, crackling flatbread crust. We chose margherita style ($10) and enjoyed the traditional topper of discreetly spread marinara, melted rounds of fresh mozzarella and snipped leaves of fresh basil.
Salads ($6 as dinner sides, $9 for an entree-size portion) were both served very cold and crisp, and both were excellent. Caesar was classic in style, fresh romaine with a creamy, tangy dressing, toasted croutons, grated Parmigiana, and, on request, fresh anchovies. The Melillo house salad boasted a tart-sweet Italian dressing over romaine and mixed salad greens, with cucumber and tiny halved grape tomatoes and chunks of good Italian bread.
Calamari ($13, an appetizer order served as a main) offered the evening's only disappointment: They were breaded and competently fried, not greasy, but they weren't crisp, and the tentacle bits were tough and rubbery. The accompanying marinara was the best part. ("Dammit," Mary said later. "I really wish I had gotten a meatball instead." Maybe next time, dear.) (However, see update below.)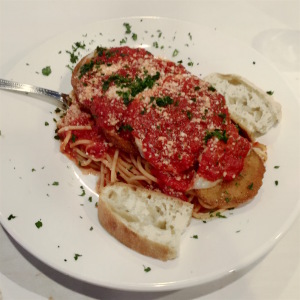 Eggplant Parm ($13) more than made up for that one disappointment. Three thick rounds of tender eggplant, crisply fried to a delicious creamy interior within a crunchy crust, were piled atop spaghetti, generously laden with fresh mozzarella and grated Parmigiano Reggiano, and a thick blanket of marinara, of course.
Dessert? It made no sense after all that food, but we couldn't say no. Cannoli ($5 for a serving of three small) ranked among the best we've ever eaten, not excepting New York or South Florida. Or, for that matter, Italy. Lemon mascarpone ($8) was a layered lemon sponge cake layered with fluffy, thick lemon icing and a sweet mascarpone cheese frosting.
With excellent espresso ($4 each) at the end, dinner for two came to $92.22, but we could certainly have gotten out for less with a bit of self-discipline. Friendly, competent service earned a $20 tip.
Silvio's Italian Restaurant
104 Fairfax Ave.
883-6369
silviositalianrestaurant.com
Facebook: bit.ly/silviositalian
Robin Garr's rating: 91 points
Speaking of Silvio's, the calamari win redemption
When I reviewed Silvio's last month, I praised everything it had … but had to declare the calimari "disappointing … competently fried, not greasy, but they weren't crisp, and the tentacle bits were tough and rubbery. The marinara was the best part." Proprietor Bill Melillo was quick to respond, assuring me that he was working on that. We returned, and I'm delighted to report: problem solved. They were great, piping-hot and crisp, as they should be. The rings in particular were tender and flavorful, with a nice crunch to the light breading. And the marinara remains outstanding. Good work, Silvio!