By Robin Garr
LouisvilleHotBytes.com
When The New York Times recently listed its 50 favorite restaurants around the nation for 2022, I was a little sad to notice that they didn't even give Louisville a mention. Our neighbors in Nashville got two top-table mentions, but we were left with our hands empty, standing by the road in the gathering darkness, softly sniffling.
But the lack of big-city appreciation does not signify that there's nothing good here. Our restaurants may not have impressed The New York Times, but quite a few specific dishes from places I've reviewed this year sure impressed me. Let's do a quick review. If you like the sound of these delights, you may still be able to get most of them, either currently or when they come back into seasonal rotation.
First, though, what exactly does it take for a dish to impress me? This question may sit at the center of the food critic's work. Obviously a four-star dish has to taste good. It should smell good. It should look good. It should feel good, not so much on our fingers as on our palates. That covers all the senses except hearing, and I could make a pretty good case for the auditory joys of sizzling fajitas or squeaky cheese curds.
What's more, a top dish will show off the chef's originality and creative skills, with extra credit for an offbeat ingredient or even a vegetarian dish so good that an obligate carnivore wouldn't even miss the animal flesh.
Do I often encounter a dish that checks off all these boxes? Naah. But hit even a few of them and you've got my attention. Here, listed alphabetically because I enjoyed them all too much to rank them, are a few comments on eight dishes that wowed me this past year.
Mushroom risotto at Barn 8 ($27)
I'm a risotto nerd with high standards – I'd usually rather make my own – and I'm skeptical of restaurants that offer a dish that requires either a half-hour of nearly constant attention or else some shot-cutting. But Barn 8's rendition hit the spot. It was rich, comforting and delicious, and a generous portion of crisply sauteed Frondosa Farm wild mushrooms, thinly shaved Parmigiano, and anise-scented Mexican mint marigold put it over the top.
–Barn 8 Restaurant, 10500 W. US Highway 42, Goshen, Ky., 398-9289
Jaeger schnitzel at Common Haus Hall ($16.50)
Common Haus makes this classic dish of Germany, Austria, and Switzerland right, using pork and your choice among six sauces. A huge Jaeger ("hunter") schnitzel was pounded out 1/3-inch thin, so it spread out three times as large as its brötchen (small bread) bun. A sweet-sour flavor in the breading and a pool of rich, brown Jaeger sauce made it a winner.
–Common Haus Hall, 134 Spring St., Jeffersonville, Ind., (812) 590-1243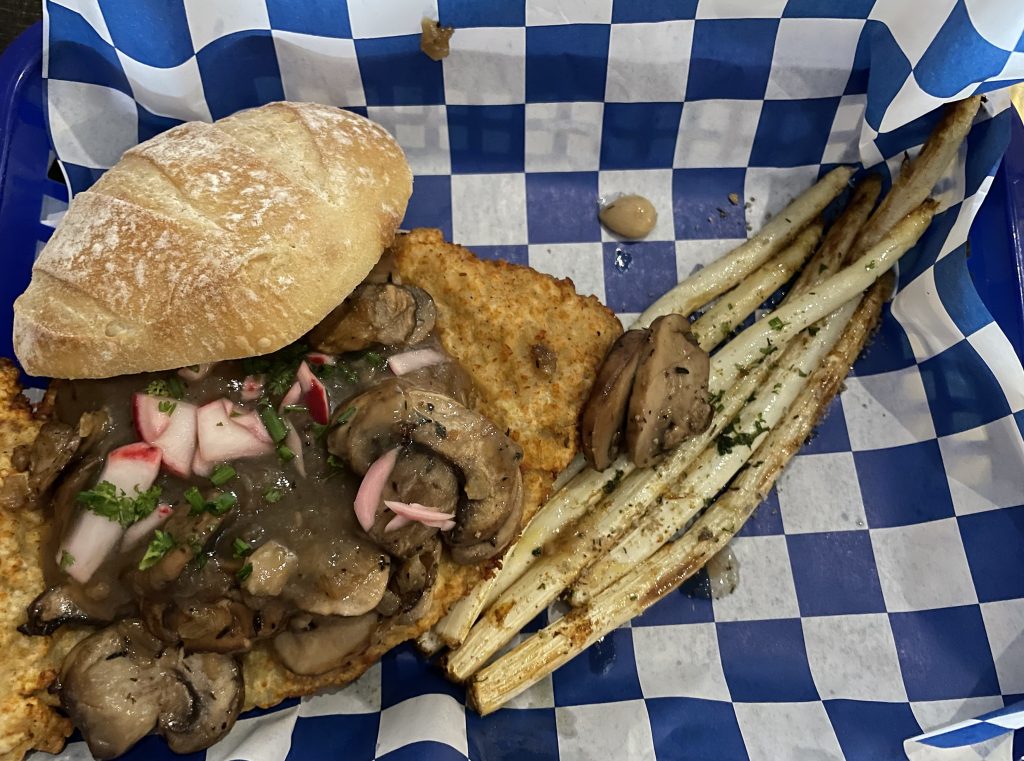 Smoked wings at Eden & Kissi ($12.99)
These huge, deeply charred wings were memorable. The smoky option offered a blast of char and smoke as you bite through the crisp skin to reveal perfectly cooked meat, tender and juicy. They're pictured at the top of this page.
–Eden & Kissi, 3914 Bardstown Road, 384-9102
Creamy coconut daal curry at Hyderabad House ($13)
Dal is a familiar Indian dish, a soupy bowl of curried lentils. The creamy coconut daal curry at Hyderabad House is something special. Yellow lentils were bathed in a simmering bright-yellow curry-scented soup studded with a few bright cubes of tomato. The mild lentil flavor blended with coconut and turmeric scents with haunting back notes of mysterious, delicious Indian flavors.
–Hyderabad House Louisville, 12412 Shelbyville Road, 405-8788
Cold cucumber salad at Jasmine Chinese Cuisine ($6.99)
You might not expect a cold cucumber salad to make my list of top dishes, but Jasmine's version is complex and striking, with vibrant flavors so compelling that I tried to replicate it later at home. Fresh cucumbers were seeded and sliced into long half-moons, then artfully assembled into a neat mound topped with a pile of lemongrass rounds, snipped green onions, and shreds of ginger, then drizzled with a soy sauce and chile oil dressing. The tangy-salty-spicy flavor combination was remarkably subtle and complex.
–Jasmine Chinese Cuisine, 13825 English Villa Drive, 244-8896
Roasted duck with steamed rice at Oriental House ($11)
This simple but memorable dish (No. 53 on the authentic menu) is a longtime favorite at the St. Matthews landmark, and one of the best meal bargains around. A sizable duck thigh quarter was coated with hoisin sauce and anise-scented five-spice and roasted dark mahogany, then chopped crosswise into chunks. They were served with a bit of lettuce that had been quickly softened in duck broth, with a generous scoop of medium-grain white rice. The skin was roasted and firm, not crackling crisp, covering a thick layer of juicy fat over succulent, tender dark duck meat.
–Oriental House, 4302 Shelbyville Road, 897-1017
Gnocchi parisienne at Pizza Lupo ($20)
A seasonal special for fall, these tender, cream-coated rounds were dead ringers for perfect bay scallops. These gnocchi were simple and pure, not made with the traditional potato-flour mix but pâte à choux, the feather-light dough that's used for cream puffs and éclairs. They were so light that they could easily have lofted up to the clouds, but their rich and aromatic taleggio cheese sauce kept them safely tethered to Mother Earth. Crunchy pepitas and crisply fried sage leaves made grace notes in a subtle, creamy, and filling dish that made me want to jump up and cheer.
–Pizza Lupo, 1540 Frankfort Ave., 409-8440
Kibbeh at Simply Mediterranean ($6.99)
The chefs at this tiny spot get kibbeh right, and a lot of other Lebanese dishes too. Two pieces were filled with deeply browned chopped beef, pine nuts and tiny bits of onion, surrounded by a thick shell of bulgur and fried. It was crunchy and tasty and made us want more. That's what a top restaurant dish ought to do.
–Simply Mediterranean, 2900 Brownsboro Road, 963-5577