For any chef, an invitation to come cook at James Beard House in New York City is an honor devoutly to be wished. To get there before turning 30 marks a young chef as a rising culinary young gun. Now meet Louisville's Chef Ming Pu, 29-year-old executive chef at The 502 Bar & Bistro: This king of the kitchen is heading for Beard House this coming Tuesday, July 16, for his third visit in the past two years.
I've been much too slow getting out to The 502 Bar & Bistro, so with his Beard House trip looming, this seemed a good time to go.
The restaurant occupies the first floor of a two-story red-brick building. Inside, the spacious dining room rises some 20 feet high, with its huge windows stretching from near floor level to the metal rafters of the industrial ceiling.
A large, marble-topped bar fills most of one leg of the L-shaped room. In the dining areas, sturdy, shiny-finish wood tables are furnished with comfortable white-padded wooden chairs. The big windows and a squadron of TV screens leave little room for additional decor beyond a few bits of whiskey memorabilia; the whiskey theme also carries over with artisanal bourbon bottles repurposed as water carafes.
Be sure to check both sides of your menu. Depending on your appetite and your budget, you may prefer to ponder the dinner menu on one side or the selection of lighter, more affordable bar snacks and sandwiches on the other.
On the bar side, seven bar snacks range in price from $7 (for an order of fries) to $14 (for chicken wings). Ten sandwiches are $11 (for a ham and swiss slider) to $15 (for many options).
On the dinner side of the menu, a half-dozen mains are priced from $24 (for shrimp and grits with smoked Gouda grits) to $39 (for a Creekstone Farm filet.) Three pasta dishes are $14 to $18. The seven starters are $8 (for potato-leek soup) to $16 (for Korean-style beef short ribs). Chef Ming Pu's Asian heritage shows as light touches here and there – kim lan soy marinade, house-made kimchi, Asian five-spice mix – but this is an American/international menu, and it's a good one.
The bar offers extensive wine, beer and bourbon lists and interesting cocktails; I enjoyed a Paloma ($10), a tall, cooling blend of Casamigo's reposado tequila, grapefruit soda and lime.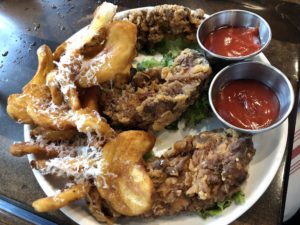 A bar-snack appetizer that reflects Ming Pu's heritage, Taiwanese fried chicken tenders ($13), got us off to a winning start. Three extra large tenders were coated with a flaky, extra-crisp breading, fried light golden-brown and grease-free. The subtle anise scent of five-spice mix added an aromatic Asian note, as did the garlic and soy marinade that elevated the chicken. The accompanying "sidewinder" fried fingerling potatoes were crisp and good, made fancy with truffle oil ($2 upcharge) and garlic Parmesan ($1 additional).
A bowl of potato-leek soup ($8) was less satisfying. The thick puree of potatoes, charred onion and leeks came together in an appetizing flavor, but the texture of the thick, gravy-like puree was less appealing.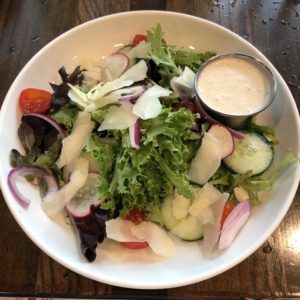 A simple bistro salad ($8) made a cool, refreshing summer starter. At the center of a white earthenware bowl was placed a small head of Ashbourne Farms leaf lettuce, with portions of red onion, cucumber and radish slices, shaved Parmesan and quartered cherry tomatoes composed around it. Pour on your choice of dressings – I chose blue cheese – mix, and enjoy!
You have three steak options here: A Creekstone Farm filet is $39; the bistro steak is $27, and steak frites is $23. We took the bistro steak option (pictured at the top of the page) and got an intense, beefy chunk of tasty but rather tough steak, medium-rare as ordered, served sliced crosswise into a half-dozen chunks. No steak knife was provided, and a butter knife was barely capable of getting the job done. It was served on a bed of smashed fingerling potatoes, topped with four fresh asparagus spears, and drizzled with a light brown butter beurre blanc.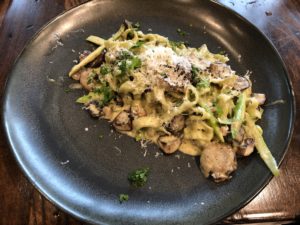 A lighter main dish, fettuccine ($18) consisted of a modest portion of excellent al dente pasta dressed with thin strips of asparagus sliced lengthwise, quartered cremini mushrooms, crunchy bits of brioche gremolata, and beurre blanc.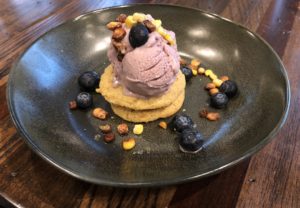 Pastry chef Emie Dunnagan's desserts are easy to look at and even easier to eat. Cookies and ice cream ($6) may sound like a pedestrian choice, but you've got to try this palate-teasing construction, two crisp, not-too-sweet cornmeal cookies topped with a lavender scoop of blueberry-maple ice cream, surrounded by salted corn nuts and fresh blueberries.
A Beard House-worthy dinner totaled $109.18 for two, plus a $24 tip for our server Sammie Jean and her crew.
The 502 Bar & Bistro
10401 Meeting St.
Norton Commons
742-4772
the502barandbistro.com
Robin Garr's rating: 88 points.
Noise level: Hard edges and a crowded room build up a happy noise, but the large room and high ceilings soften the noise somewhat. Conversation was possible in spite of the roar. (The average sound level was 79dB, the sound inside a moving car, with peaks to 88dB, approaching a motorcycle roar.)
Accessibility: The building and restrooms appear on the level, posing no barrier to wheelchair users.