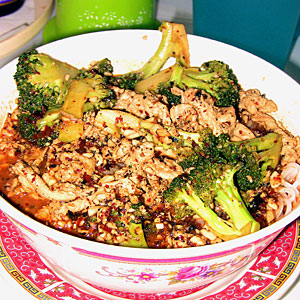 Chile flakes paint Vietnam Kitchen's Gào xào ca ry cay (green chicken curry) a pointillist's palette of fiery red. It is as hot as the furnaces of Hades. Photo by Robin Garr.
LEO's Eat 'n' Blog with Louisville HotBytes
(Thai Smile 5, Sala Thai, Vietnam Kitchen)
A man like me who eats and drinks for a living really needs to be serious about exercise, and I'm not talking about namby-pamby exercises like golf or light jogging, where you barely break a sweat.
No, to survive in the professional dining game, you need to work out until you're breathing hard, dripping sweat, red in the face, nose running and virtually screaming with the pain of it all. No pain, no gain, after all.
Happily, I've discovered an appealing way to achieve this state without having to work out: Simply include in your diet a minimum daily requirement of fiery food. Continue reading Hot, hotter, hottest →