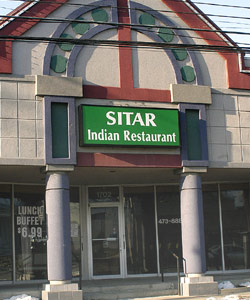 Sitar Indian Cuisine in the Highlands is the first Louisville property for a tiny chain. The restaurant offers a hearty Indian lunch buffet daily and an expansive Indian menu. Photos by Robin Garr.
LEO's Eats with Louisville HotBytes
(Sitar Indian Cuisine)
It's cold. Too darn cold. Ice-on-the-sidewalk, snow-on-the-roof bone-chattering cold, and I don't like it one bit. April and its green leaves and balmy breezes can't come too soon for me.
In the meantime, when it comes time to warm the inner man, I look for something hot and spicy to sear my palate and warm my soul. Happily, my need for heat was amply rewarded by the recent opening of Sitar Indian Cuisine in the Highlands, which follows the December arrival of Royal India in St. Matthews as Louisville's second very good new Indian restaurant in recent months.
Sitar, named after the Indian stringed musical instrument that Ravi Shankar and the Beatles made famous, is the first Louisville property for a tiny chain with four properties in Tennessee and one in Alabama. Sitar offers a hearty Indian lunch buffet daily for $6.99 cheap, and an expansive Indian menu that includes both standard Northern Indian dishes and, on a separate sheet titled "Dosa Hut," less familiar South Indian specialties.

The new tenants have significantly upscaled the previous burrito joint's quarters. Walls are painted a pale orange-sherbet color and decorated with bright, poster-style Indian paintings and exotic statuary featuring Hindu deities. Tables are draped in black cloth and set with peach-color napkins. Authentic Indian music plays quietly in the background.
We stopped in for the lunch buffet ($6.99) and a South Indian masala dosa and found it all excellent, good enough to bring us right back for dinner.
Since Sitar, like most Indian eateries, boasts an extensive list of vegetarian choices, we decided to fashion an Indian repast in which no animals were harmed. Everything was splendid, albeit a little greasy. Cook with a lot of ghee (clarified butter), and that's going to happen.
We started with an appetizer order of panir pakora ($3.95), described as "homemade cheese fritters." The Indian equivalent of fried mozzarella without the marinara dip, an order consisted of about eight small logs of paneer – the mild, white Indian farmer cheese – encased in a lightly spicy, slightly chewy deep-fried golden-brown crust.
Palak shorba ($3.25) spinach soup was a steaming hot and comforting olive-green puree of finely blended spinach scented with aromatic spices, with tender potato chunks at the bottom of the large white cup.
One vegetarian main course was channa masala ($8.95), tender chickpeas in a spicy reddish-brown sauce with sliced onions and a few small, hot chile peppers. It's traditionally served with puris ($1.95), an Indian wheat bread that's deep-fried until it puffs up into a golden balloon. Tear off a bit of puri, scoop up a few chickpeas and sauce and enjoy a remarkably filling, even "meaty" combination. It was made "medium-hot" as ordered, just warm enough to get your attention.
Both Sitar and Royal India have quietly introduced Louisville to the joys of "Chinese-Indian" cuisine, the hybrid cookery of Calcutta's Chinese immigrant community. This fiery blend of Chinese and Indian flavors is said to be immensely popular in India, but it's a recent arrival in the United States.
"Indian and Chinese-style panir chilly fry" ($9.95) did resemble a saucy, spicy Chinese dish. About a dozen oblong chunks of crisply deep-fried paneer cheese were cloaked in a thick, bright reddish-brown sauce with thin sliced onions and green peppers.
I asked for "a little hotter than medium" and got it spicy enough to melt my eyeballs. By the end of the meal I was crying, sweat was pouring down my forehead and I was looking around for some burn ointment to swish around my mouth. It was February, and I was warm, and I was smiling through the tears, enjoying the endorphin rush.
Glasses of salty lassi yogurt drink ($1.95) and a small dessert dish of kheer ($2.50), the creamy cardamom-scented Indian rice-and-milk pudding, made a fine antidote to the heat.
A hearty dinner for two (with a good portion going home in a box) came to a gentle $38.75; I rounded up to an $8.25 tip for generally attentive and very polite service.
Sitar Indian Cuisine
1702 Bardstown Road
473-8889
Robin Garr's rating: 86 points