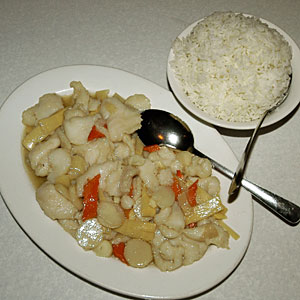 Liang's Snow White Fish is as pretty as its name and tastes even better. Photo by Robin Garr.
LEO's Eat 'n' Blog with Louisville HotBytes
In Western culture, even those of us who've learned to prize the tasty joys of pigmeat can't fully escape our Old Testament heritage: Calling an associate "pig" will not win you friends or influence people.
The Chinese, however, informed by nearly five millennia of pig-loving heritage, take a broader view: In the legend and lore of the mysterious East, the noble swine is considered loyal, chivalrous and pure of heart.
Lunar Year 4705, the Year of the Pig, is coming on Feb. 18, and I for one plan to enjoy plenty of Chinese food before, during and after the 15-day celebration.
Continue reading Get ready for the Year of the Pig, at Liang's Café →