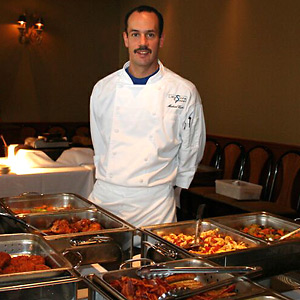 Limestone Restaurant chef and co-owner Michael Cunha dresses up Southern fare in a city suit. The suburban restaurant remains up there with the top spots in town. LEO photo by Nicole Pullen.
LEO's Eats with Louisville HotBytes
Louisville, it is said, is the only Northern city that chose to declare itself "Southern" only after the South had lost the Civil War. This odd decision, some say, led directly to 100 years of stagnation, no major-league sports teams and a slow decline that eventually took us to the bottom of the nation's top 50 media markets.
It was a hefty price to pay for the privilege of adopting an affected drawl and adding fatback, grits and greens to our culinary tradition.
I don't know about you, but our family never ate that stuff at home. Ours was a steak-and-potatoes, spaghetti-and-meatballs, braunschweiger-and-kuchen urban household, and we liked it like that.
Nevertheless, Southern, aka "country," fare dressed up in a city suit has become a staple in some of Louisville's finest upscale eateries, and chefs Jim Gerhardt and Michael Cunha have been among the leaders in making it so.
Continue reading We put on that ole Southern drawl at Limestone →