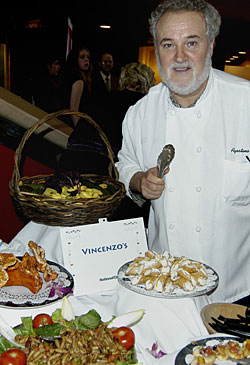 One of the toughest challenges that faces the long-term food critic is that, eventually, most of the players in the local restaurant business figure out who you are. Even when you keep a very low profile, it doesn't take the sharper cookies long to figure out who's covering the eats beat.

There are plenty of ways for a savvy critic to minimize the damage, but sooner or later you'll know the game is up, usually when you sneak into a white-tablecloth eatery and find the proprietor greeting you on bended knee, offering to shine your shoes to a high polish. Let's be frank: You may still be able to carry off a competent review if you're recognized, but there's no way a proud restaurateur isn't going to ramp things up for your delectation. A little extra service, a single server assigned exclusively to your table; extra attention to preparation, a bit more care in selecting the best cut or adding a little extra "bam!" to the presentation … all just for you.
For this reason, while I've enjoyed many a meal at Vincenzo's since this posh Italian spot opened downtown in 1986, I have never been able to enjoy an anonymous meal there. On my first visit, a server recognized me and outed me to the man himself, Vincenzo Gabriele. Now whenever I dine at Vincenzo's, I know I'm going to have a four-star experience. No extra charge for the shine.
But how about an anonymous civilian? Would Vincenzo's deliver the same level of suave, sophisticated service and top-tier Italian fare to a truly anonymous customer as it does for a recognized dining critic? Just to make the test more interesting, how about a pair of young, unaccompanied women?
To find out, I offered LouisvilleHotBytes correspondent Paige Moore a deal she couldn't refuse: Invite a friend to dinner at Vincenzo's and render a report. I knew Paige would be up to the task: She's a professional writer, a serious and experienced foodie, and best of all, nobody at Vincenzo's would have a clue she was on the job.
How did it go? Read on …
"The most impeccable service in Louisville." "Amazing food." "Outstanding wine list." When Vincenzo Gabriele opened his restaurant in 1986, such descriptions could hardly have been lavished upon any other local restaurant. Vincenzo's elegant setting, Chef Agostino Gabriele's indulgent cuisine and special touches like tableside preparation blew away the competition, even the then-fabled Casa Grisanti, where Vincenzo had worked out his formula for suave service.
Yet I had been there twice in recent years and left wondering what all the fuss was about. Was I wrong to think a meal that expensive should be more … special?
My friend Lynn agreed to join me for dinner so we could check it out. I was first to arrive, and the gracious host – having inquired about whether I was meeting a gentleman, so as to choose an appropriate table – led me to a four-top on the edge of the room. The dining room is understated yet glamorous, with muted colors, subtle lighting and tasteful artwork.
Although Vincenzo's is known for Italian food, the wine list encompasses Italy, France, the United States and elsewhere. Prices range from 20-something dollars well into the hundreds, with a standard markup – for instance, a Santa Margherita Pinot Grigio is $40 here, $20 at retail. (We decided on Giovanni Puiatti Pinot Grigio, a light, not-too-fruity white wine from Northeastern Italy, fairly priced at $26 a bottle.)
Entrees are divided into three categories – pastas, seafood and specialties – and most are in the $20 to $30 range. (Appetizers are $9.95 to $12.95.) When I asked which items are breaded in flour (trying to stick to my low-carb diet, at least until dessert), our well-informed and responsive server said the chef would be happy to adjust any item on the menu.
An appetizer, Carciofini Marini ($9.95), consisted of artichoke bottoms with a crabmeat and scallop filling, topped with lime hollandaise. Our server finished the dish at tableside and presented us with separate plates. The salty seafood and sweet artichoke made a lovely combination, while creamy hollandaise and tangy tomato sauces complemented the dish perfectly. A Caesar salad ($9.95) was spectacular.
I was ready to proclaim that rumors of Vincenzo's decline were unfounded. And then the tide turned. The hostess seated a couple right next to us, even though the place was nearly empty. A minor peeve, but why minimize patrons' personal space for the server's convenience? Then, after finishing his tableside service, our server and two others hovered nearby to chat. It's not like I want a Benihana-style show, but the awkward threesome certainly detracted from our experience.
Yes, these are minor complaints, and we quickly set them aside to focus on Chef Agostino's entrees. Filetto di Vitello Madeira ($27.95), a veal filet stuffed with smoked Gouda and pancetta, was fork-tender, but the rich, sweet Madeira wine sauce nearly masked the flavor of the Gouda and pancetta. Sogliola Con Salsa Verde (market price – broiled Dover sole) was one of the best fish dishes I've had. Light and tender, it was drizzled with a lemony sauce that complemented without overwhelming the fish. It was served with a wild mushroom and crab mixture that was too salty, but otherwise exceptional. Side dishes on both plates were forgettable, though: a potato croquette and vegetable medley of green beans, carrots that resembled leftover nubs from the baby-carrot factory and cauliflower.
Then ensued perhaps the most awkward moment of the evening. A waiter from another section came over to our table and – without asking or even acknowledging our presence – took one of our chairs, hoisted it over his head, and carried it across the room. Thank goodness my purse wasn't on that chair. I wondered aloud why the chairs at empty tables around us weren't as good as ours. Lynn said, "I wouldn't expect that at Denny's, much less Vincenzo's!"
We were still shaking our heads when our server reappeared to make amends with the dessert tray. Tiramisu ($9.95) and coffee made a perfect ending to a not-quite-perfect dinner. At least 12 layers covered in decadent chocolate ganache, this was easily the best tiramisu I've ever had. From now on, I'll skip dinner at Vincenzo's and just get take-out tiramisu. Maybe that waiter can hoist it out to me.
Dinner for two came to $135.73, plus a $22 tip. That's pretty steep, and frankly, I think you can find a better value in Louisville. Twenty years ago, Vincenzo's set the local standard for food and wine, style and service. But newer arrivals have raised the bar with inventive dishes and attentive service. For me, Vincenzo's fourth star is starting to fade.
Vincenzo's
150 S. Fifth St.
580-1350
www.vincenzositalianrestaurant.com
Rating: 84 points