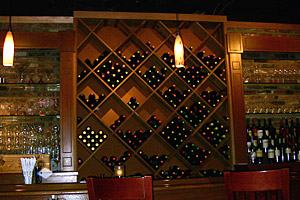 Brix Wine Bar, on Lagrange Road, is an attractive, worthy addition to the suburbs. Photos by Robin Garr.
LEO's Eat 'n' Blog with Louisville HotBytes
(Brix Wine Bar, Diamante)
As soon as I saw the name of Brix Wine Bar, I knew I had to try it.
Brix – pronounced "bricks," not the Frenchified "bree" – is a serious techno-wine word, a vineyard term for the level of sugar in wine grapes, a measure of ripeness at harvest. The higher the brix, the riper the grapes, the more sugar, the greater potential alcohol.
Only a real wine geek could come up with an oenophiliac name like that. It's not like calling your wine bar "Merlot" or something.
Continue reading Built like a Brix House Special →