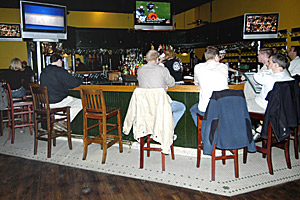 The 15-year-old Bluegrass Brewing Co. emerged from cosmetic surgery last week with a new look and an updated menu, including a hot bacon and spinach salad and fried polenta fingers. Photos by Robin Garr.
LEO's Eats with Louisville HotBytes
(Bluegrass Brewing Co.)
With a history that dates to 1779 and bragging rights as one of Louisville's first suburbs, St. Matthews owns a long-standing reputation as a quiet, family-oriented community, a safe and frankly conservative kind of place to bring up the kids.
Indeed, the community signaled its social conservatism way back in 1850, on the fateful day when its upright burghers decided to change the town's name from "Gilman's Point" (chosen in honor of the local saloon) to "St. Matthews" (in honor of a more "suitable" namesake, its then-new Episcopal church).
From that day to this, St. Matthews' churches and watering holes have co-existed in usually comfortable harmony. So it's no real surprise that you'll find at least three bars, a brewpub and a martini bar within an easy crawl of the intersection of Shelbyville and Westport roads and Chenoweth Lane, the exact corner where Gilman's Tavern once stood.
Continue reading Urbane renewal in the heart of St. Matthews →