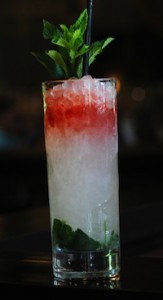 Go west, they said. So St. Charles Exchange did. This new spot bucks the recent trend to Nulu (East Market Street), opting instead to open up on Seventh just off Main, across from the entrance to 21c. The concept is "1900s hotel lobby bar," and by Jove, they've done it. After a couple drinks at the bar, you'll find yourself looking toward the grand set of double doors as if they lead upstairs to your honeymoon suite. The suspendered, vested and newsy-capped waitstaff appear as though they'd procure a carriage for your ride home, if only you asked. Sweeping mustard-gold curtains cascade down the ceiling-height windows, which, during a recent grand opening, let in just enough sunlight to illuminate the dining room's dusky ambience. The flooring is refurbished wood from an old Kentucky barn, and the ceilings are paneled in deep brown-black wood. Mirrors run the length of cushioned banquettes, while small gold lamps add an air of mystery: this is the restaurant I go to in New York for a bite to eat and a Bellini at midnight.
I'll make a late night stop at St. Charles Exchange for snacks from the Larder – cheese, olives and pickles, ham, crudités – and an artfully mixed cocktail, such as the FVK Swizzle. The picturesque gin-based drink, featuring citrus flavors and a hit of absinthe to keep you honest, is brightly slashed across the top by pink grapefruit syrup.
A die-hard Springsteen fan, my husband was obligated to try the Darkness on the Edge of Town, a stormy rum drink served over one massive hunk of ice. Had I sampled any of the punches, my pick would have been the Well-Deserved, simply for the name. Exclusively American wines and beers round out the beverage program.
A variety of delectable deviled eggs was offered – curry, truffle, barbeque – the selection will change daily. But the winning hors d'oeuvre, by several lengths, was Elvis on Horseback: peanut butter-stuffed dates, wrapped in bacon, atop a smoked banana vinaigrette. A list of five Plates ("Mains") range from $22 to $29, and a lamb burger is offered for $15.
Listed hours are Mon. – Sun., 5 p.m. – 2 a.m. A private room is available, and they anticipate opening their cool, shaded below-ground-level outdoor patio July 1.
St. Charles Exchange
113 S. 7th St.
618-1917
www.stcharlesexchange.com