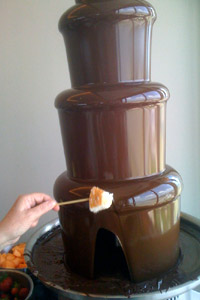 If you haven't been up to the revolving top of the Galt House for a while, you may be surprised to see how much things have changed. Gone is the faux sailing ship look, with its blocks and tackles and green, purple and gold running lights.
Exit the elevators on the hotel's 23rd floor now, and you step into a series of sleek rooms decorated in stark black and white. Light fixtures made from stacks of clear globes look like bubbles rising in champagne. But the real eye-catcher, as it has always been, is the lofty view of the Ohio River and the city all around.

When Rivue replaced The Flagship Room two years ago, the top-floor dining room highlighted a $60 million renovation of the entire hotel. We sent in correspondent Paige Moore-Heavin for dinner (LEO Weekly, June 7, 2007), and she found it quite good.
The other day, my wife and I made the ascent to check out Rivue's take on Sunday brunch, a $21.95 all-you-can-eat deal. We took a seat in the middle of the revolving portion (seating is also available on more solid ground), and took in the buffets as we watched the city slowly go by. (The room rotates once every 40 minutes or so, by my count, so even a quick brunch should allow more than enough time for the full show.)
Our server gave a very nice recitation of the day's specials, but for some reason, about midway through, she turned away from us to look at the buffet tables, giving us a good view of the back of her head. In the noisy room, we couldn't hear a word she said.
Never mind. It was easy to figure out. Several tables provide a decent variety of brunchy goodies, although — except for the lavish dessert spread — it's a bit short of the expansive spreads you'll find at some of the city's more extensive buffets.
One table offered pot roast, pork Marengo, chicken marinara, "Oriental" salmon, peas and corn, french toast and home fries, bacon and sausage, crustless spinach quiche, green salad, and a small mountain of broccoli and cauliflower, cantaloupe and honeydew, carrot strips, grapes and carefully cut strips of industrial cheese.
Omelets and waffles are made while you watch. Line up at a window to get them, then doctor up your waffle, if you wish, from a table with whipped cream, berries and the like. My cheese omelet was nicely made, although the shredded cheese filling looked a lot like the stuff that comes on your taco at Taco Bell.
Another table offered bowtie pasta salad, red, white and blue potatoes in a creamy dressing, and a tasty Mexican-style rice-with-black-beans-and-chicken dish; an antipasto plate, salami, green olives, banana peppers and cornichons.
Among highlights, the Asian-style salmon was served with julienne veggies in a sweet teriyaki-style sauce. Pork Marengo consisted of thin tenderloin medallions in a variation on the classic chicken dish allegedly first served to Napoleon after the Battle of Marengo, made with a commandeered chicken and the few ingredients the chef had in his saddlebags — black olives and mushrooms. Beef pot roast had been long-braised until falling apart in strings, but its beefy flavor was good. The chef left my cheese omelet in the pan until it cooked dry. I would have been happy if he had plated while it was still creamy.
Toward the end of our meal, a server brought around a basket of small, warm, sugar-glazed croissants. It was probably more than we needed, but they were tasty tidbits.
The dessert bar is so long that it bends around a corner in an L full of calories; in the corner, a "chocolate fountain" in the shape of a gigantic chess pawn turns quickly, spinning down a curtain of liquid Hershey's-style chocolate sauce. Reach in with a piece of fruit or angel-food cake and pick up an instant chocolate coating.
We weren't quite too full to check out a three-layer mousse cake and a slice of coconut cake, both of which more than passed muster.
With tax and coffee, brunch for two was $43.90. Tipping at a buffet is always up for debate, because you do most of your own table-running, but our service was attentive, courteous and helpful, so we threw in 10 bucks anyway. —Robin Garr
Brunch at Rivue
The Galt House
140 N. Fourth St.
568-4239
www.rivue.com
Rating: 81