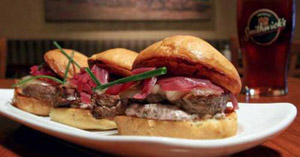 Sunrise, sunset
Sunrise, sunset
Swiftly fly the years …
Yeah, right. Now that I've successfully planted that earworm, let me say I can't believe it's been so long since I first reviewed Equus, a then-new restaurant in St. Matthews that was buzzing under a new owner and chef, Dean Corbett, for the old Louisville Times in 1985.

I didn't have any gray in my hair then, and quite a few of the other favorites of the time — Casa Grisanti, say, or Sixth Avenue, both way stations in Corbett's career — are long gone.
But Equus just keeps on keeping on, changing pace to stay au courant while continuing to satisfy its core audience.
Celebrating its 25th anniversary this month, the restaurant recently re-invented itself. It has united its adjoining upscale and casual restaurants into a joint operation with a single entrance to four dining rooms (including two bars), bearing the merged name Equus & Jack's Lounge.
It retains the beige textured walls and dark wood trim that conferred its clubby look, but the vibe is lifted by flat-screen televisions playing sports. Happily, all the screens in each room seem to be tuned to the same station, avoiding the psychedelic sports-bar effect of competing programming.
Banquettes, four-top tables and comfy overstuffed sofas and armchairs break the rooms into more intimate nooks. Tablecloths no longer drape the wood tables, but attractive gold-band china remains in use.
The result blends a retro club and a tasteful sports bar where the sound level rarely rises above the level of a quiet conversation. It all seems to work. For 25 years, the signature of this place has been comfortable yet classy, and that hasn't changed.
Chef Dallas McGarity, who earned a trip to the James Beard House in New York City while at Volare and went on to open Z's Fusion, is now on board. He is rolling out a new menu that incorporates some Equus standards, Jack's casual style and creative innovations that are all McGarity.
About 10 "small bites" are suitable as apps or small plates for grazing; they're all under $10, as are a quartet of salads. Jack's Prime Burger is $10, and $14 buys a house-made pizza with toppings du jour — a thin-crust beauty large enough for two.
The wine list is well chosen, but it does not appear to have come down to match the more casual menu. It remains a classy, upscale list, topping out with 2006 Cakebread Napa Cabernet for $175 or 2003 Il Poggione Brunello di Montalcino for $160. There's not much in the low-budget range, with red wines starting in the $40s and whites in the $30s. Lower-end selections are available by the glass for one-fourth the bottle price.
A short list of draft beers includes a few goodies for beer geeks, including my pick, Dogfish Head 60 Minute India Pale Ale from Delaware ($5), the potent Bernardus ABT Abbey Ale from Belgium, and BBC's Bourbon Barrel Stout.
Equus mushroom fumé soup ($6), a comforting blend of mushrooms, stock and cream, remains on the menu. If they ever take this classic off, my wife will organize a picket line.
I can rarely resist a tongue-in-cheek variation on "sliders," and McGarity's appetizer version is splendid: Beef tenderloin sliders ($9) comprise a trio of toasted, golden-brown dinner buns fitted with pocket-size slices of tenderloin, topped with mild Provolone and a dab of sweet onion compote; in lieu of ketchup or mustard comes a thick, slightly spicy red-wine aioli. It's a hearty starter; three filled me up as effectively as a sack of White Castles.
The rosemary- and garlic-marinated center-cut pork chop ($18) is a rugby scrum on a plate, built with two thin, boneless grilled loin chops, heaped on rich, buttery mashed potatoes, with sweet-sour braised red cabbage and crispy tobacco onions. The tender pork was delicious, infused with a subtle but distinct scent of rosemary.
McGarity's rendition of shrimp and grits ($22) is splendid. Rich, thick, textured and buttery grits were loaded with small shrimp, spicy diced Tasso ham, thin-sliced shiitake mushrooms and wilted greens. What the heck are they? Spinach? No. Too tender to be kale. Nor was it gai lan (Chinese broccoli). Mary took a wild guess, and the kitchen confirmed it was Chinese water spinach, grown in Kentucky by Carol Freeman at her Hardin County farm.
We finished with a beautiful dessert: a white ramekin of thick, intense chocolate crème brûlée ($8) under a crisp, glassy crust, sprinkled with powdered sugar, served on a rectangular white plate with a neat oval of thick whipped cream on a swash of caramel, decorated with an amaranth flower, a yellow daisy and an artfully carved strawberry. It was fine, although in a perfect world, crème brûlée is served as cold custard sealed under a sizzling hot, caramelized crust prepared to order, a contrast of hot and cold, crisp and creamy to wake up your mouth. This one, apparently made in advance, was room temp all the way through. But it was still mighty good.
Service was excellent, if a bit on the "hovering" side. A filling dinner — right up to the standard I'd expect from a meld of Equus and Jack's — came to an affordable $76.32, plus a $20 tip.
Equus & Jack's Lounge
122 Sears Ave.
897-9721
www.equusrestaurant.com
Robin Garr's rating: 90 points