While I was binge-watching the Taco Chronicles on Netflix last week, I got to the sequence on carnitas, and immediately realized that I had to get up and go either to Michoacán or, at the least, to a really good local taqueria. Once I checked my wallet, La Catrina Mexican Kitchen in New Albany got the nod.
So we turned off Netflix, headed across the Sherman Minton bridge (no tolls!) and pulled up right across the street. You can't miss La Catrina, with its huge, bright Dia de los Muertos skull painted on the corner facing Elm and Bank streets. The place was packed, and the overhead doors were rolled up, turning the entire dining room into a large open-air street-food cantina.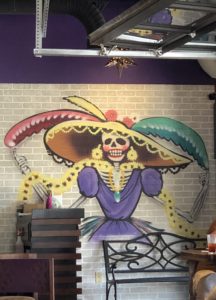 Decor is industrial-chic, with painted brick walls splashed with colorful Day of the Dead images, including the restaurant's namesake, La Catrina with her feathered sombrero, one of the most iconic Day of the Dead figures. Sturdy wood tables and heavy wooden chairs set the scene . Simple flatware is rolled in white paper napkins.
Chef Roza Segoviano, who owns La Catrina with her husband Juan, has put together an extensive, all-English, nearly all-taco menu. (The couple also owns the five-shop local Señor Iguanas chain.)
You can take your pick among 10 naked tacos ($3.50 each) or quesadillas ($4.50 each), topped with the meat of your choice and ready to hustle to the ample toppings bar.
Ten more tacos are fully dressed and ready to eat, ranging in price from $3.75 (for a vegetariano taco or a tinga taco with chipotle-braised chicken and black beans) to $4.75 (for four choices, including the namesake La Catrina with grilled shrimp and bacon). You can also skip the tortillas and get a naked bowl ($9) with taco meat, poblano rice, black beans, queso and salad fixings.
The black, skull-bedecked menu also offers apps from $5 (for chips with three salsas) to $22 (for a dozen oyster shooters; a half-dozen are $10). Ten soups and salads are priced from $9 to $12, and a couple of Mexican desserts are $5.
The well stocked bar offers a good selection of craft beers, plus plenty of tequilas and bourbon.
We started with a plate of tacos dorados (golden tacos), pictured at the top of the page. They were closed with a scalloped edge and deep fried golden and crispy. We chose two stuffed with pork picadillo, finely chopped pigmeat with vinegary-spicy flavorings, and two with finely diced, fiery-spiced potatoes. They were attractively plated with dabs of piquant green and red salsas and soothing white crema.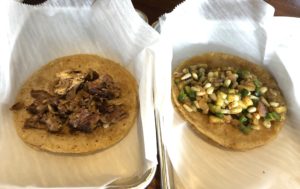 A pair of naked tacos ($3.50 each) came on small, doubled corn tortillas. We chose one topped with a portion of calabeza vegetables (pan-roasted zucchini, corn, poblano peppers, crema and cotija cheese, creating an off-menu meatless taco); the other was filled with carnitas, a choice we had to make after seeing their starring role on Netflix.
Once dressed with standard Mexican toppings, lots of onions and cilantro, striped with crema and salsa verde, the veggie taco became so flavorful that we didn't even notice the absence of meat.
The carnitas taco was the highlight of the day. It looked, and presumably tasted, just like the Michoacán-style offering on Netflix: Citrus-marinated pork was slow-cooked until falling apart, then pulled and finished in the oven to yield a good mix of crispy edges and tender bits. It was too good to drown in toppings. Onion and cilantro and a little crema did the job.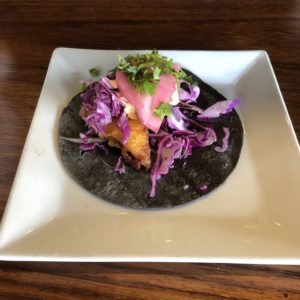 The dressed specialty tacos come on single blue-corn tortillas, which bring an intriguing but less familiar flavor to the table, as the slaked lime flavor from blue masa harina flour is more forward here, catching your attention at first bite.
A Los Cabos fish taco ($4.50) bore a generous portion of mild, flaky cod, sizzling from the fryer, topped with shredded red cabbage, pink pickled onion and field greens.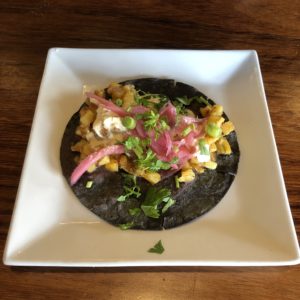 A Dona Nena taco ($4.25) was loaded with spicy potatoes, refried black beans, and chorizo (which you can omit to make it meatless), kicked up in flavor with an intriguingly earthy roasted tomatillo crema, dressed with pickled red onion and cilantro.
A pretty dessert, chocoflan ($5), featured a well-made custard flan drizzled with silken caramel and chocolate, built on a base of dense, mild flavored chocolate cake.
With strong iced tea ($2.75), lunch for two came to $35.84, plus an $8 tip.
La Catrina Mexican Kitchen
202 E. Elm St.
New Albany, Ind.
(812) 725-8264
lacatrinamexicankitchen.com
facebook.com/lacatrinanewalbany
instagram.com/lacatrinamk
Robin Garr's rating: 86 points.
Noise level: With the overhead doors up and the house almost full at lunch time, the roar ranged from loud to deafening. Plan to lean in to your tablemates if you want to hear them. (Average sound was 80dB, the level of loud singing, with peaks to an ear-shattering 92dB when a large truck rumbled past.)
Accessibility: Only marginally accessible to wheelchair users. Most of the dining area is on a concrete slab framed by a yellow-painted curb that's at least 6 inches high. One door in a distant corner boasts a level entrance limited by a threshold bump and a "use other door" warning, and a few tables along Elm Street sit at street level. The restroom is equipped for use by wheelchair users.