CLOSED. We very much regret to learn of the abrupt closing of Danielle's just before New Years. The owners, attributing the closure largely to intractible issues surrounding city liquor licensure, say they hope to find a way to return to business eventually.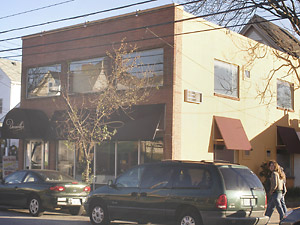 Danielle's has earned its place as one of Frankfort Avenue's stars. Photo by Robin Garr.
LEO's Eat 'n' Blog with Louisville HotBytes
"Dammit," grumbled my wife, squinting crossly as she studied the new menu at Danielle's. "Look at this! It's just like before! Everything has sweet flavors and fruit in it."
I leaned out of whacking range and snickered: "This is a bad thing?"
It wasn't bad at all, as it turned out, and even my wife eventually agreed, after she scraped the sweet tomato jam off a hearty portion of lamb shank.

This family debate had been going on since this stylish Frankfort Avenue bistro opened in March, and I had rushed right in to give it an early review. Its 20-something signature chef, Allan Rosenberg, brought an action-packed resume that included time at a couple of NYC icons (Vong's and Daniel) as well as some seriously upscale Louisville spots (Park Place).
He fashioned for Danielle's an innovative menu of dishes that were splendidly prepared but that went sideways on my bride's taste buds (and, to some extent, mine) with an almost relentless emphasis on sweet and fruity flavors in his savory appetizers and entrees, prompting me to crack wise that "there's no need to eat dessert first when there's something for the sweet tooth on almost every plate."
Nevertheless, the buzz was good, and so was the fare, fruit flavors and all. Danielle's jumped out of the starting gate in front of the pack … but then Rosenberg unexpectedly bailed out after only a couple of months. (Recently he took over as chef at BLU at the Marriott Downtown, where he's revamping the menu and seeking to move BLU into Seelbach and Brown territory as a destination dining room.)
Meanwhile, Josh Hillyard, who had worked under Rosenberg, took over the top spot at Danielle's. A new menu features his own specialties, putting Hillyard's signature on the bill of fare.
Yes, a glance at the new menu seems to show more of the same, with just about every course featuring one fruit or sweet item or another. Duck confit ($10) comes with orange-scented hummus and apple chutney. Seared curried scallops on white beans ($11) perch on a berry gastrique. A chicken breast main course ($20) emerges from a fruity-salty pomegranate-soy marinade. I think my wife finally lost it when she read down to pan-roasted sea bass ($25) with candied fennel.
But I talked her back from the edge, we tried a little of this and a little of that, and the good news is that Hillyard turns the contrast and volume down to moderate levels with the sweet flavors and fruit, which add contrast and complexity to his dishes as flavor accents – or, at least, keeps them contained within side dishes or accompaniments so the sweets-wary can set them aside to enjoy as dessert. Bottom line: We both came away filled and happy after an outstanding meal, and had plenty of sweet tooth left for dessert.
The decor hasn't changed from its original stylish, rather simple design, good abstract modern art mounted on cafe-au-lait and burgundy walls; shiny mahogany-look tables to seat about 100 (a handful of tables, seemingly at random, sport white tablecloths; the rest are undraped). Shiny black polyester napkins look stylish but are irritatingly slick and non-absorbent; knock off a small style point for that. Water goblets and wine glasses are high quality and good size, and soft instrumental jazz plays unobtrusively enough that it doesn't hamper conversation.
The wine list is lengthy, with well more than 100 items, virtually all from the New World and mostly from the United States. It's fairly marked up at about double retail, with a few $100-plus items but mostly in the $20-$40 range. A fair number of the lower-end items are available by the glass for $6.50 to $10, a little over one-fourth the price of a bottle. We chose one of the few non-U.S. wines, Los Cardos Malbec from the Argentine producer Doña Paula ($28 for a bottle, or $7.50 a glass). A good, typical Malbec, it brought together black, plummy fruit, distinct earthy notes and food-friendly acidity.
A basket of breads, including herbed focaccia, small white dinner rolls and slices of seeded baguette that appear to be Blue Dog's finest, are served with plain butter, cranberry butter, Gorgonzola-honey butter and olive oil infused with rosemary and parmigiano.
The "Tuna Study" appetizer ($12) was stunning both visually and to the taste buds. A square, shiny white earthenware plate was divided into four shallow pockets, with fresh flowers decorating one quadrant and a trio of bite-size tuna treats in the others: Two wedges of inch-thick ahi tuna were dusted with a peppery spice and seared briefly so the edges are crunchy, the centers sushi-rare; a small mound of excellent tuna ceviche consisted of neat tuna dice and chopped onions "cooked" in a piquant marinade, topped with a crunchy bit of broken cracker-like bread; and a perfectly fashioned single piece of nigiri sushi, a perfect, scarlet raw tuna "finger" atop a ball of glistening white rice, was circled by a dark swath of dark soy sauce and a lozenge shaped pale-green round of wasabi horseradish "gelee."
A simple baby mixed green salad ($7) was fine, a generous bowl of fresh mesclun lettuces, halved red muscat grapes, finely chopped pistachios (described as "pistachio dust") and a tart-sweet cranberry vinaigrette.
Both main dishes were served on exceptionally large white plates. The aforementioned lamb shank ($24) needed an oversize bowl to hold the whole thing, bone and all, long-simmered to extreme tenderness, and perched atop a pool of barley made in the fashion of risotto (a northeastern Italian tradition) with a dark, intense red-wine reduction. The barley was still a bit al dente, adding to the textural interest of the dish. It was garnished with grilled rapini (broccoli rabe) florets and a schmear of very sweet, glistening red "tomato jam." A hearty dish for an autumn night, it was diminished just a bit by a few more shakes of salt than it really needed.
The pan-seared duck breast ($23) was perfect. Served slightly rare – rosy pink in the center as ordered – it was sliced into four thick medallions, discreetly sauced with an herbal duck-rosemary jus, and perched atop a ration of thin, crisp-tender haricots verts garnished with dark, earthy bits of shredded meat … duck confit? The fruit-sweet element on this dish came on the side, a crisp-edged, buttery, sweet-savory cranberry and blue cheese pudding.
We didn't need dessert but couldn't resist sharing a "roulade" of chocolate sponge cake and sweet Italian mascarpone cheese ($7), rolled into a brown-and-white-striped cylinder and presented in a thin round of dark chocolate shaped like a coffee cup with a dollop of whipped cream on top. It was attractively plated with perfect blackberries and raspberries and a crunchy piece of almond biscotti on the fourth. There's no espresso, but Danielle's fresh-brewed coffee ($3) is fine, strong and fresh.
Losing its signature chef after such a short time had to be a blow to Danielle's, if only because the pre-opening PR had presented him as the second coming of Escoffier; but young Hillyard has come into his own, and if anything, he's kicked things up another notch. (The menu, too, has been kicked up a bit – our dinner in late March was only about $80 plus $15 tip, while a similar combination of dishes during our more recent repast ka-chinged up to $115.24 plus $25 tip. But that's nitpicking. Danielle's has earned its place as one of Frankfort Avenue's stars, and I hope it lives long and prospers.)
Danielle's
2206 Frankfort Ave.
893-7677
Rating: 88 points
NIBBLES
Naked chefs bare (almost) all for charity
(Click for separate listing)
Bardstown Road gets its glow on
In the most groanworthy holiday-related pun of the still-young season, the Highlands and Highland Commerce Guild tell us that Bardstown Road Aglow, the neighborhood's annual festival of shopping, eating, drinking and merriment, will celebrate 21 years of glowing strong when it kicks off with an open house on Saturday, Dec. 2, from dusk until 10 p.m.
Boutiques, eateries and businesses all along Bardstown Road and Baxter Avenue will be open and decorated for the holidays, and there'll be strolling carolers, bagpipers, a trolley filled with elves, and face time with Santa for the kids at Mid-City Mall from 5-8 p.m. A $3 donation is requested, with proceeds to benefit the Maria Long Buddies for Life – Baptist East Hospital Pediatric Ward. For more information, check www.bardstownroadaglow.com.