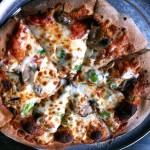 St. Matthews has enjoyed a pub or two all the way back to Gilman's Corner in the city's pioneer days, a happy custom that continued in our parents (and even our grandparents') time with homey saloons like Dutch's, Maier's and Gerstle's providing community while slaking the public thirst.

In the past few years, an influx of pubs and nightspots has turned the center of St. Matthews into a club zone to match the famous Baxter Avenue strip in the Highlands. ZaZoo, Diamonds, Molly Malone's, Saints, Brendan's, BBC, 60 West … not to mention Majid's, soon to come in Chenoweth Square!
And now, another aspect of a maturing club zone is popping up before our eyes like mushrooms. Mushrooms on a pizza, that is.

Count 'em: Naked Pizza still has that new pizza-house smell, and now we add DiOrio's, the subject of today's dissertation. Another Spinelli's is coming soon, and don't forget the expanded Boombozz, and decent pies at Saints and Cafe Lou Lou. Oh, yeah, did somebody say "Papa John's"? Why, we ought to change the name of this burg from St. Matthews to Pizza Town!
DiOrio's shapes up as a worthy addition to both the pizza scene and the pub scene. Step in, and if you recall the tight space that formerly housed Karem's, you'll be surprised at the size of the venue.
Now it's two spacious rooms, dark and inviting in a pubby-clubby way, with high ceilings, comfortable booths and chairs, exposed brick walls and impressive lighting fixtures, some of which boast an oversize art deco look reminiscent of Gotham. Full bar service and frequent drinks specials and late-night karaoke events place it squarely in the club scene. Handmade pizzas with fresh dough, quality toppings and cheese make it a fair entry in the local pizza sweepstakes.
Pizza is available by the slice, New York City style ($3, plus 50 cents per topping, for an oversize portion that's one-sixth of a 20-inch pie). Whole pies range from a plate-size 10-inch ($6.95 plus $1 per topping) to 20-inch ($17.95 plus $2.50) to the gigantic 30-inch "Massive Gibbon" ($27.95 plus $3.50). A full range of topping choices cover all the usual suspects, including anchovies; and you can take your pick of classic red tomato sauce, olive oil or pesto. Or take all three!
A choice of five Italian-style grilled sandwiches are mostly $7.95; the "Chummy D's" Philly cheese is $8.95, made with Cheez Whiz the authentic Philly way. Sparky's Wings are 10 for $8.95, 20 for $16.95, or 40 for $31.95; ask about larger portions if you're having a party. Salads are $4.95 for a side or $8.95 for a dinner salad ("Re Re's country salad" or a spinach salad); and your dessert options include D-lightfuls deep-fried cinnamon and sugar balls ($5.50) or Stephanucci's cookies ($2.50).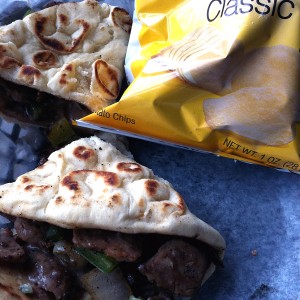 A small pizza with mushrooms, onions and green peppers ($9.95) was decent, with a thin crust and toasty breadlike edge; a little sauce and a lot of stringy, molten cheese, with a scanty portion of fresh veggies. It was darkly charred (in a good way) on one side but a bit pale on the other. An Italian sausage pita ($7.95) melded the concept of a gyros with Italian ingredients: thin slices of spicy Italian sausage with chopped green peppers and onions and a ration of cheese piled on a folded-over pita and grilled.
A decent pizza lunch for two, with weak iced tea and a cola, was $22.68 plus a $5 tip.
DiOrio's Pizza & Pub
310 Wallace Ave.
618-3424
www.facebook.com/dioriospizza