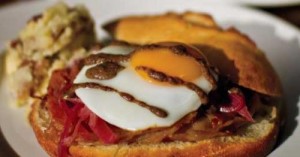 Edelweiss, Edelweiss,
Every morning you greet me …
No, wait, dammit! Rewind! I meant "Eiderdown," sorry. Edelweiss is an Alpine flower, small and white. Eiderdown is soft, warm down from the breast feathers of the female eider duck, which famously plucks down from her chest to line her nest and keep her eggs and infant duckies safe and warm.

That sounds mighty cozy, and so, in fact, is Eiderdown restaurant, a new Germantown eatery — run by the owners of the popular Nachbar — in the Goss Avenue storefront lately vacated by Jockamo's Pizza.
Opened in mid-October, it's already attracting a significant buzz, perhaps enhanced by the Nachbar connection but surely built on its own winning formula of comfortable style, Chef Brian Morgan's appealing menu and affordable selections of artisan draft beers and interesting wines.
The menu, and the look and feel of the open, high-ceilinged 19th century redbrick Germantown storefront, combine to offer a taste of Louisville's German heritage blended with a modern locavore sensibility. The Nachburger ($9.50) is a hefty, seared-to-order round of local grass-fed beef, topped with Kenny's Kentucky white cheddar and crispy bacon, served on a burger bun fashioned from white challah.
The Kentucky Country Ham Sandwich ($9) is topped with tart-sweet red onion marmalade and a fried egg, sunnyside-up, decorated with a swash of Hefeweizen mustard and perched on a crusty Blue Dog Pugliese roll.
And so it goes: not mere popcorn but Duck-Fat Popcorn ($4). Turkish-style Döner Kebab ($8.50) or Daddy's Dainty ($8), a fried baloney sandwich elevated with beer cheese and brioche. Drop by after 5 p.m. for enticing entrees from $14 to $16 for seven creative dishes, three of them vegetarian. I've got my eyes on the Baron Maultaschen ($14, carrot and ricotta-stuffed pasta in mushroom consommé) or Saison Spätzle ($14).
It's early going, and I'll come back (or send in one of the crew) for a full review later. But if I had to assign a rating today, I'd be looking at the 90s. Two hearty sandwiches with sides of sweet-tart greens and a rich German potato salad, with fresh-brewed iced tea, set us back only about $24 plus a $6 tip.
Eiderdown
983 Goss Ave.
290-2390
www.eiderdowngermantown.com
For Danny Mac's Pizza review, click here.