I won't deny that being a restaurant critic is fun, but it's hard work also. And there is one truly significant downside: When duty calls you to eat out someplace new every week, it's not easy to return to dine casually at places that make you happy.
Nevertheless, there's a handful, or maybe two, of local eateries that please me enough – and, frankly, are affordable enough – that I'm likely to drop in now and then even when I'm not wearing my food-critic's chapeau.
One of those is Eiderdown.
Always comfortable, always welcoming, Eiderdown is as hip as massive beards, random piercings and spectacularly artful tattoos. But humanity in all its forms and preferences is welcome there, even those of us unpierced and unadorned.
One of the first sit-down restaurants in the new Germantown renaissance, Eiderdown opened in 2010, a hopeful venture by the folks who'd been shaking up previously un-hip Germantown with the popular tavern Nachbar. In a historic urban neighborhood better known for the blue-collar culinary delights of Check's and the sadly departed Germantown Cafe and Flabby's, Eiderdown started a new wave of hip, gastropubby goodies.
Eiderdown occupies a historic red-brick corner store that's deeply rooted in Germantown, and the unassuming decor of its long, narrow high-ceiling room evokes the feeling of an earlier time, too, with its exposed brick walls and heavy, rustic wooden tables lined up in a row. A long, comfortable bar runs the length of the room.
There's a short but well-chosen wine list and a selection of creative cocktails, but in respect of the community's beer-drinking Germanic heritage, Eiderdown's beer program stands out, with a good bottle selection and nearly two dozen taps – most housing craft beers, many of them local.
Eiderdown's menu, which the owners call European-inspired comfort food," is updated frequently to take advantage of local seasonal produce, but favorites – including the addictive duck-fat popcorn ($5) are always available, and local meat and cheese producers get preference and a menu shout-out.
A half-dozen snacks, starters and salads are $5 (for the popcorn) to $10 (for the Heed the Word of the Brother salad, about which more will be revealed). Five small plates, seven full entrees and four sandwiches meld seamlessly into a broad array of dinner choices, ranging in price from $8 (for crepes Jean Girard with Capriole goat cheese and walnuts) to $32 (for The Mayor, an 8-ounce locally produced steak au poivre). That's a price outlier, though, all the other mains top out at $20 (for roast Barr Farm chicken or Marksbury Farm spare ribs).
Dishes come with offbeat names such as Lazy Makin' Circles (fried pickled okra, $9), Wolfe Kahn Conductor (the spareribs) and Freaknik (a Broadbent country ham and bacon sandwich on Blue Dog levain, $12).
Fortified with a mild, gently malty golden Sünner Kolsch beer ($5.50) and a refreshing, summery The Carlton cocktail ($9) made with organic cucumber vodka, basil lemonade and soda, we and a group of friends moved happily into a fine meal.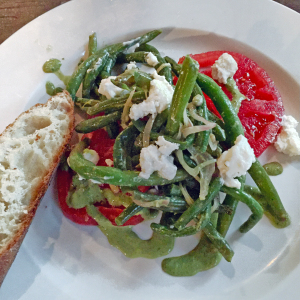 A "Heed the Word of the Brother salad" ($10) made a delicious light seasonal starter. Three large tomato slices, juicy and fresh, were spread across a plate and topped with fresh-cooked tender green beans. A zippy pesto vinaigrette with dots of earthy Kenny's Kentucky fromage blanc brought it all together, with a slice of crusty Blue Dog bread on the side.
Wiesn Balls ($7 on the menu, $8 on the bill) made a starter as heavy as the salad was light: Savory, golden-brown balls of breaded-and-fried spätzle noodles, crisp sauerkraut and Kenny's white cheddar were crunchy and addictive, but nine of the little fellers allowed plenty for sharing. Spicy sambal mayo dip added a touch of exotic fire.
The Abratna Brew ($12), a Marksbury Farm bratwurst, was served on a pale bun that looked like a hoagie, which surprised us since the menu said "pretzel bun." We politely inquired. "That is a pretzel bun," the server said. We'd been expecting something dark-brown and studded with salt crystals, but whatever. The bun was okay, the local farm's brat was juicy and fine, and the kraut was crisp and tangy. Caramelized onions were on the sweet side, which shouldn't have surprised us because caramelized, and
a touch of Dijon added a gentle bite. Crisp, thick kettle chips came alongside.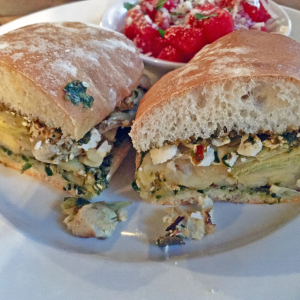 Thistle Boom, a hearty meatless sandwich ($12) featured thick grilled artichoke hearts layered with unctuous spinach-olive tapenade, lightly pickled eggplant giardiniera and Kentucky-made Sapori Toscana Italian-style cheese, on a crusty Breadworks ciabatta. It was a fine sandwich, if a bit messy to eat with all those deliciously drippy ingredients overflowing the bread onto the plate. A dish of watermelon cubes bathed in balsamic and garnished with grated Parmesan and chopped mint made an offbeat, summery side.
A shared Pot de Creme ($6) was dense, almost like a bowl of chocolate cake icing, not that there's anything wrong with that. Fine chocolate and a quenelle of rich whipped cream made for a sinfully delicious finish.
Dinner for two came to $62.50, and prompt, attentive service from a competent crew added a $15 tip.
Eiderdown
983 Goss Ave.
290-2390
eiderdown-gtown.com
facebook.com/983Germantown
Robin Garr's rating: 88 points