Frankly, it's not that hard to be a vegetarian cook. Armed with all the world's fruits and vegetables and a bounty of dairy products, it's easy to produce a vegetarian dish so rich and succulent that your diners won't miss meat.
But the vegan chef – like Chef Kristina Addington and the black-clad geniuses who toil in her open kitchen at the new V-Grits – faces a far steeper challenge. They must give up not only the flesh of animals, poultry, seafood and fish, but also decline to use anything that animals produce, from milk, cream, butter and cheese to eggs, honey, even gelatin.
All these ethically-based restrictions might seem to limit the vegan restaurant to a simple selection of bland side dishes. You might expect that to go double for V-Grits, which doesn't even use tofu or newfangled fake meats.
Or so it would seem. But V-Grits, a stylish new eatery in the former home of Monkey Wrench, will overturn all your negative vegan expectations. (If you're already a vegan, you didn't need this explanation, and you've probably been chowing down there ever since it opened in early October.)
V-Grits, an Addington-created acronym for "Vegan Girl Raised in the South," works in partnership and shares space with False Idol Independent Brewers brewpub. They've made over the space with a cool, stylish look within glass window walls. Stylized murals show happy animals. A short bar and counter clad in subway tile surround one end of the long room. Impressive looking shiny stainless-steel brewing tanks and high-tech equipment glisten behind a chest-high black planter wall at the other end.
 
Having been impressed with V-Grits as a popular, award-winning food truck and purveyor of periodic vegan dinners in the ChefSpace restaurant incubator in West Louisville (LEO Weekly, Nov. 8, 2017), I was prepared for a treat; and by and large we got one when we dropped in for dinner with our friend Scott the other night.
At its best, the fare was stunningly good. One or two items fell short of that standard, perhaps testing the limits of vegan approaches to dishes that traditionally depend on dairy. But I'd absolutely go back for more; and I'd call for another False Idol pint, too.
The menu casually names its proteins as crab, steak, chicken, turkey and such, but trust me, they are vegan. It's affordable, too, with four mains all marked at $14, a half-dozen sandwiches ranging in price from $11 (for a pimento cheesesteak – okay, cheeseportobello – or a vegan club sandwich) to $13 (for the Gaglione, a vegan take on chicken parm). Snacks and salads are $6 (for a chef salad) to $12 for a flight of three flavors mac and vegan cheese).
I grabbed a False Idol "Manna" Kellerbier ($4.50), a golden, bittersweet pilsner-style brew with good carbonation and a distinct hops presence. It made a good quaff with the surprisingly hearty vegan fare. Other made-on-premises False Idol brews are offered, as well as a half-dozen draft beers from other local breweries; a cider and a kombucha, and a short list of wines and artisanal soft drinks.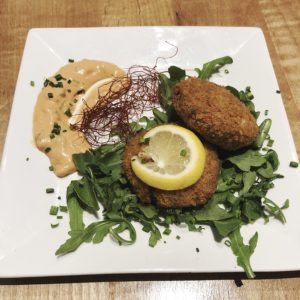 The crab cake sampler ($8), a pair of hefty rounds fried golden-brown, is actually made from jackfruit, a tropical fruit that's a vegan go-to. When still green, it's chewy and unsweet, with a meaty texture. Add crunchy breading, a lemon wedge, arugula, spicy Korean chili threads, and tangy cashew-based vegan remoulade, and it'll fool ya.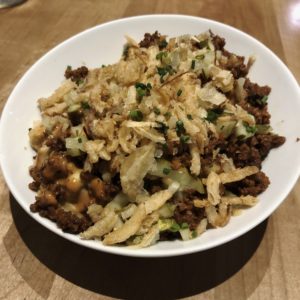 Only the macaroni elbows are real in V-Grits' cheesburger mac ($9). The cheese is cashew-based, and the sausage crumbles are plant-based. Crisp onions, pickles and tangy sauce make it an addictive delight.
Fried chicken? The Betty ($14), V-Grits' alternative, pictured at the top of the page, will amaze you. Crisp, shattering golden breading that's a match for Indi's cloaks bites of, wait for it, oyster mushrooms, that make a surprising stand-in for the traditional bird. A crock of stir-fry vegetables added an Asian note on the side. More disappointing were a dry vegan biscuit with vegan butter, and ration of mashed potatoes loaded with an appealing sounding wild-mushroom and English-mild ale gravy that, unfortunately, was completely dominated by intense dried sage flavor.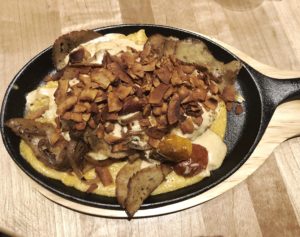 The best thing about the V-Grits hot brown ($14) was the vegan turkey. Made from subtly flavored wheat-gluten seitan in paper-thin deli slices, it tasted amazing. Not quite turkey, maybe, but similar, different, maybe even better. The rest of the filling dish was built on a base of cheese grits and a couple of those vegan biscuits, mixed with caramelized onions, vegan gouda, tiny roasted tomatoes and chives, and a crunchy topping of analogue bacon made from coconut, of all things.
Scott grabbed the check before I could examine it – thanks, Scott! Our share for two would have come to just over $50, though, plus tax and tip.
V-Grits
1025 Barret Ave.
742-1714
vgrits.com
facebook.com/vgrits
instagram.com/vgrits
Robin Garr's rating: 86 points
Noise level: Conversation was easy for us, but hard edges of glass, tile and concrete will kick up the noise when every table is filled. (Average sound level 76dB. with peaks to 84dB)
Accessibility: Entrances are level, and we so no apparent barriers to wheelchair users.