Some time during recent months, pushed by the arrival of the excellent taquerias Taco City in the Highlands and Taco Choza in St. Matthews, the metro area quietly, without any publicity, achieved full taco.
What's that, you ask? Simple. The numbers are a little vague, but by my best count, hungry Louisvillians now have at least 65 locally owned, independent places to buy tacos, surpassing the roughly 60-plus local pizzerias.
Given all the cranky jokes about this being a city with a pizzeria on every corner, this is no small achievement.
We tried both Taco Choza and Taco City this week, and I'm happy to report that both are worthy.
Taco City opened in mid-September in an old house that had formerly been quarters to a women's clothing store. Its large front deck was not in use on this chilly winter day, but it was warm and welcoming inside. White walls show simple decor that seems to play off the City theme: A stylized urban skyline, large photos of London, Paris and, um, maybe Hong Kong? Black tables are set with lightweight, colorful metal chairs.
Tacos dominate the menu, about a dozen of them, tightly grouped in price from $3.50 (for a pork-rind taco de chicharron) to $3.99 (for several fish and seafood tacos). There's also a short list of tortas (sandwiches), a couple of burritos and a quesadilla, priced from $7.99 to $10.99 (for a torta cubana, a Cuban sandwich with a Mexican accent).
A starter order of guacamole and chips ($5.75) was excellent, a generous portion of rich, chunky guac, clean and fresh, with huge, shattering-crisp, grease-free fried corn tortilla chips.
Yuca frita were also perfectly fried, a half dozen logs of the starchy Caribbean root vegetable served sizzling from the fryer, crunchy on the outside, creamy within, with a fiery jalapeño salsa.
An elote ($3.99) was also fine, a skewered cob of corn slathered in butter and topped with funky grated cotija cheese, red-chile powder, crema and chopped cilantro.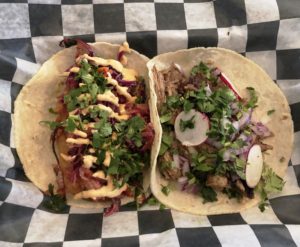 I recommend the excellent fried cod taco ($3.99). A substantial piece of flaky and mild cod, almost too big to fit in the taco, cloaked in crisply fried breading, was served very hot from the fryer. It was wrapped in a single corn tortilla with lots of thinly sliced red cabbage and cilantro, with fiery peach colored chipotle aioli alongside.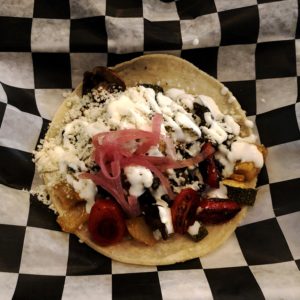 A veggie taco ($3.75) was well-made, tasty and filling. Loaded with black beans, roasted corn, chopped calabacita squash, button mushroom, strips of poblano pepper, and roasted cherry tomatoes, and topped with cotija and pickled red onion that it was not possible to roll it up and eat it. Behold, the knife-and-fork taco!
A carnitas taco ($3.75) was very good too, delicious if a bit idiosyncratic, it was long-simmered, citrus-marinated pork resembling Cuban lechon asada. It too was simply topped with chopped cilantro and onion, with thin-sliced radishes as garnish. 
We probably ordered more than we needed, but this filling meal still came to a very affordable $26.48, plus a computer-generated $6.52 tip.
Taco City Louisville
1283 Bardstown Road
409-9454
Facebook: bit.ly/TacoCityLou
Robin Garr's rating: 90 points
Noise level: The sound level was building up but manageable late on a Saturday afternoon with a soccer game on TV in the front room; we could converse easily at a table in the back. (Average sound level 74dB.)
Accessibility: This old Highlands house has been capably made accessible to wheelchair users with a ramp in front providing the primary access for all, and access modifications in the rest rooms.
A quick lunch at Taco Choza (which can be translated as Taco Shack or Taco Hut) revealed another fine taco stop, this one handily located amid the St. Matthews nightlife zone. Opened just one month ago, it fills the space left by the departure of Ville Taqueria, retaining the same chef under a new owner.
Its menu, too, is taco-centric, with a dozen tacos all priced at $3.99 save for the $4.50 barbacoa with slow-cooked beef. A shorter list of burritos and quesadillas are mostly priced from $8-99-$9.99.
A carnitas taco ($3.99), pictured at the top of the page, presented the pork in traditional Mexican style, long-cooked until it falls into shreds, but still firm and flavorful, with plenty of crisp browned edges to provide texture variety. It was served Puebla-style on doubled small corn tortillas, dressed with chopped white onion and cilantro, with radish slices and a lime wedge on the side.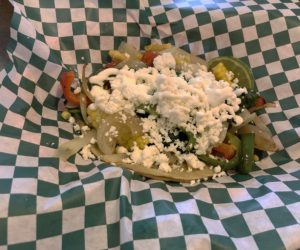 The veggie taco here ($3.99) is a knife-and-fork taco, too, overloaded with sauteed onions and red and green bell-pepper strips under a pile of crumbled queso blanco.
Pinto beans ($3) were exceptional. A generous portion, warm and comforting, was elevated by a complex spicy, smoky flavor.
Our lunch at Taco Choza, with a bottled water and a Jarritos Tamarindo Mexican soft drink, was a very thrifty $15.35, plus a $3.07 tip.
Taco Choza
3922 Westport Road
409-5080
tacochozalouisville.com
Facebook: bit.ly/TacoChoza
Robin Garr's rating: 87 points
Noise level: A moderate crowd kept up a happy buzz, but never interfered with conversation. (Average sound level 76dB, with peaks to 83.)
Accessibility: The entrance and restrooms pose no barriers to wheelchair users, but utensils and salsa dispensers might be difficult to reach.