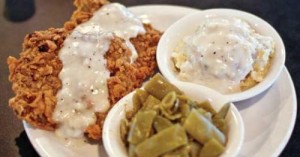 I wouldn't want to say that my food preferences are those of a city boy, but let's put it this way: In years of dining at my parents' table, I never realized grits were served with breakfast until I ran into this odd practice elsewhere. And I was a fully grown adult before my first encounter with country-fried steak.

I'm down with grits now, especially when they're served with shrimp in that Carolina Low Country classic that Louisville has made its own in the past 15 years. But I'm still a little suspicious of country-fried steak. It's wafer-thin. It's cooked well-done. And I'm pretty sure it was never a T-bone or rib-eye or tenderloin.
Still, when I saw Bobby Flay and a competitor fighting it out on the chicken-fried steak front the other night on Flay's "Throwdown" show on Food Network, I felt a strange but compelling call.
Country-fried steak is also known as chicken-fried steak, and who doesn't like fried chicken? Who doesn't like steak? And what is white milk gravy, after all, but classy French Béchamel sauce under another name?
OK, I had to have me some. I queried my network of foodie scouts and spies and got back a surprisingly consistent answer: For a good country-fried steak, call Goose Creek Diner.
No sooner said than done, Mary and I starved ourselves for a day or two, then headed for the East End. Goose Creek Diner has been thriving at its suburban location for eight years now, so long that people no longer even call it "the place Wick's used to be before Wick's moved to that larger place just up the road."
Although it may lack the faux-railroad-dining-car look of the classic, Goose Creek has a colorful '60s-style diner feel. Its large, open dining room boasts pretty lemon-ice walls and booths upholstered in large, colorful squares, triangles and trapezoids of Naugahyde-look "leather." Paper napkins wrap simple flatware, drinks come out in tall plastic glasses, and servers hustle out your oversize menu — and then your orders — with friendly efficiency.
We loaded up on diner food at attractive lunch prices and got our dinners diner-style, simply served on off-white earthenware plates without garnish
or decoration.
A shared appetizer order of fried green tomatoes ($4.99) summoned five delightfully crisp, golden-brown rounds of tangy pale-green tomato and a dish of mayo-based dressing with a kick of cayenne.
Mary's fried chicken ($4.99 for lunch plus a buck for white meat) was better than just good: a golden brown breast and wing portion, competently fried and crunchy surrounding juicy breast meat. I've grown accustomed to the intense flavor of locally farmed chicken and didn't find that here, but in fairness, Goose Creek doesn't claim to serve it. We guessed that her bowl of cooked collard greens came from a can. She left most of them.
And then came my long-awaited country-fried steak ($4.99 lunch portion). Not bad! Sure enough, the meat was cloaked in a crisp, well-fried, dark-golden crust, crunchy and grease-free, just like the fried chicken. Well, duh! It's chicken-fried. The meat within was thin, perhaps a slice of round or similar cut pounded flat for tenderness. There's no way to keep something like that rare, which would be a perversion in this country dish anyway. Never mind. It performed as advertised, a taste of beef within a crisp, crunchy coating, and the thick milk gravy was rich, if a bit floury, with a healthy dose of black pepper for flavor. A smashed red potato on the side was improved by a dollop of milk gravy.
You can't leave a diner without dessert, and Goose Creek offers a fine selection from its old-fashioned pie (and cake) case. A tall, light slice of coconut pie ($2.95) on a well-made "short" crust sent us out satiated into a gray autumn afternoon, ready for a post-prandial nap.
An extremely filling lunch for two, with iced tea, was a good bargain at $21.38, plus a $5 tip.
—Robin Garr
Goose Creek Diner
2923 Goose Creek Road
339-8070
www.gcdiner.com
Robin Garr's rating: 82 points