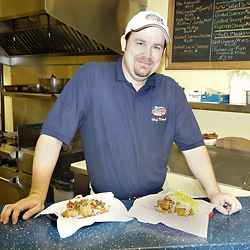 Mike Hungerford cooks up fish tacos and more at the Seafood Connection in St. Matthews. Photos by Robin Garr
LEO's Eat 'n' Blog with Louisville HotBytes
(Seafood Connection in St. Matthews, and six worthy plates of hummus)
I've never taken the position that an eatery must boast white tablecloths or tux-clad servers to qualify for four-star status. Upscale or down-home, if a restaurant takes on a specific challenge and does everything as well as it can possibly be done, then it earns my top rating, whether it's a luxury dining destination, barbecue joint or neighborhood saloon.
Award a stellar galaxy, then, to what may be one of the smallest and least pretentious restaurants in the Metro.

In recent months, the Seafood Connection shop in St. Matthews, best known as a quality purveyor of fresh fish and seafood, has quietly begun offering a short but intriguing lunch menu. I had noticed the sandwich-board sign out front but casually (and stupidly) assumed that the bill of fare was limited to standard-issue fish sandwiches.
The other day, we finally wandered in. Holy moly! Yes, the menu is short, and yes, it's mostly sandwich and other quick eat-in or carryout fare, with nothing on the menu marked higher than $9.99. But what fare it is! Taking full advantage of the shop's excellent selection, the chef – a friendly guy named Mike – spends the lunch hour in constant motion, in full view of the diners on eight shiny metal barstools around a lunch bar in the shape of a lazy L, putting together exceptional dishes with style and flair that would do credit to the staff at, well, Vincenzo's.
Using a work station about the size of a roll-top desk, an undersize restaurant stove and grill, a toaster and – I am not kidding about this – a George Foreman Grill, Mike turns out some of the best seafood and fish dishes I've tasted in this town, spinning food out to hungry diners like a mama bird keeping her hungry young fed. (The chef, Mike Hungerford, started cooking some 20 years ago at his parents' bistro in Phoenix, and worked at Mitchell's Fishmarket in Louisville before coming to Seafood Connection.)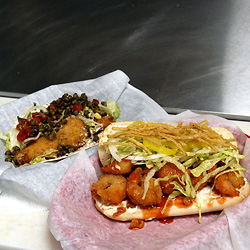 A fish taco and shrimp po'boy from the Seafood Connection.
The San Diego fish taco ($3.50 small, $5.49 large) is a toasted flour tortilla dusted with spices and topped with a perfect chunk of crisp-fried cod, lavished with finely shredded iceberg lettuce, a tangy citrus pico de gallo that Mike says is based on the original recipe from Rubio's, the original fish taco stand in San Diego, plus a magic touch, a sprinkle of crispy-tangy fried capers.
A Louisiana-style shrimp po'boy ($6.49) took me right back to the City That Care Forgot, or more specifically the pre-Katrina version of it. A good-size white hoagie roll was loaded with eight jumbo shrimp, lettuce and tart, crunchy rings of peperoncini peppers, slathered with a homemade Cajun-style aioli and fiery red-pepper spread.
The "All American Fishwich" ($4.99) was a splendid rendition of the standard fish sandwich, a good-size chunk of fresh cod deep-fried in a crunchy cornmeal batter, served with lettuce and tomato and homemade mayo on marble rye bread. (If I have any small criticism, it's the use of decent but lackluster breads. In a place where the chef is crazed enough to make his own mayonnaise, artisanal breads would elevate this little joint to a five-star rating.)
Tongue-in-cheek salmon "sliders" ($6.99) are made to look like White Castle hamburgers on a trio of small square buns, but they sure don't taste like the WC Lounge, each bearing a "burger" fashioned from savory, intensely flavored fresh salmon shaped as a tender, loose croquette, with flavor accents from lettuce and a creamy, mild roasted-red-pepper sauce.
More delights await … there's a tuna salad sandwich, made not with your tunafish from the can but sushi-grade ahi tuna ($4.99) … crab cakes ($5.49) and a grilled salmon Reuben, with salmon filling in for the usual corned beef ($6.49). If you're in the mood for something different, choose any fish in the display case and Mike will make it your lunch, with your choice of preparation, bread, sauce and toppings, for the retail price of the fish plus a $3 prep charge.
Do I sound smitten? I am! This eight-stool lunch counter may not boast the ambience of a white-tablecloth destination, and beverages are limited to fountain soft drinks and tea. But for food and friendly service, it's hard to beat. There's no extra charge for friendly wisecracks from the chef, and if you like your lunch, you can pick up an order of fresh fish to take home for dinner.
Seafood Connection
3922 Chenoweth Square
899-5655
Rating: 91 points

Hummin' about hummus
Call it hummus, or call it chickpea puree, we call it good, and so does Eat 'N' Blogger SUZI BERNERT, who's been hiking the hummus trail in pursuit of the city's best. She left a trail of pita crumbs so she could find her way, and now she's back, happy and reeking of garlic, with this report.
Hummus, hommus, hommos, houmous, humus, hummis, humm along with me.
One of my favorite foods is hummus, the Middle Eastern puree of chickpeas and various flavorings and spices. Served with pita bread, it is usually consumed at the start of a Middle Eastern meal. Much like Mama's chicken soup, hummus is common to many cultures from Iran to Bosnia, and there's a range of variations from subtle to stout. The pita can be just as varied, from small, thin rounds to large, thick ones. There's also wide variation in spelling, so for the record, we've spelled each establishment's version just as management renders it on the menu.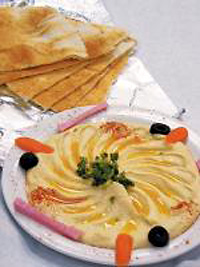 The hummos at Safier Mediterranean Deli is light and creamy with subtle garlic and lemon flavors, served with olive oil, paprika and pickled vegetables. And, of course, pita bread. Photo by Cary Stemle
A small place with about a half-dozen tables, Safier dishes up a fairly extensive menu of appetizers, soups, salads, sandwiches and main dishes. The hummos ($3.50) is served spread on a small disposable plate with olive oil drizzled on top, sprinkled with paprika and a few pickled vegetables on the side. The hummos is light in color and very creamy, with subtle garlic and lemon flavors. Served with very thin, quartered pita and extra olive oil on the table, it is so rich I often take home some for dessert.
Safier Mediterranean Deli
641 S. Fourth St
585-1125
One of the newer Middle Eastern entries in town, Marrakech boasts the subtitle "Moroccan Delights." There's a large order counter with a display of sword-like skewers and just a few tables in the small storefront at the corner of Bardstown Road and Highland Avenue. The menu includes appetizers, salads, sandwiches and dinners, including grilled tilapia, available as a sandwich or dinner. The hummus ($4.99) is textured, medium in color and has a strong garlic flavor, served with a drizzle of olive oil. It was very satisfying with warm pitas.
Marrakech
1001 Bardstown Road
454-4407
Thanks to its location right next door to a bakery that makes its pita (and other Arabian breads), Al Watan consistently offers the freshest pita around. The restaurant is just large enough to hold a few tables, and to add a distinct ethnic touch, the television is on an Arab-speaking channel. Al Watan serves a good variety of sandwiches, appetizers and entrees; the portions are huge: My husband and I can order a shared dinner and still take some home. The hummos ($4.25) is smooth, earthy, has a strong but not overwhelming garlic flavor and is topped with the best fruity olive oil in town. The always-fresh pitas are served whole. If I have any quibble with Al Watan, it is that when I get hummos to go, they just toss an unwrapped pita into the bag. Not a big deal, but kind of unsettling.
Al Watan
3713 Klondike Lane
454-4406
Pita Delites has been through several incarnations over the years, moving from Barret Avenue to the corner of Barret and Winter to its current space on Grinstead between Bardstown Road and Baxter, in the renovated old house that was previously the home of Papillon Bosnian. It offers an extensive menu of appetizers, salads, soups, sandwiches and dinner platters, plus daily specials like pulled lamb or lamb shawarma. The hommos ($5.45) was once very good, but on my last couple visits it has been disappointing: grainy, medium color, with little or no garlic or lemon flavor and no olive oil on top, just a sprinkle of parsley. The pita has been quirky, too – some days fresh and warm, others cold and hard. Avocado dip with green pepper, pimento and parsley was much better, and a rice-and-lentils dish was very good, too.
Pita Delites
1616 Grinstead Drive
569-1122
The Grape Leaf has been a mainstay on Frankfort Avenue for years, serving a menu of appetizers, soups, salads and entrees with extensive vegetarian options. They serve a Sunday brunch with such intriguing offerings as Eggs Rothschild and Asparagus Portobello Salata. The hummus was the most expensive of our Hummus Hunt ($5.95), but it also had the best presentation. Smooth and light in color, it is served with a pool of olive oil on top, with chopped tomatoes, walnut halves, cashews, pine nuts and minced garlic swimming in it, green pepper strips and chopped red onions on the sides, and purple ground sumac sprinkled around. It was so pretty I almost hated to eat it. Accompanied with grilled pita, it was smooth, with a good garlic flavor that could be altered or enhanced by the garnishes, giving a different taste with every bite.
The Grape Leaf
2217 Frankfort Ave.
897-1774
Located in the "little cottage" shops on Brownsboro Road, the biggest problem with Shiraz is that its popularity can make it hard to find a space in the small parking area. Shiraz offers a varied menu of "natural wood char-grilled" kabobs, side dishes and desserts. This is the only place I have seen South American grain quinoa on a menu. The hummus ($1.99) was the best bargain on our quest. It is dark, almost a brick color, grainy and spicy with chopped tomatoes, paprika and cumin on top. It's served with a 12-inch round of very fresh "Persian flat bread" (an on-premises bakery sells it at an adjacent counter) that looked a bit like pizza dough but was grilled and great. Tip: Order extra bread for 40 cents, it is well worth it. It was the most flavorful hummus we had … my son loved it, and I had to fight him to get more than a few dips.
Shiraz
2018 Brownsboro Road
891-8854
There are several more places I could have stopped at in my mission to taste every hummus in town. I am looking forward to the just-opened Jerusalem Café near U of L, for instance, which will give me a close-to-home outlet for my chickpea jones. And then there are the many establishments that don't specialize in Middle Eastern fare but offer hummus on the menu. Café Lou Lou comes to mind.