LEO's Eat 'n' Blog with Louisville HotBytes
(Red Robin, Chicago Gyros, Order's Up! and Ned's Excellent Adventure at Norma Jean's Trackside)
OK, let's get this clear up front: I'm suspicious of corporate restaurant chains, and I don't have high expectations for much of anything in the suburbs.
So why did I rush out in such a big hurry to check out Red Robin Gourmet Burgers & Spirits in Brownsboro Crossing, an East End commercial development so new that the restaurant's street address shows up as "Not Found" on my Blackberry?
It's the buzz, man! The arrival of this outfit, a 350-unit Boulder-based enterprise, seems to have created more of a stir than any corporate arrival since the dynamic duo of P.F. Chang's and Cheesecake Factory came to town. Big crowds were reportedly slamming the place, and I couldn't see any way around heading for the 'burbs to check it out.

Red Robin fills a lofty, glass-walled modern space divided by a large bar, with a squadron of friendly and very well trained servers ready to respond to just about any reasonable whim. Burgers, as you would expect, dominate the menu, with more than two dozen variations from the classic (the original Red Robin Gourmet Cheeseburger, $7.95) to the offbeat ("Knife & Forker" burgers without buns), chicken burgers and "burgerless" burgers featuring fish, turkey and the obligatory Gardenburger. The $8.99 Monster Burger with two patties looks like a contender against Genny's famous Sweet Daddy for sheer gluttonous dimension.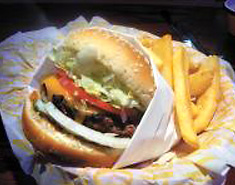 The signature Gourmet Cheeseburger ($7.95) at Red Robin Gourmet Burgers & Spirits. Photo by Kelly Mackey
Non-burger options include soups, wraps, salads and a dozen main-course selections from clam strips ($8.99) to Red's Nantucket Seafood Scatter ($10.99). But why? When I go to a place with "Burgers" in its name, I want a burger, and the 5 Alarm Burger ($8.29) filled the bill. It was an estimable patty, still barely pink at the center, reasonably flavorful and juicy, dressed with plenty of crisp lettuce and tomato, along with a slice of pepper-jack cheese and a handful of jalapeños to make it … well, let's say 2 Alarm, anyway. Built on an oversize sesame bun, it was big enough to make for a challenging bite.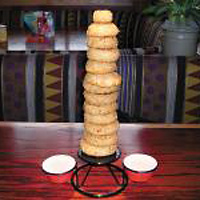 Red Robin Gourmet Burgers & Spirits' Towering Onion Rings ($7.49): a memorable side dish that would make a Freudian psychologist smile. Photo by Kelly Mackey
A Burger 'n' Greens knife-and-forker ($8.99) was a bunless patty perched atop a large bowl of rather institutional salad, topped with a slice of melted mild "Swiss," sautéed mushrooms and onions. "Bottomless" french fries looked good, large steak-fry slices fried golden brown, but were a bit limp. "Towering Onion Rings" ($7.49) made a memorable side dish: A baker's dozen large, sweet, thick-cut rings, crisply fried golden-brown, were stacked a foot-and-a-half high on a vertical rack, an obelisk of onions that would give a Freudian psychologist a field day, but let's not go there.
We stuck with non-alcoholic drinks and still spent 30 bucks plus tip for lunch, a toll that places Red Robin well above Mickey D's. I can't really say the burgers are better than such local favorites as Granville Inn or W.W. Cousins, but certainly it's a worthy addition, worth the stop if you're out in the East End and feel a burger craving coming on.
Red Robin Gourmet Burgers & Spirits
9870 Von Allmen Court
Brownsboro Crossing
339-8616
http://www.redrobin.com
Rating: 77 points

Putting a spin on gyros
The first time I dropped in on this tiny new spot in Clifton, I was a bit put off when the woman behind the counter referred to the specialty of the house as a "Jye-row." If they don't know how to pronounce it, how could they possibly make it right? (For the record, it's "Yee-roh" in Greek, "Ghee-ros" in American, and the "s" stays on the end even if it's singular – there's no such thing as a gyro, unless you're talking about a helicopter.)
Bottom line, however, Chicago Gyros gets gyros right, and a lot of other dishes too. A dozen grill items range from a quarter-pound burger ($1.99) to a gyros plate with fries ($5.69). You can get Italian beef with fries ($4.29), a Philly steak sandwich ($4.79, and surely you can get it wit' cheese), not to mention a bewildering array of gyros variations: gyros pizza ($4.89), Mediterranean gyros ($4.49), even a chicken gyros ($3.99). Off the grill, you can choose among subs ($2.49 to $5.69), fried fish ($5.99 for three pieces of perch or two pieces of catfish), hot wings ($3.39 for six, $6.39 for a dozen), Polish sausage ($3.69) or a Chicago-style hot dog ($1.89), and all sorts of sides.
I stuck with the basic gyros and found it fine: Thin-sliced, crisp-edged lamb and beef straight from the rotating gyros grill, piled on a flaky pita and dressed with lettuce and tomato and creamy, yogurt-based tzatziki sauce. Who could ask for more?
Chicago Gyros Sandwich and Grill
2317 Brownsboro Road
895-3270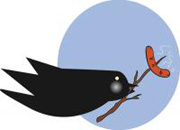 Illustration by Gina Moeller
Kevin, if you don't clean that plate, no dessert for you
Back out in the 'burbs, Eat 'N' Blog correspondent KEVIN GIBSON is smitten by a lovable new lunch spot in an East End office park that was so cozy, it reminded him of dining at home. Here's his report:
Just inside the Snyder Freeway near Anchorage, Order's Up! Café & Deli is one of those places you'll never see if you aren't looking for it. It's an interesting spin on the fast casual model, with fresh sandwiches all priced at $5 or less, plus soups, salads, sides and the like, so it's worth seeking out.
The hook – in addition to the free cookie or brownie that you'll get for being a first-time visitor – is that it's more like walking into someone's dining room than walking into a restaurant. Country-style oak tables with placemats, oak chairs, corner shelves with books, a quilted wall hanging and a TV in one corner make for a relaxing atmosphere.
It's an order-at-the-counter affair, and the friendly staff will make your sandwich fresh and bring it to your table. My experience with the pepper turkey and provolone sandwich was quite good. I got the single-trip salad bar as my side for an extra 99 cents, which included homemade potato salad. Tasty stuff, with plenty of eggs and big chunks of tender potato. Other specialty sandwiches on the menu include rosemary chicken, honey PB&J and a grilled veggie and portobello.
Order's Up! also serves breakfast starting at 6:30 a.m., with affordable items such as fresh fruit for 99 cents, bagels, muffins and croissants for $1.49 each and biscuits and gravy for $1.49. It's open until 3 p.m. (It might be a good idea to call for directions.)
Order's Up! Café & Deli
1981 Nelson Miller Parkway
245-5991
Ned's Excellent Adventure at Norma Jean's
Eat 'N' Blogger NED WEATHERBY, a humble computer geek by day (he's a PC analyst for Louisville Metro government), dreams of being a chef by night, and now, thanks to an invitation from the folks at Norma Jean's Trackside in La Grange, he's got a memorable experience to prove it. Let's turn over the mike to Ned so he can tell the tale …
Not too long ago I was given a unique opportunity to be guest chef at Norma Jean's in La Grange. With the popularity of the reality show "Hell's Kitchen," I had to see if the chef's life was really the pressure cooker they depict on television, or if all that's just smoke and mirrors for the audience.
The process started a full month ahead with the planning of the menu. The menu is key: If you make things too complicated, you are bound to fail, but if the menu is too simple, you will fail to impress.
I chose black bean cakes for the appetizer, a romaine and fruit salad, choice of white chicken lasagna or pork loin in a Shiraz reduction, and cheesecake from a secret family recipe. I ordered the ingredients a week beforehand and waited in anticipation, running through the game plan in my head.
The ingredients arrived, and I spent several late nights dodging the regular staff, scouting out spaces where I could prep my meal without disrupting dinner service. The kitchen seemed to get smaller as the hours grew longer. Nights bled into days as I lost sleep wondering whether I had taken on way too much. Could I get it all done?
With the cheesecakes still to be baked, I decided to take the ingredients home so I wouldn't have to compete with the restaurant staff for oven space. I slaved all night, staring through the oven door at the orange glow of the coils. Before I knew it, it was 4 in the morning, and I passed out from exhaustion.
I opened my eyes and sat straight up, realizing that it was 10 o'clock, day of! I rushed to Norma Jean's. Time and space are enemies once more as we all cram into the stifling hot, noisy kitchen to finish the meal prep. Fifteen minutes before the service begins, the staff gathers in the dish room for a last-minute walk-through and a little silent prayer.
Appetizers appear flawlessly in front of the patrons, as do salads and entrees. I begin to free the cheesecakes from their spring-form restraints. Horror crosses my face as they crack. The irony of near-disaster striking on the last dish is almost too much to bear, but I push through. I carefully cut the delicate concoctions, trying to salvage enough un-cracked portions to finish my service.
Now comes the moment I've been dreading: I walk into the dining room to be introduced by the owner. He clinks a glass for attention, and an eerie silence falls. I check the diners' faces for hints of approval or disappointment. They applaud, and I wonder … is it genuine, or just thanks for trying? Either way, I have learned one lesson well: For me, cooking is best left as a hobby; I couldn't handle this pressure daily. And now when I watch "Hell's Kitchen," I know for sure … it's not just smoke and mirrors.
Nibbles
Cater your banquet, sir?
Speaking of Norma Jean's Trackside, this landmark spot on the La Grange town square is drawing a lot of attention from local foodies with its new menu, an unexpected blend of down-home all-American fare and authentic Cuban dishes. Now they're going into catering as well, offering the full Cuban and American menu and Southern country buffet offerings delivered or cooked on premises. For information, call 222-8044.
Bristol gets 'Sideways' over Pinot Noir
Ever since Alexander Payne's dark comedy "Sideways," Pinot Noir has been a hot wine property, although it's been tough to move any %*&#ing Merlot. Celebrating the grape, the Bristol-Downtown will feature a full Pinot Noir Week from Aug. 22-28, with Pinot by the glass or in four-taste "flights" from 5 p.m. daily. Thursday, Aug. 24, Pinot expert Vince Falzone will present a Pinot Noir seminar from 6:30-7:45 p.m. Admission is $25, which includes a $10 discount on a bottle of Pinot Noir if you stay for dinner. For reservations, call 582-1995.