¡Buenos días, señoras y caballeros, hermanos y hermanas! ¡La Guanaquita Restaurante es muy bueno!
Why, yes, I am speaking a little Spanish today, signing on from a sweet little new Central American eatery in the South End.
I have my reasons for wanting to learn Spanish. If Trump wins this wacky election, we're thinking about heading for Uruguay when the Trumpenwaffen comes for the liberals. And if Clinton wins (from my lips to Lord Quetzalcoatl's ears), I'll be able to order competently when we are blessed with a taco truck on every corner.
So there's that. But here's the problem: I've learned to read Spanish pretty well. But I can't carry on a conversation worth frijoles. So if I want to give my awkward Latino locutions a workout, I can't think of a more enjoyable way to do it than to catch lunch at a taqueria.
I love it that our city has evolved from Tumbleweed and the Old Walnut Chili Parlor to dozens of tiny taquerias and rosticerias run by new immigrant neighbors making their way entrepreneurially toward the (North) American dream. I don't mind it one bit that my language is not the majority language in these places, but even if I weren't trying to learn the difference between cerdo (pork) and cerveza (beer), I could simply point to what I want and still receive service with a friendly smile.
Just about all the taquerias in the metropolitan area are Mexican, of course. Think "taco," and we respond, "Mexican food," and that is true. But the Latino diaspora includes a lot of migrants from Central America's Northern Triangle, too: El Salvador, Guatemala and Honduras. These tiny nations have been so ravaged by our drug war and foreign policy that tens of thousands have fled north, many of them children, too many of them killed or deported as they seek protection from death or worse.
For all its horror, this diaspora has had the happier effect of leavening our culture with the many gifts that a diverse crowd of immigrants brings. I was delighted, for example, to find a new South End eatery, La Guanaquita, sporting the similar blue-and-white flags of Guatemala and Honduras in a front window, and a colorful map of El Salvador on a wall. Decor is clean but simple, with earth-tone quarry tile floors and beige walls.
Can you get tacos and tamales here? Sí, Senor. But you'll find more characteristic Northern Triangle food too – pupusas and bealadas, not to mention the interesting fish dishes that you'd expect from countries bounded by seacoasts on the Atlantic and Pacific.
Let's be clear: If you're adventurous about interesting world cuisines, this is your place. It's bright and clean, and everyone is friendly.
But this is not white-tablecloth dining. The handwritten whiteboard menu changes often. Prices of the 15 or 20 items aren't shown (but you can rest assured that it isn't pricey). You may learn that your choice is gone for the day. You can get Latin-American soft drinks or horchata rice drink, but no alcohol. And you won't find much English spoken, but bring your Spanglish if you've got some, or just bring your sense of humor, and you'll be fine.
On our first visit we dived right into Northern Triangle cuisine. Pupusas and bealadas are similar: soft corn flatbread wrapped around good things and grilled toasty and delicious. A pupusa was filled with sweet, pureed black beans and earthy cotija cheese rolled into a savory cylinder to eat out of hand or with knife and fork.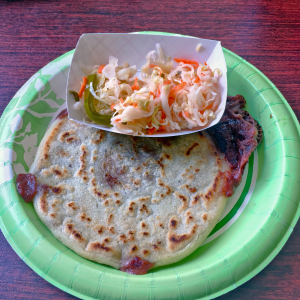 A baleada "con todos" ("with everything") was a two-tortilla sandwich filled with cheese and beans, sliced avocado and Honduran crema, which has a bit more of a sour-cream tanginess than the Mexican variety. It came with crisp, appetizing slaw with the eye-opening addition of pickled jalapeño slices and juice from the jalapeño jar.
Pescado frito (fried fish) is a far cry from the standard Louisville whitefish sandwich. This one's served whole on a large oval plate; head and tail on, blank eyes looking up at you accusingly, garnished with lime wedges and avocado slices. It's decent fish, perfectly fried, mild and a bit earthy – something in the tilapia family, we guessed.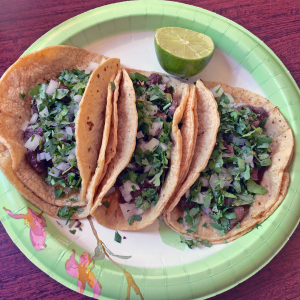 On another trip we tried tacos de azada (steak tacos): chopped grilled beef, not too juicy, served open-face on double corn tortillas topped with chopped cilantro and onions. They were pretty good, distinguishable from their Mexican cousins, perhaps, only by an abundance of cilantro and a rather hefty, rustic tortilla with good masa flavor.
Sides on both visits were fresh and tasty. Deeply flavored pureed black beans topped with earthy cotija cheese; decent white rice with hints of subtle spice. Papas fritas – also known as french fries – were hand-cut and flavorful, pulled from the fryer a bit too soon to be as crisp as we'd have liked, but still good. Platanos fritos, fried plantains, were excellent, crisp-fried edges cloaking creamy, mild fruit.
There's an assortment of bottled hot sauces on the table, and a big squeeze bottle of excellent creamy green salsa.
With real cane-sugar Mexican Coke and sweet-tart Jarritos tamarind soda, one lunch came to $21.20 and the other to $19.92. I tipped over 25 percent both times because when you get good service on a cheap lunch, that's the thing to do.
La Guanaquita Restaurante
4231 Taylor Blvd.
822-1343
Facebook: http://bit.ly/LaGuanaquita
Robin Garr's rating: 83 points