SOU might mean "South." It could represent "soul." Yet the proper way to pronounce the name of this new Plainview-area eatery is not "sow" or "soo" but "So-you." Intentional ambiguity seems to lie at the heart of this upscale dining room in a thoroughly renovated former Skyline Chili parlor, and that's all right.
SOU is the joint effort of Chef James Moran, who honed his skills as chef at 8Up and the Pine Room, and his business partner, Ashley Saylor, who's worked on the events side of the hospitality business.
Together they've eliminated all vestiges of Cincinnati chili from what is now a stylish, if rather spare, space in beige, gray and black. Large windows punctuate the walls, offering views of a vast expanse of suburban shopping-center parking lot. A large, U-shaped bar fills the center of the room, and more bar stools are strategically placed to afford diners a clear view of Moran's busy open kitchen.
In the rest of the room, undraped wood tables stained almost black are placed under straight rows of pendant lights. The tables are set with attractive flatware, dark cloth napkins, and good quality glassware.
I'd call Moran's dinner menu more international than Southern; it also shows signs of his Asian heritage via his mother, who was born in Korea. The seven entrees range in price from $17 (for a hefty Kentucky Black Hawk Farms beef burger) to $37 (for a Kentucky Proud rib eye steak). A half-dozen appetizers and three salads are priced from $10 (for a Caesar salad) to $17 (for a pan-seared scallop app).
I chose a Hemingway cocktail ($10) from the well-stocked bar and enjoyed its easy-drinking blend of Pilar blond and dark rums, sugar, lime juice, and carbonated grapefruit juice. (As SOU's current "drink for a cause" cocktail, $1 from each Hemingway sold goes to the Cystic Fibrosis Foundation.)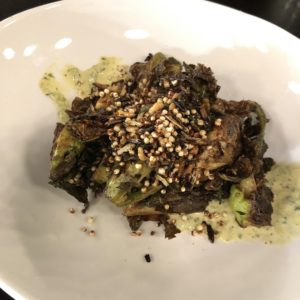 We enjoyed a good Sunday evening meal with nary a miss. A crispy brussels sprouts appetizer ($11) got us off to an impressive start. Yes, I used "brussels sprouts" and "impressive" in the same sentence, which says something about Chef Moran's work.
A ration of tender sprouts was dressed in a tangy black garlic nori seaweed vinaigrette, plated on smoky charred-herb aioli, and topped with puffed togarishi, Japanese hot-and-spicy grains. A wacky combination? Maybe. But it worked, and that is the secret to Moran's success.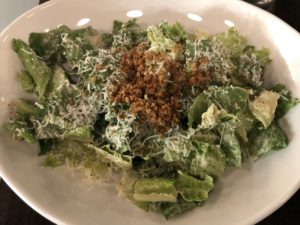 SOU's caesar salad ($10) mustered fresh, dry pieces of romaine (locally grown, so no worries), lightly coated with lemony dressing, topped with long Parmigiano shreds, and finished with a crunchy anchovy-scented mix of toasted shallots, a sort of deconstructed crouton.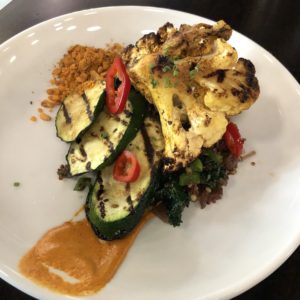 Grilled cauliflower ($21), the only vegetarian entree, takes another underestimated vehicle and supercharges it. One-fourth of a head of fresh cauliflower was grilled to the cusp of crisp and tender with charred edges, then served with grilled zucchini and fiery red Fresno pepper slices on a bed of kale tossed with sorghum berry hash (I am not kidding about this). It's plated with a strip of silken orange hazelnut romesco sauce and a dab of hazelnut dukkah, an Egyptian condiment of ground nuts and spices. It's another strange blend, and it is good.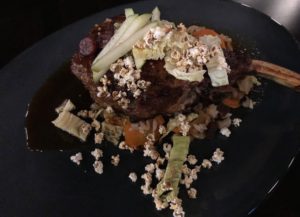 A tender and deeply flavored pork chop ($31) started with an excellent local pastured chop, richly flavored, firm but not dry. It too was plated on a wild mix of elements that might have gone wacky in lesser hands but worked just right in Moran's presentation. It was coated in a sorghum-mustard glaze that imparted a breath of ham-like character, plated on earthy black-eyed-pea hoppin' John, and garnished with strips of savoy cabbage, pickled cranberries, bits of Granny Smith apple, and something that looked like popcorn but didn't taste like popcorn: Puffed sorghum berries, chewy and sweet.
An eight-ounce hanger steak ($31), pictured at the top of this page, got an unexpected flavor punch from a plate spread with an aioli made of beef fat flavored with potent, pungent Korean gochujang chile paste, and with sweet-tart pineapple brown sugar tamari. It was cut into four inch-square cubes, charred on the outside, juicy red rare within, and topped with a ration of fresh pea sprouts. A small salad of fresh arugula and pickled radishes came alongside. A side of long, thin umami fries were done just right, crisp and hot, with a peppery mixed-spice seasoning.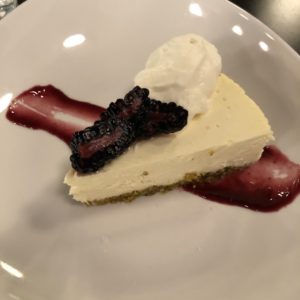 Capriole Farm goat cheese cheesecake ($11) made a perfect finish. Light but intense, it consisted of a sweet-tangy goat-cheese filling on a crunchy pistachio-honey crust, plated on a thick, purple blackberry gastrique and topped with a halved oversize blackberry and a mound of whipped cream. Like everything else we tried, it was exceptionally well-made.
Dinner for two came to $98.22, plus a $20 tip.
SOU
9980 Linn Station Road
614-6499
facebook.com/SOU502
Robin Garr's rating: 90 points.
Noise level: The room was only partly filled on a Sunday evening, but hard surfaces do bounce noise around; still, we could hear each other speak. (Average sound was 78dB, at the upper end of the conversational range.)
Accessibility: Built as a fast-food eatery, the restaurant is accessible to wheelchair users save for tall stools at the bar and two high-top tables. The restrooms have accessibility facilities.