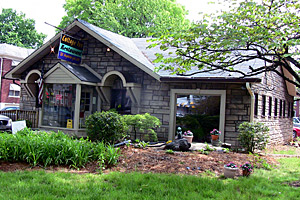 Serving up simple, affordable down-home fare since 1929, the Cottage Inn is one of Louisville's oldest eateries in continuous operation. It trails Mazzoni's (1884); but unlike the peripatetic home of the rolled oyster, which has moved repeatedly and only settled down in its new Middletown quarters this year, the Cottage Inn has remained in its original home. Kaelin's didn't come along until 1934, and I'm having a hard time thinking of another contender.

It goes back so far that both my mother and my wife's mother dined there regularly when they were young, and I doubt that there's been much change in the food or the mood or, adjusted for inflation, the cost of a good meal. On the other hand, a sign by the door promises "now entering a trans-fat free zone." I'll bet they didn't have that in 1929, or a non-smoking policy, either.
New owners – the Kreso family, which also operates Mr. Z's at Third and Breckenridge – haven't changed the menu, and they've made only minor changes in the decor, scrubbing down the place and replacing the old country-style wallpaper with a paint job in a classy peachy beige color.
Tables remain draped in heavy green oilcloth and set with simple flatware wrapped in white paper napkins. Bright carnations are placed in vases that look like soda-fountain sundae glasses; every table is provided with a big jar of ketchup.
It's usually crowded at lunchtime, and it can be noisy; it may take a while to get your order taken and served. My advice: Choose the fried chicken, which is excellent and requires a 15-minute wait anyway, then relax and enjoy the break and people-watching.
In recessionary times, Cottage Inn offers the kind of easy-on-the-wallet fare that invites frequent return visits. Entrees, with two side dishes and bread, range from $6.99 (for baked or fried white fish or Salisbury steak) up to $9.99 (for two Kentucky-raised center-cut pork chops).
The meatloaf dinner is the Thursday special.
Stick with the daily specials (as columnist Marsha Lynch advises in her "Industry Standard" column below), and you'll enjoy classic road food for $6.99 for most items, or $8.99 for "all you care to eat" fried chicken on Wednesday and Friday evenings.
I toyed with the idea of a three-way appetizer sampler with fried okra, wings and onion rings for lunch, but realized that this was crazy talk with a giant order of fried chicken coming down the line. We went with a basket of fried okra ($5.99) instead, and got a gargantuan portion, maybe 50 or 60 sizzling, marble-size veggie rounds in crisp cornmeal breading. They went down fast, and hey, it's a green vegetable, so it has to be good for you.
The fried chicken ($8.99) was excellent, a breast, a thigh, a leg and a wing, all sizzling hot, juicy and tender, encased in a thin, glassy-crisp flour-dredged coating.
The day's special – roast beef on a Tuesday ($6.99) – lived up to Marsha's advice. A hearty portion of nostalgic comfort food, it was happily reminiscent of lunch-counter fare of another era. Thin-sliced and chopped beef came swimming in tasty gravy, with a mound of creamy mashed potatoes with a lot more of that meaty, spicy gravy in the traditional volcano crater. A side of green beans was properly long-cooked, a bit salty, with bits of ham.
My side dish of corn was underwhelming, canned yellow niblets in a pool of melted margarine. A side salad was better, crisp and fresh iceberg lettuce with sliced red cabbage, grated carrot and a surprisingly red and juicy out-of-season tomato quarter, with two small plastic tubs of thick, chunky blue cheese dressing on the side. Two small corn muffins were a bit soft and awfully sweet for my taste.
Back for dinner another night, we tried the Thursday meatloaf special ($6.99), which consisted of two thick rounds, dense and beefy, slathered in the same spicy brown gravy and creamy mashed potatoes that came with the roast beef. I chose a wheat roll this time and was happier with the result. Limas, a special side dish, were long-cooked and tender, with bits of ham and a bath of melted margarine.
Meatballs and spaghetti ($6.99) were OK, but it's probably wiser to save this kind of dish for an Italian restaurant. Cottage Inn's version consisted of competently prepared spaghetti in a simple tomato sauce, with two burger-like meatballs, a couple of pieces of thick Texas-style toast with garlic "butter" and the house side salad.
Iced tea ($1.69) was excellent, strong and fresh, served in large plastic tumblers with lots of ice and plenty of lemon.
Lunch for two was $29.51, to which we added a $5.49 tip. A hearty dinner with no appetizer or dessert came in even more affordably at $18.40 plus $5 tip.
Cottage Inn
570 Eastern Parkway
637-4325
Robin Garr's rating: 90 points