It's noisy, casual and fun. Located in a historic building in a historic neighborhood, its food and music and liquor celebrate the folk culture of Bakersfield, gritty capital of the south end of California's agricultural Central Valley, where Chicano and Okie ways met and mingled in a zesty ethnic stew.
You think I'm talking about The Silver Dollar, right? Not so fast, bubbeleh. This is Manny & Merle on Market Street, the latest venture of Tony Palombino, the paterfamilias of Louisville's popular Boombozz pizza chain and incubator poppa of a dozen restaurant concepts, some of which flew while others fell not far from the nest.

Manny & Merle looks like it might be a keeper though. Just across Main St. from Whiskey Row and within sight of the Yum! Center, this sturdy building dates back to 1867 and in recent incarnations was home to Zena's Cafe and Harley's.
For this venture it has been beautifully restored to its nostalgic style; the bar was built in the 1920s and some of its industrial-style fans, lazily turning in the dark high above the original red-brick walls, purportedly go back to the 1800s. The fans work just fine and the bar does too, dispensing a well-chosen mix of about four dozen bourbons, three dozen tequilas, and a mix of old-style and hip cocktails made from each.Alongside is a short beer list and very short wine list. We grabbed a couple Falls City wheat beers on tap ($5) and were happy.
"Manny & Merle … symbolizes the connection of the food with the musical influences of the 'Bakersfield Sound' made popular by Merle Haggard, Buck Owens, and Johnny Cash," Palombino said when he unveiled plans for M&M last autumn. "Manny represents the Mexican immigrant street food served in the old Honky Tonks in Bakersfield, Cali., and Merle represents Bakersfield's musical history."
Armed with the beer, we dived right into the rather short but appetizing menu, which M&M call "ModMex." All on one page, it assembles bocaditos (appetizers) from $3.50 for tortilla soup (add $1 for chicken) to $13 (for a trio plate offering all chips with all three takes on guacamole). A couple of salads are $7, four tortas/sandwiches/burgers are $8/$9 and you can take your pick from among eight tacos ranging from $3 to $4.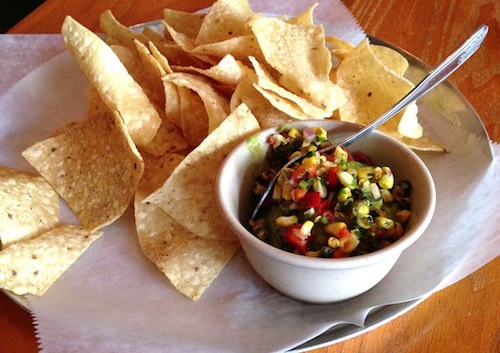 Guacamole with roasted corn and poblano peppers ($5) hit the spot with crisp, fresh chips and silken guacamole.
Mexico chopped salad ($7) was a bowl of fresh chopped romaine mixed with roasted corn kernels, black beans, pico de gallo, guacamole, white Chihuahua cheese and strips of crisp tortillas tossed in a sweet, light cilantro-honey vinaigrette.
Tacos were served open-face on small, soft, single corn tortillas. The carnitas taco ($3) was good enough to make us yell "Whoopee!" The fish taco, featuring mild white fish crisply fried in PBR batter was pretty good but could have used a ki-yi-yi flavor touch. The wild mushroom, corn salsa and Cotija cheese taco ($3) too would have gained oomph from a shot of some spicy salsita, but none was offered.
Churros ($4), the only choice for dessert, were crisp lengths of extruded fried dough served on a seductive pool of bourbon scented chocolate. But maybe a little longer frying time would have made them more brow and crispy
A filling dinner for two came to $41.34 and for just-right service we added a $10 tip.
Manny & Merle
122 W. Main St.
502.290.8888
mannyandmerle.com
facebook.com/MannyAndMerle